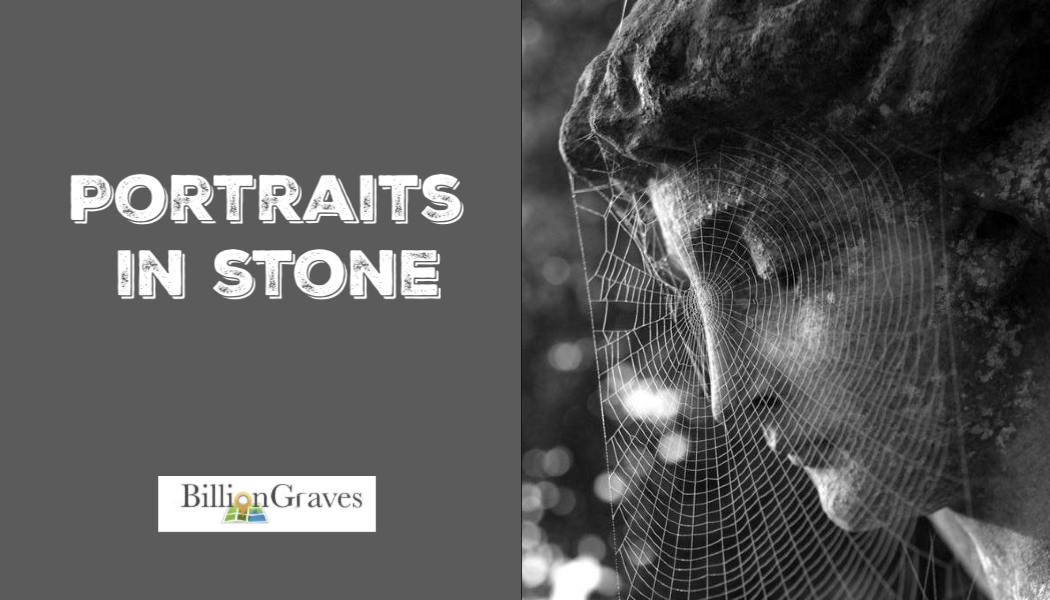 Portraits in Stone
Cathy Wallace, 4 years ago
13 min

read
23103
Families have been immortalizing their loved ones with portraits in stone on their gravesites for thousands of years. After all, it's hard to lose the people you love. So we rationalize that if we could have just one last look at their face, it might bring us comfort and strength – even if that face is now a sculpture made of granite or marble.
Portraits in stone were especially popular during the late 19th-century. But looking back even further, they were also commissioned by the upper class during the Middle Ages and by royalty in ancient times.
This blog post explores portraits in stone from graves around the world and across the ages.
The Terracotta Warriors
Long before cemetery statues were carved out of stone, the Chinese perfected the art of creating human figures out of clay for burial sites.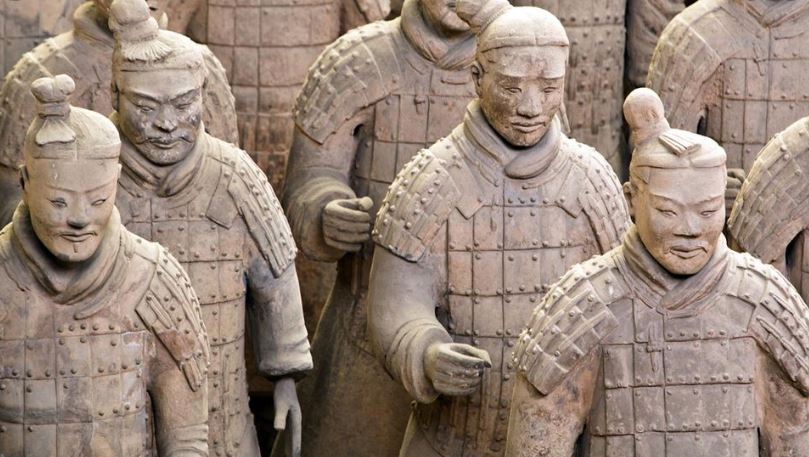 One of the most magnificent tombs of all time was discovered in the Lintong District, containing more than 8,000 terracotta sculptures of warriors. The figures were placed there in 210- 209 BC to protect Qin Shi Huang, the first Emperor of China, in his afterlife.
Remarkably, the face of each soldier is unique. Artisans used eight different molds to make the heads, but then each one was given custom features.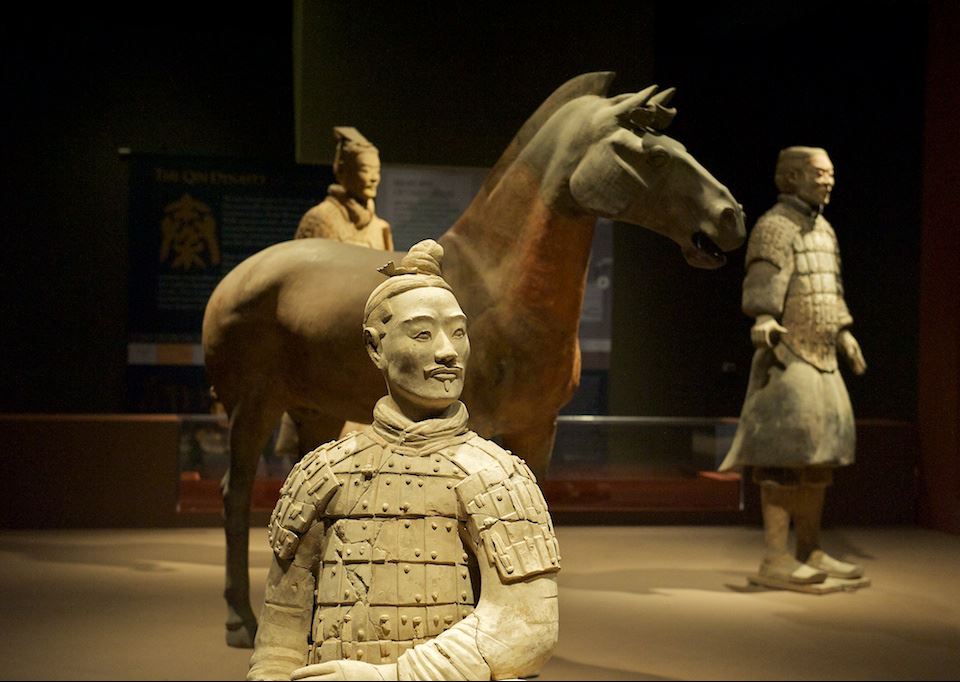 Emperor Qin is the same emperor who had the Great Wall of China built, so it makes sense that his tomb is equally impressive. Along with the terracotta figures, there are hundreds of horses, chariots and the remains of a palace, offices, storehouses, and stables.
The original ceiling was modeled after a night sky, studded with pearls for stars.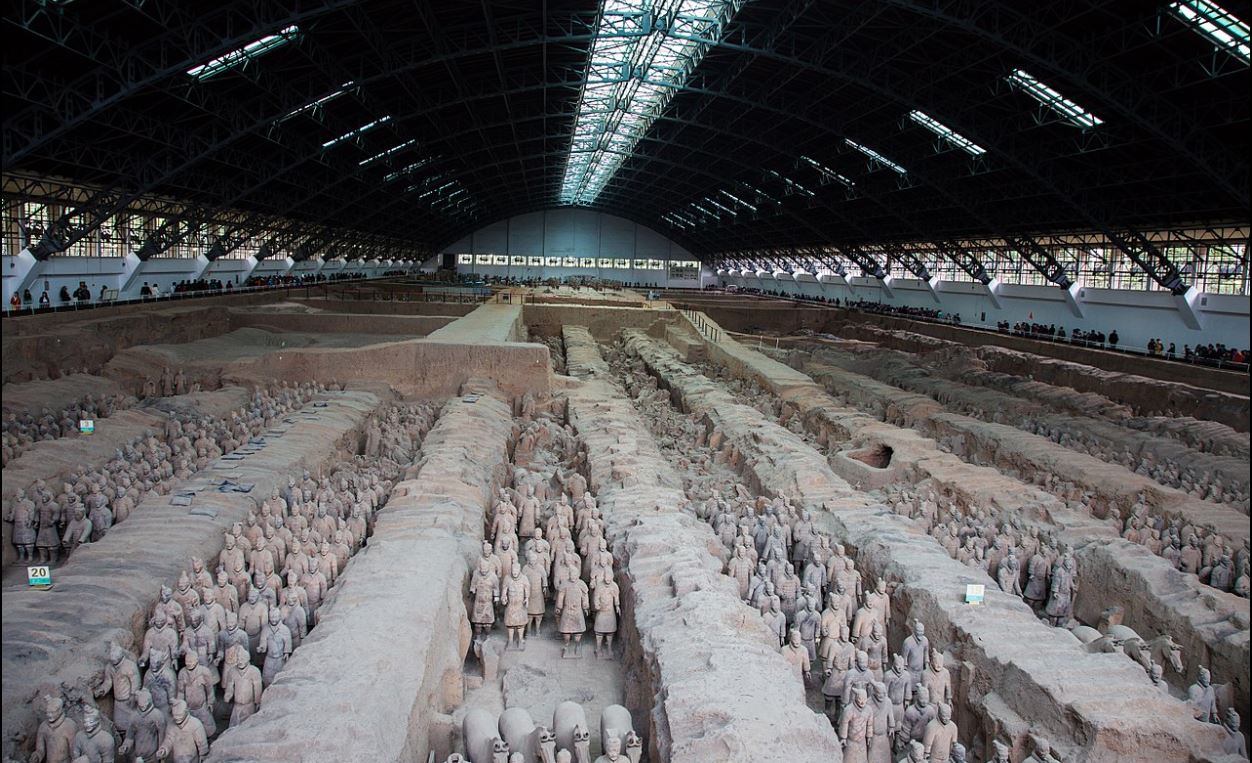 The excavated portion of the tomb covers about 20 square miles. That sounds huge, but even so, less than 1 percent of Emperor Qin's tomb has been uncovered.
Why has the tomb gone mostly undisturbed for more than two millennia? Well, because it is surrounded by an underground moat of poisonous mercury.
Medieval Portraits in Stone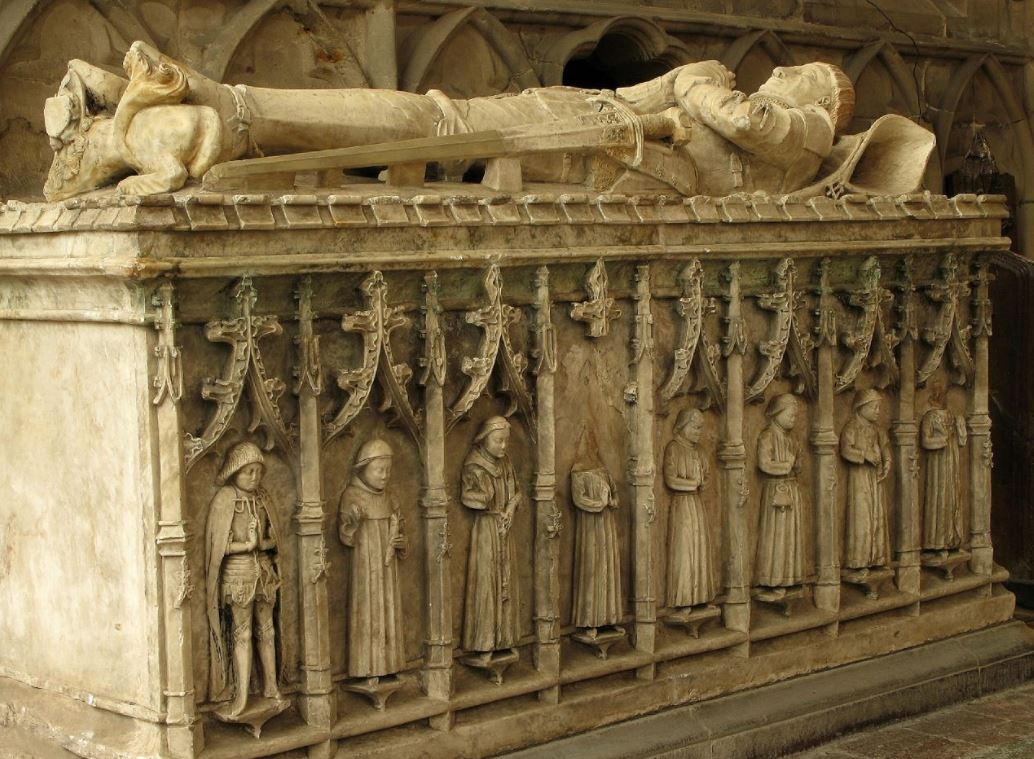 This is the coffin of Nicholas Fitzherbert who died in 1473 and is buried inside the St. Mary and St. Barlok parish church in Norbury, Derbyshire.
Fitzherbert's collar is decorated with roses and suns, which is symbolic. Ten years prior to his death, just before one of the major battles of the War of Roses, a parhelion appeared.
A parhelion, commonly known as a sundog, is a meteorological phenomenon in which the sun's light is refracted. To the unsuspecting, it can appear to be three suns.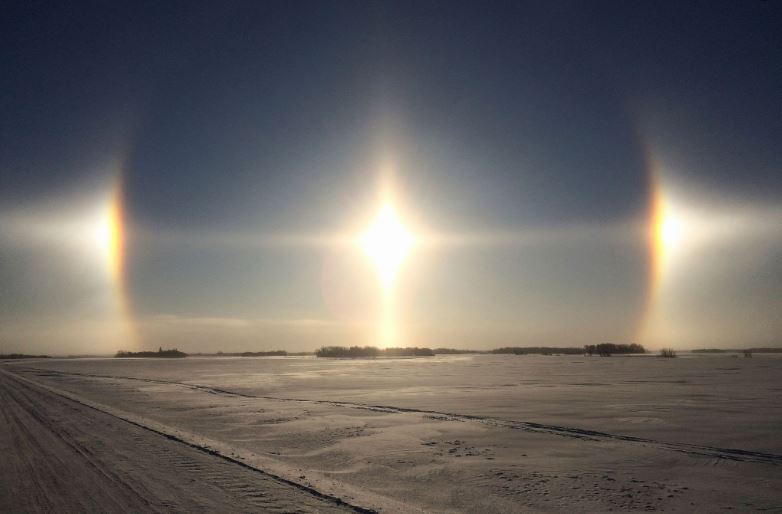 The troops were frightened, but their commander convinced them that the phenomena represented the Father, Son, and Holy Ghost and was a sign that God was on their side.
Fitzherbert survived 30 years of imprisonment for treason but then died while swimming across a brook in an attempt to flee to Rome.
Studying the symbols on your own ancestor's gravestones can help you learn more about their life's experiences. To learn more about gravestone symbols click HERE.
Saint Peter
A British stonemason, Johnny Beeson, found this portrait in stone that had been discarded in a quarry and hauled it home. He then placed it in his yard to mark the grave of his departed cat Winkles, a stray he had adopted.
After Beeson died, his family took the monument to a historian to determine its value. The historian recognized it as a rare work of Anglo-Saxon art, more than 1,000 years old depicting St. Peter. At one time, the figure may have been painted and the eyes may have been filled with blue glass.
The work was then sold and resold. After passing through several private dealers, it was acquired by the Museum of Somerset at Taunton Castle, in Taunton, England for 150,000 pounds (nearly $200,000).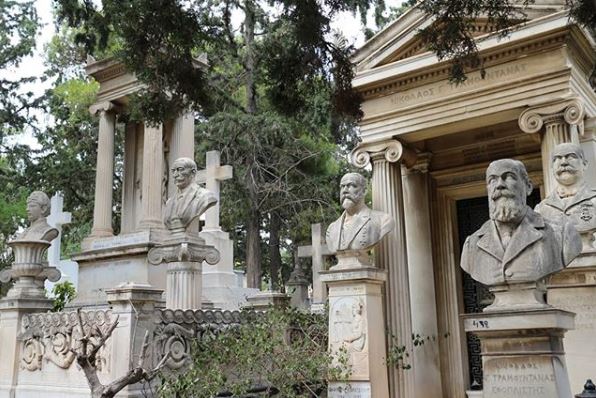 The ancient Greeks were known for their classical sculptural busts representing mythological figures such as Hermes, Apollo, and Medusa.
Even today, cemeteries in Greece are often filled with sculptural busts like those in the photo above from Athens.
Religious Portraits in Stone
The epitaph of this young man's gravestone at Oakland Cemetery in Atlanta, Georgia says, "Oh, it is a great thing to be a Christian." The symbols surrounding him tell a story about the family's faith in Christ.
The tree that has been cut symbolizes a young life cut short. The cross represents the atonement of Christ and a hope for the child's future resurrection. The anchor is also a symbol of hope – illustrating that this family's faith has not been swayed by the storms of life.
The boy holds a garland of ivy in his hands. Ivy plants cling to things with their trailing tendrils. This child has tried to cling to life, even as his family clings to God.
There are oak leaves scattered beneath his feet. Oak leaves were popular symbols on 19th-century and early 20th-century gravestones. The mighty oak tree symbolizes strength and power. And it is a symbol of eternity since oak trees produce acorns that grow into more oaks, thereby continuing the family of trees.
The entire monument rests on a rock, a symbol of Christ. In the book of Isaiah in the Old Testament it is written, "Trust in the Lord forever, for the Lord, the Lord Himself, is the rock eternal" (Isaiah 26:4).
"Do not stand at my grave and cry
I am not there.
I did not die."
—Anonymous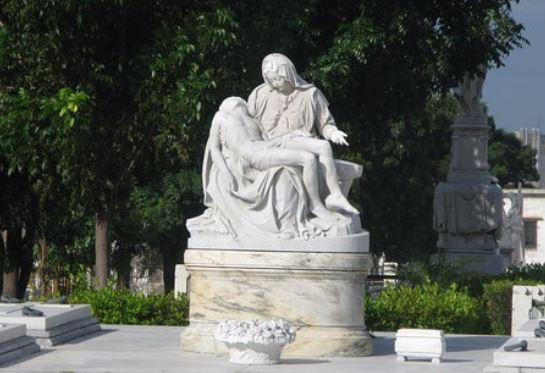 Families with deep faith frequently commission portraits in stone of religious figures. This gravestone monument from Christopher Columbus Cemetery (Cemetario de Colon) in Havana, Cuba is a replica of the Pietà in St. Peter's Basilica at Vatican City.
The Pietà is a work of Renaissance sculpture by Michelangelo of Mary holding the body of her son Jesus after the crucifixion.
If your ancestor's grave has a sculpture of religious figures, try to determine which religion it represents. It may lead you to nearby church records that will help you discover even more ancestors.
Grieving Portraits in Stone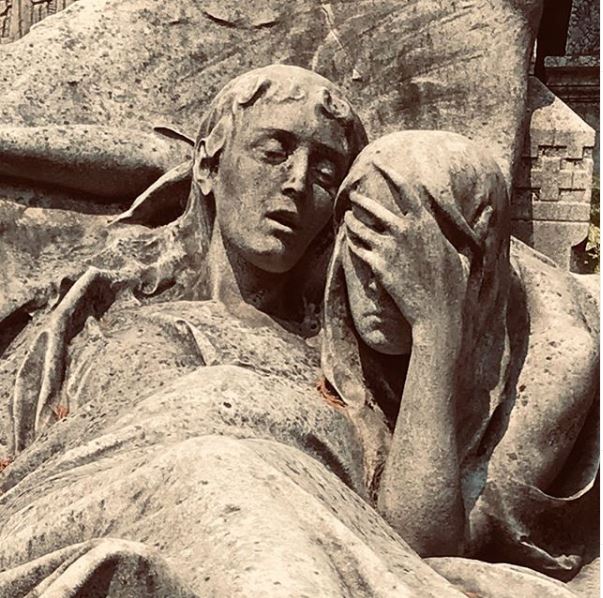 Some portraits in stone convey the deep grief felt by those left behind.
Come back.

Even as a shadow, even as a dream.
—Euripides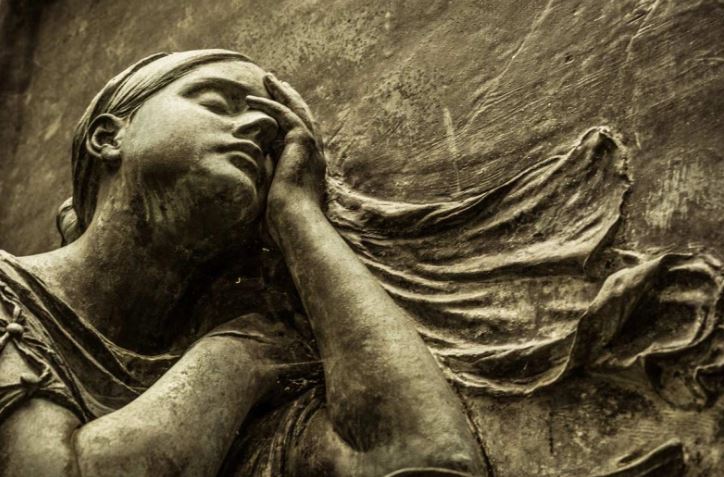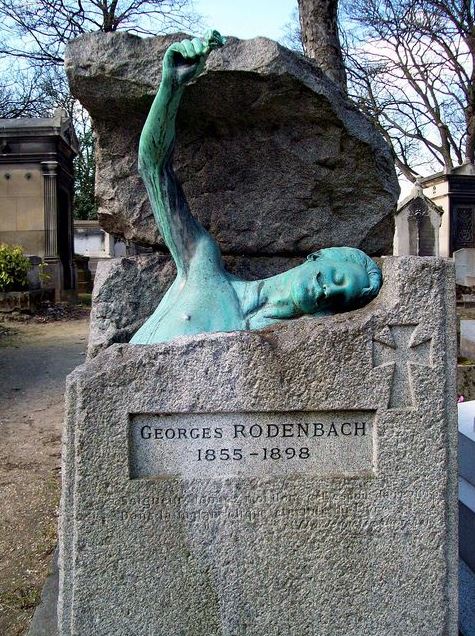 Georges Rodenbach was both a lawyer and a journalist who also wrote poetry and novels. His most famous work was Bruges-la-Morte, the story of a widower who could not get over the death of his wife so he spent his time among his wife's possessions: her clothes, shoes, letters, even a lock of her hair. Bruges-la-Morte has been an inspiration to many poets and composers.
Rodenbach's portrait in stone is a perfect match for his novel. It is a sculpture of himself emerging from a cocoon of rock, with a butterfly on his hand, ready for a transformation.
Children's Portraits in Stone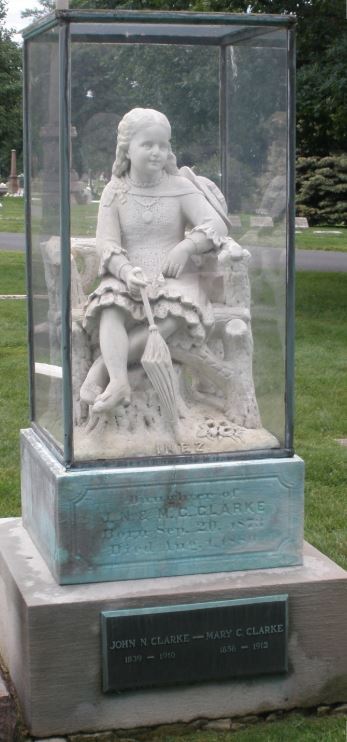 In 1873, a beautiful baby girl was born to Amos and Mary C. Briggs in Chicago, Illinois and they named her Inez. A little brother, Delbert, followed soon afterward but died as an infant.
Then Inez's parents divorced and she was sent to live with her grandparents.
When Mary C. Briggs remarried to John N. Clarke, she denied the existence of both of her children from the previous marriage. And in 1880 Inez died of diphtheria at the age of 7.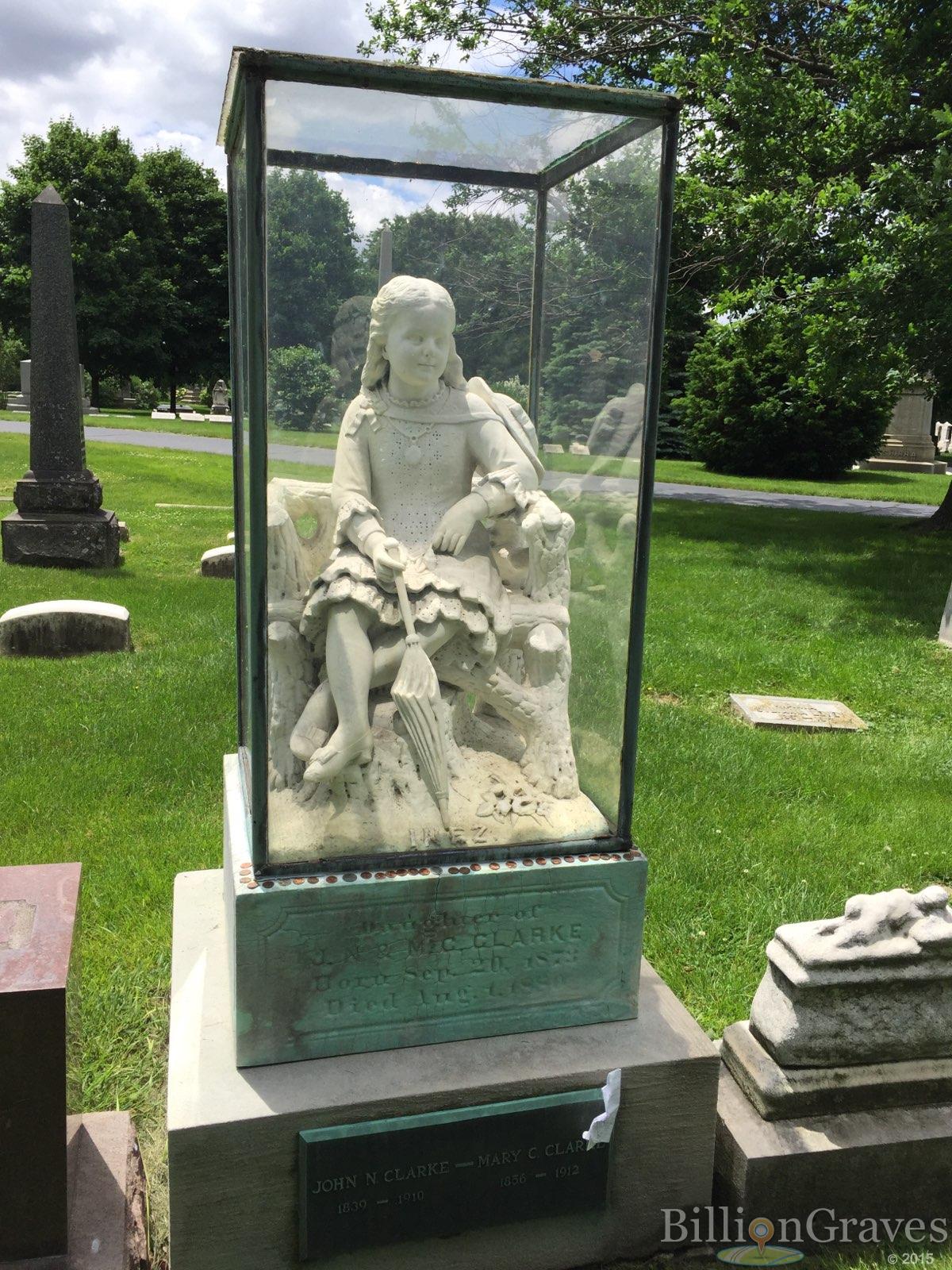 Inez could have easily disappeared into history and been forgotten forever if it were not for her lovely portrait in stone.
Now the statue of the young girl at Graceland Cemetery in Chicago attracts hundreds of visitors each year. She is seated on a wooden bench, wearing a lacy dress, with a hat slung over her shoulder on a wide ribbon. There is a locket about her neck and parasol in her hand. Ringlets curl around her face with a hint of a smile. Visitors leave stuffed animals, toys, and coins.
The statue was created by Andrew Gagel, a German immigrant who came to America in 1872. It is now surrounded by other gravestones, but for a long time, it stood alone in an unused part of the cemetery.
Whether her grandparents commissioned the exquisite work of art or whether it was the stonemason's idea to create it as an advertisement for his work is unknown.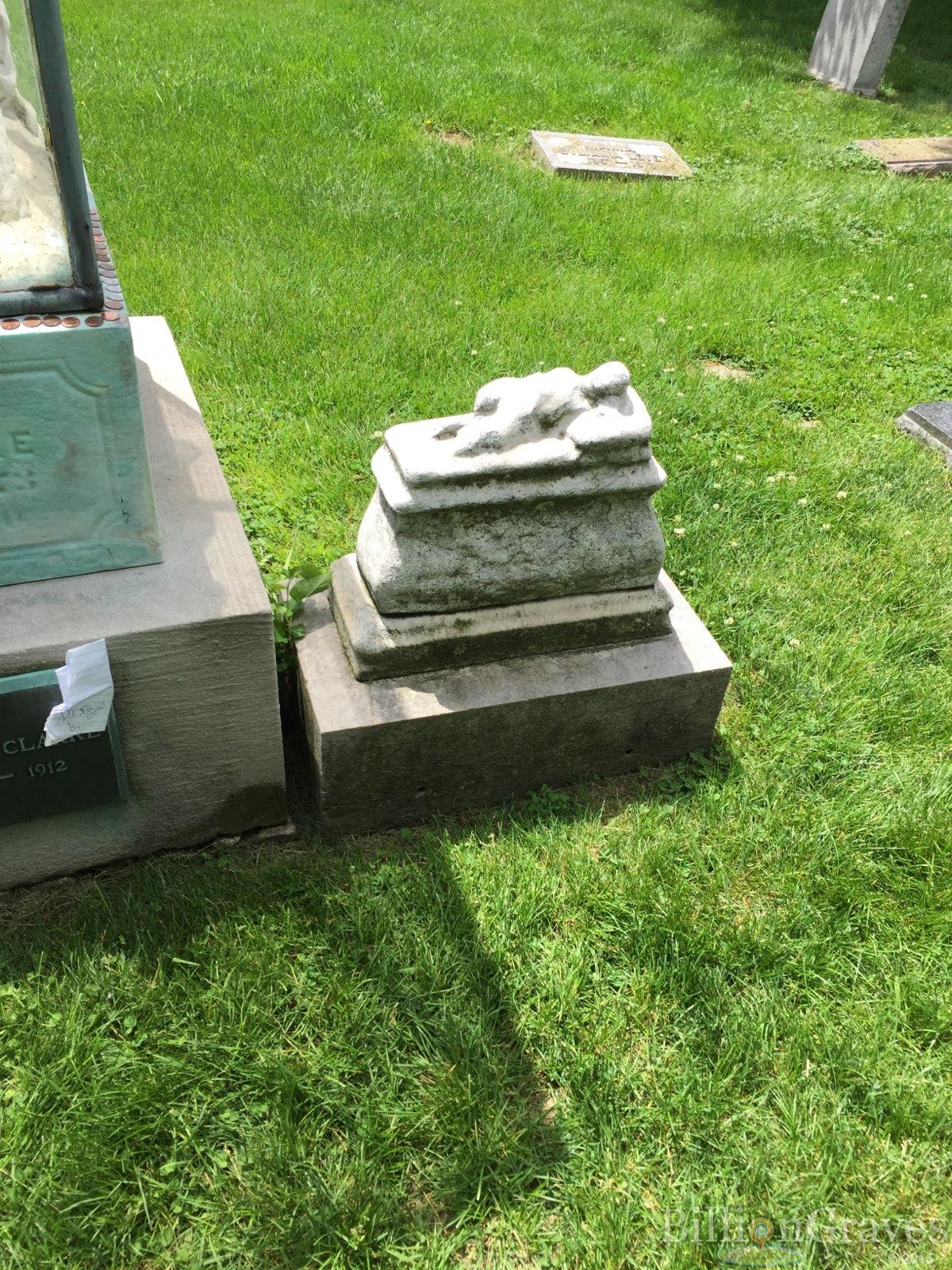 This is the gravestone of Inez's infant brother, Delbert Briggs. It is right next to hers.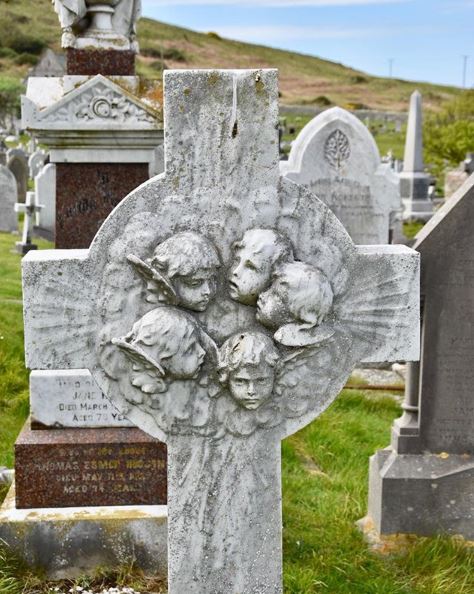 When epidemics struck, families sometimes lost several children at the same time.
"What we once enjoyed and deeply loved we can never lose, for all that we love deeply becomes part of us." ~ Helen Keller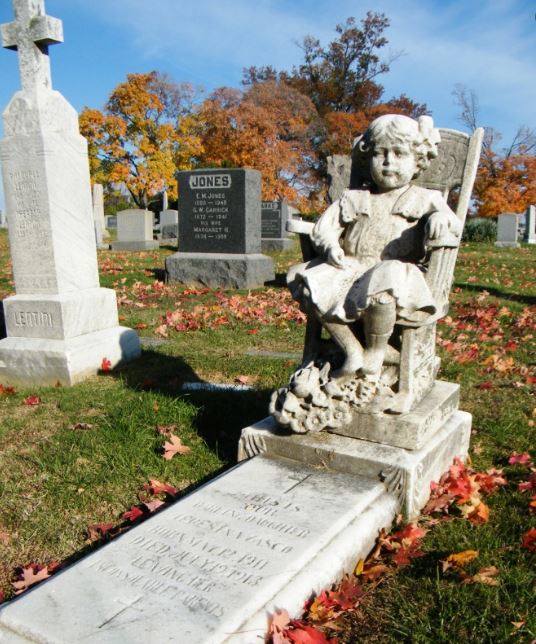 This portrait in stone is of Teresina Vasco, age 2. She is seated in a small rocking chair with her feet resting on a bouquet of flowers. Her curly hair is tied up in bows and she wears a dress with a lace collar.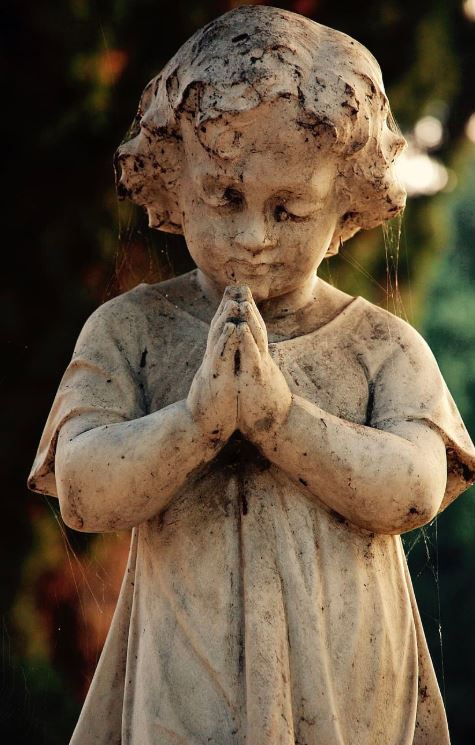 They that love beyond the world cannot be separated by it. Death cannot kill what never dies." ~ William Penn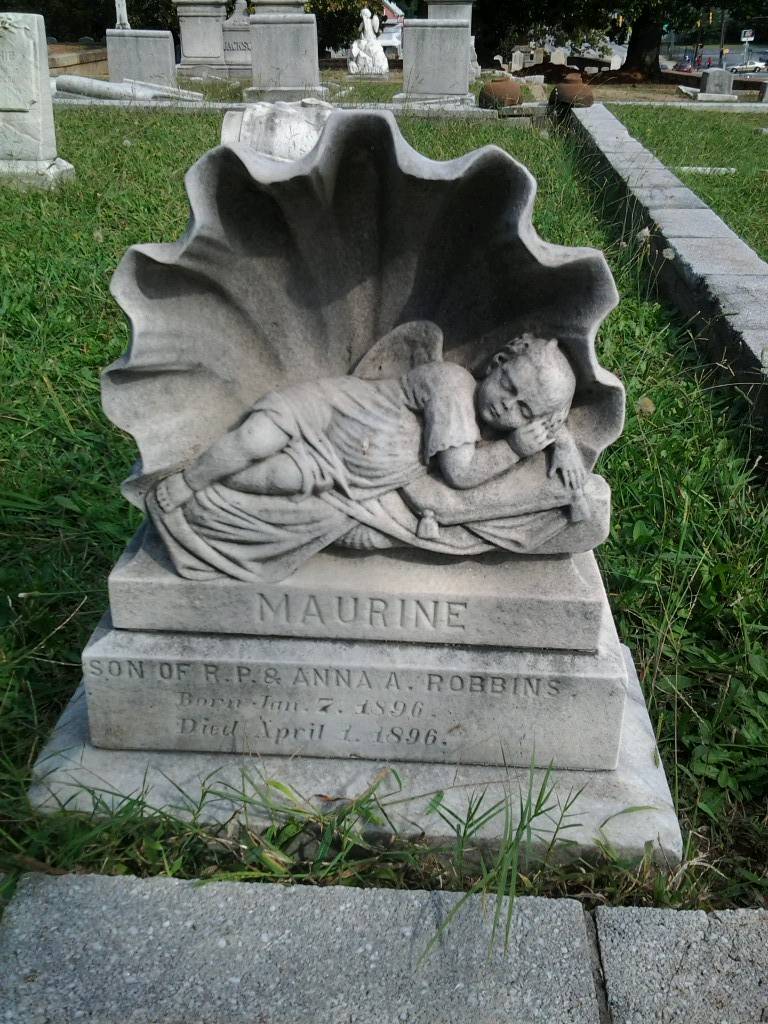 Maurine Robbins died at age 3 months. His grieving parents marked his gravesite with his portrait in stone sleeping in a scallop shell.
For thousands of years, final resting places had been called graveyards or burial grounds. But in the 1800s, as Christianity took on greater importance, the word cemetery came into use. It comes from the Greek word κοιμητήριον meaning "sleeping place". In other words, the focus shifted from "dead and gone" to "just sleeping until I wake up again in the resurrection".
Why is this baby sleeping in a scallop shell? It is a symbol of Christianity. Here's why according to legends . . .
James, one of Jesus' disciples (and a brother to John, one of Jesus' 12 apostles), died as a martyr by order of King Herod in 44 A.D. As his body was being transported by ship from Jerusalem to northern Spain a storm came up, washing his body ashore.
When the body made landfall it was undamaged but covered in scallop shells. So a shrine was built to memorialize St. James at the site. Then in the late Middle Ages, priests instructed believers to make a pilgrimage to St. James' shrine in Spain as a way to make penance for their sins.
To prove that they had completed the journey, adherents collected a scallop shell from the beach nearby. Eventually, scallop shells became a symbol used by Christians who needed secret ways to identify one another when they were being persecuted.
This baby is making the ultimate Christian pilgrimage – one from earth to heaven.
Family Portraits in Stone
Sometimes entire families were immortalized with portraits of stone.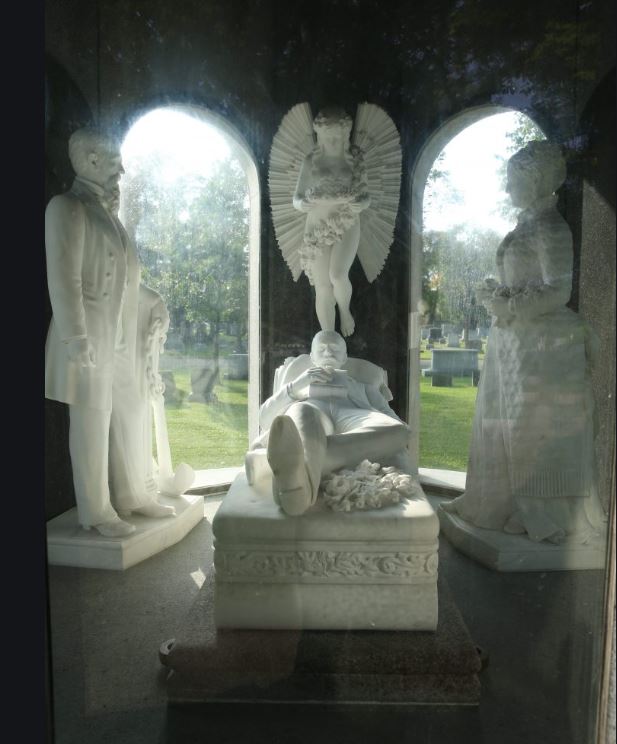 The statues in this memorial from Forest Lawn Cemetery in Buffalo, New York are of John and Elizabeth Blocher and their only son, Nelson.
John came from a modest background, working on a neighbor's farm and then apprenticing in a tailor's shop. He went on to start a shoe and boot factory that ultimately employed 200 men. His largest contracts were with the U.S. government at the height of the Civil War.
John's success allowed them to build a huge mansion, employ domestic servants, and to send Nelson to college for a fine education. When Nelson came home from college for a holiday break he fell in love with the family maid.
John and Elizabeth were appalled by their son's forbidden love. Fearing scandal, they sent Nelson to Europe on family business and dismissed the maid.
When Nelson returned, he was devastated to find the maid gone. He searched for her but when he could not find her, he lapsed into a deep depression. He died at the age of 37 from a broken heart.
Then it was his parent's turn to be brokenhearted. They softened their stance regarding the maid by putting the Bible that she had left behind for Nelson in his hands in the statue. And some say the angel on the wall is modeled after the maid as well.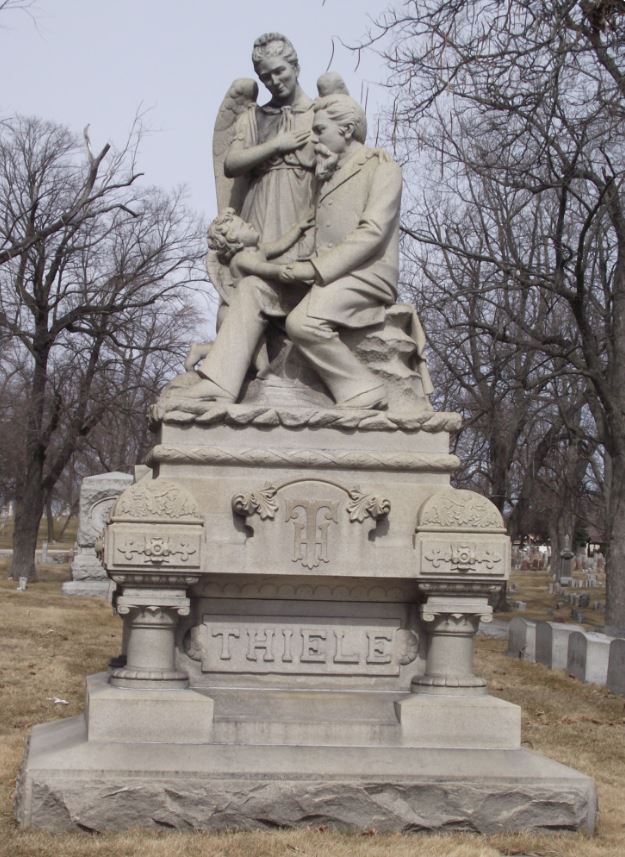 These portraits in stone represent the Henry Thiele family.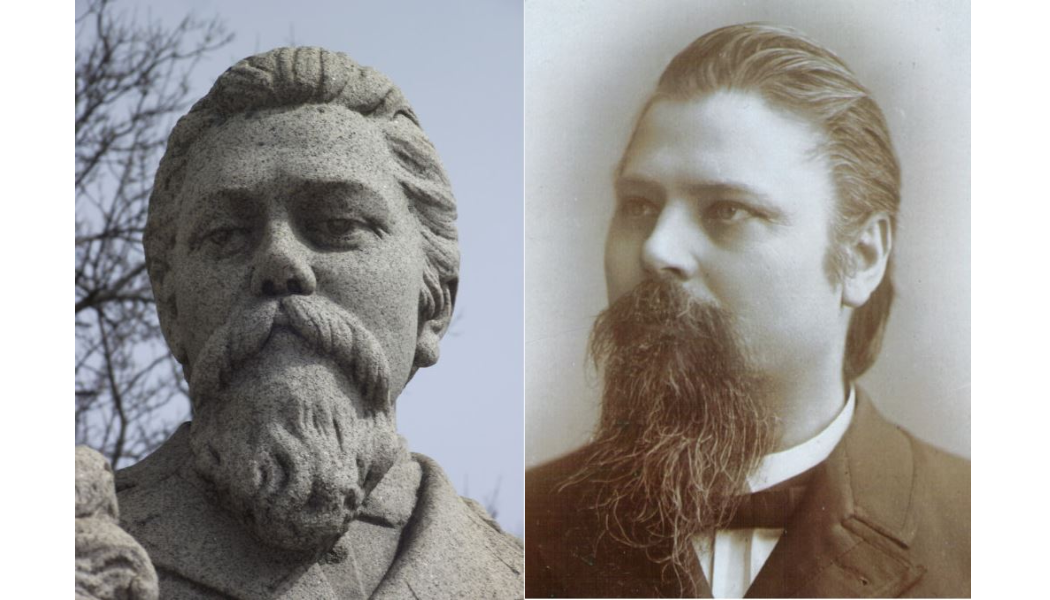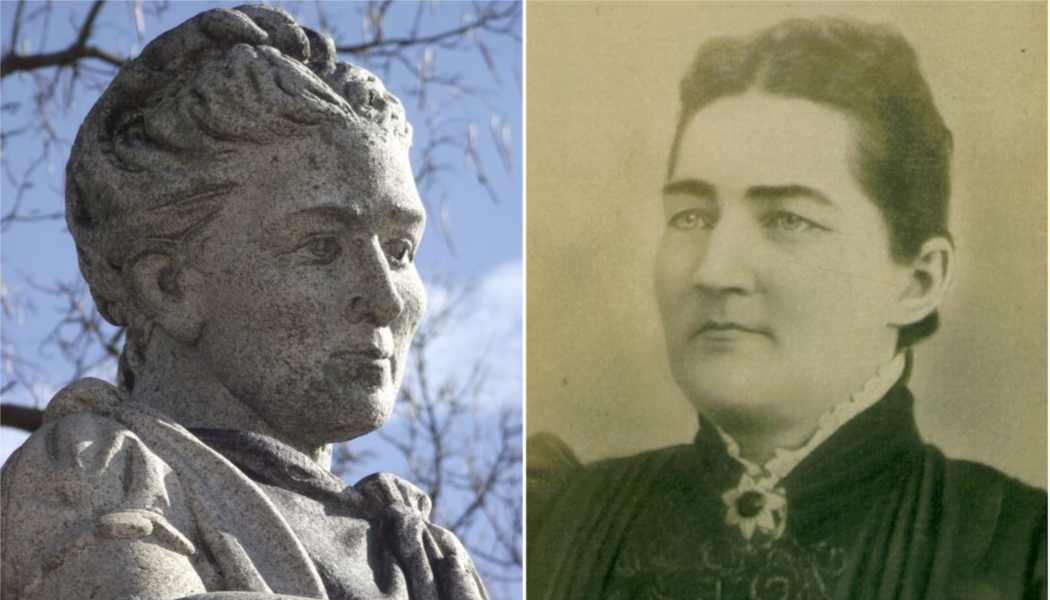 The portrait in stone of Johanna Thiele is strikingly similar to her photograph. However, there is one major difference. The granite statue has wings – angel wings – a fitting symbol for one considered to be an "angel mother".
By the way, did you get to read BillionGraves' blog post about Cemetery Angels? Click HERE to check it out!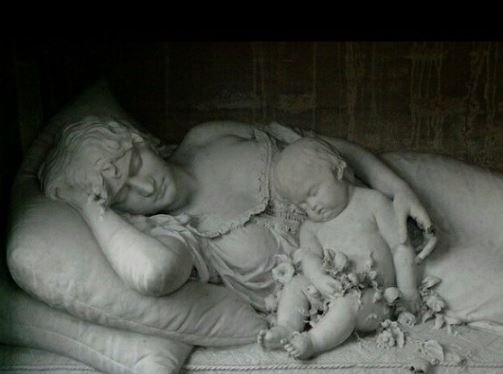 This tender portrait in stone memorializes a moment that many families had to bear in previous generations as mothers and infants often stepped across the veil into eternity together during childbirth.
Youth Portraits in Stone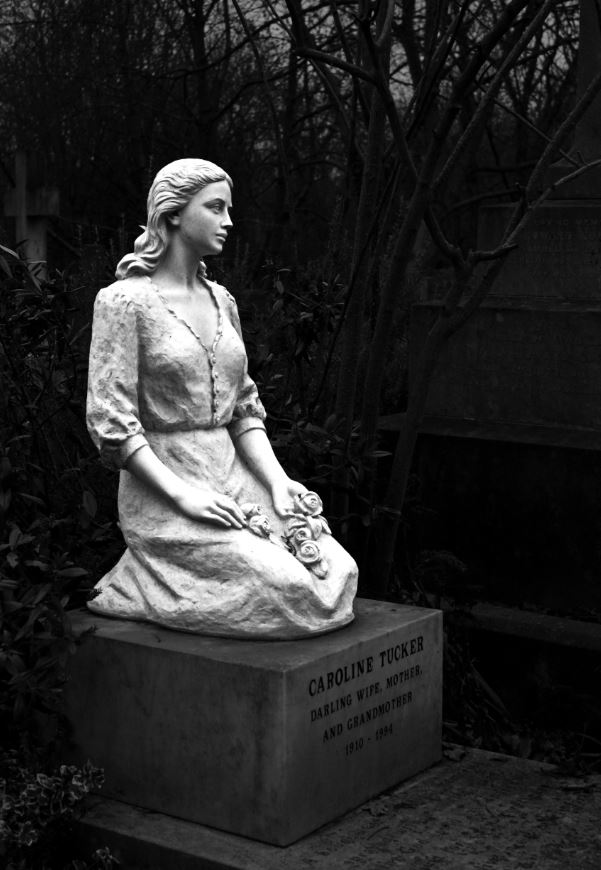 This portrait in stone portrays Caroline Tucker in her younger years, though the epitaph reads, "Darling wife, mother, and grandmother."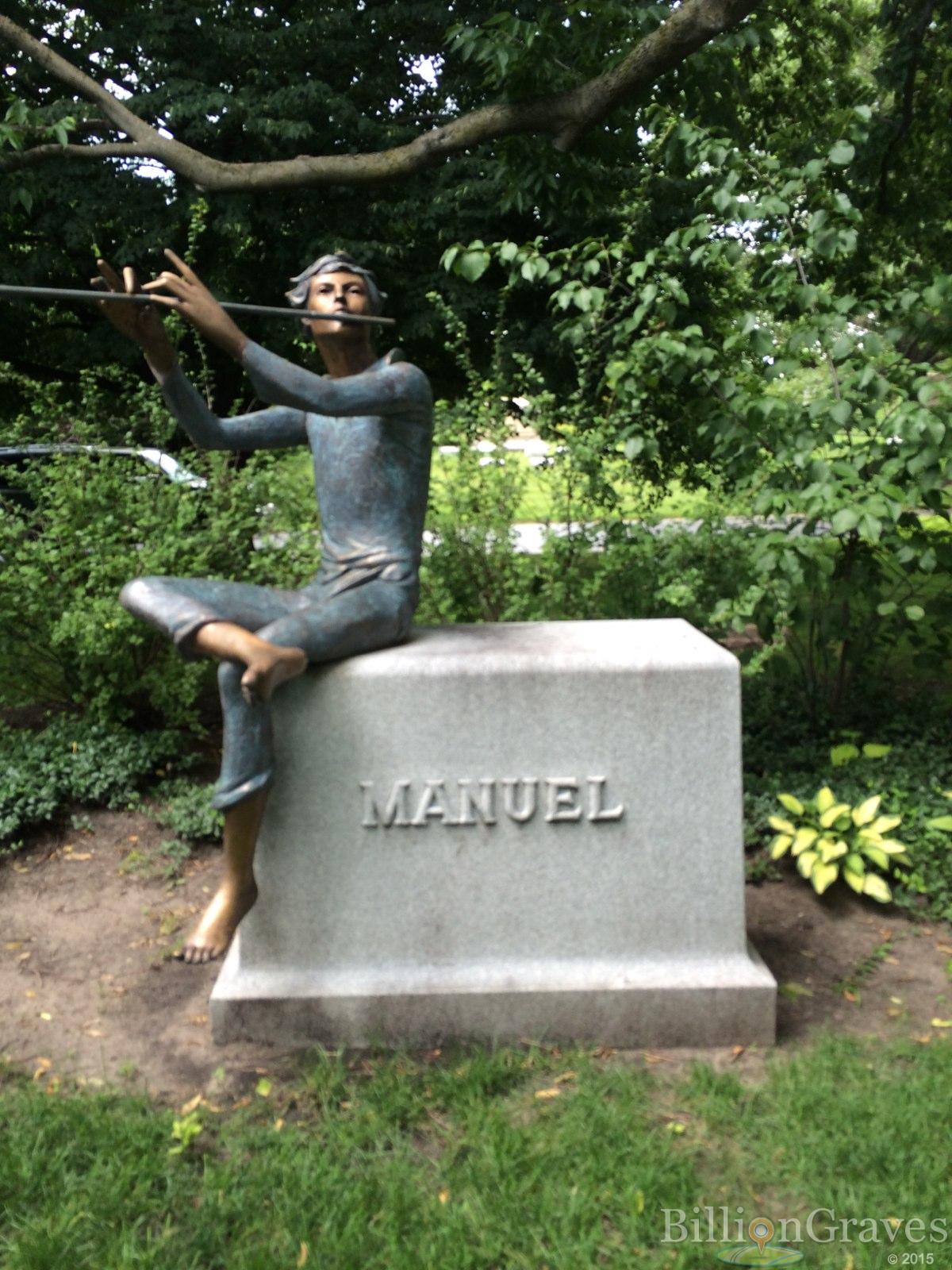 "The song is ended, but the melody lingers on." ~ Irving Berlin
Inspirational Portraits in Stone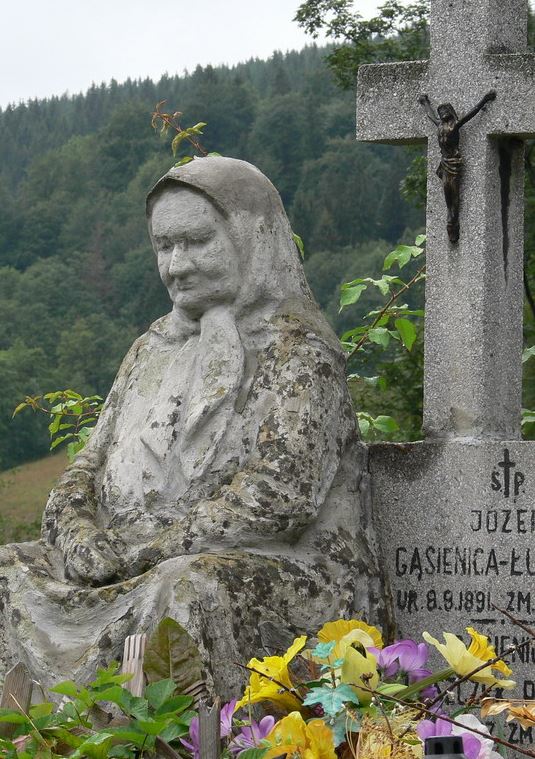 This sweet babushka portrait in stone from Poland is keeping a vigil over her grandchild's grave.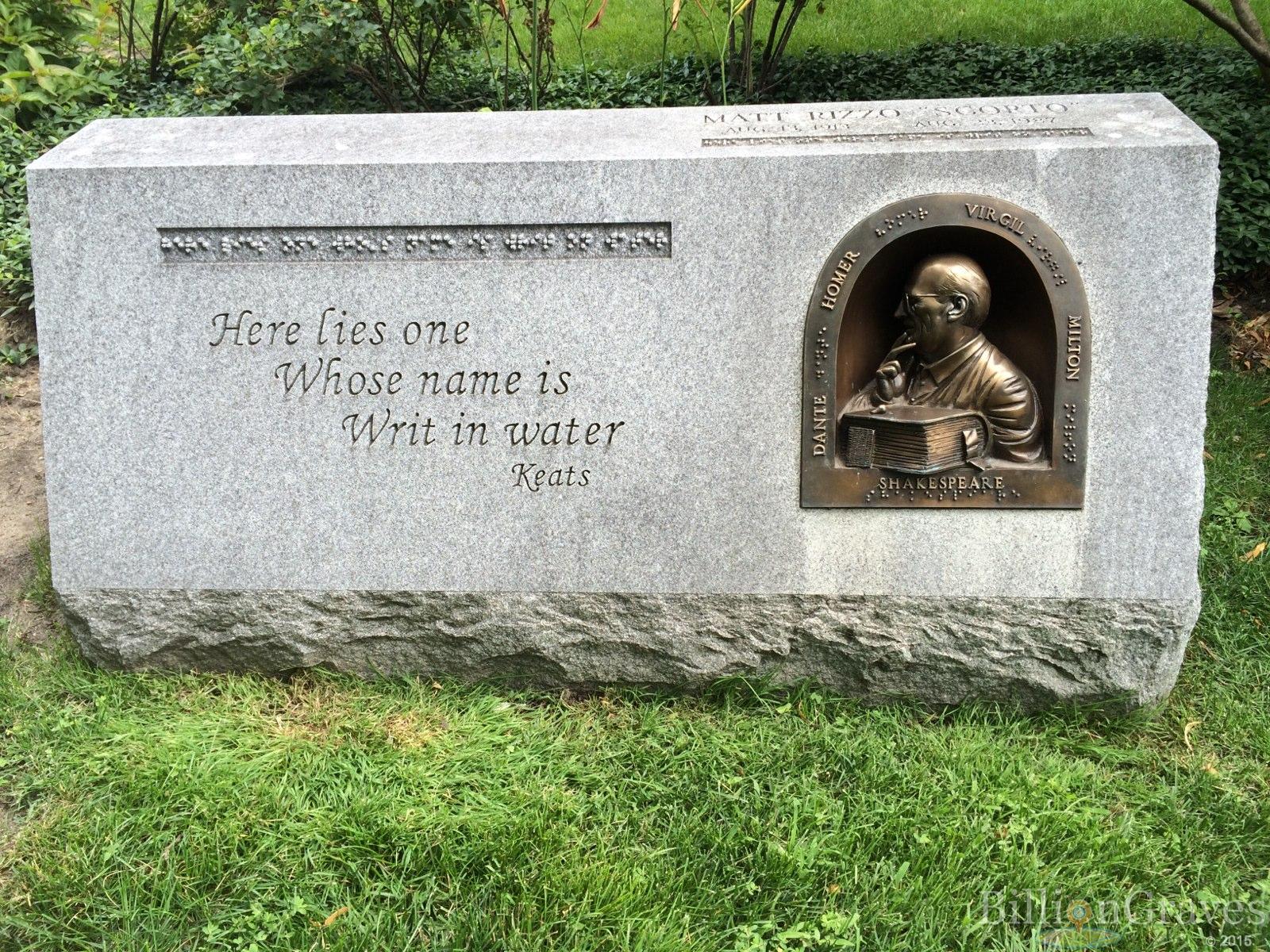 Matt Rizzo was born in Chicago in 1913. At 18, he and a couple of friends held up a liquor store. The shop owner shot Rizzo in the face with buckshot and he wound up in prison, blind.
While in prison, Rizzo met Nathan Leopold, a man who had murdered a 14-year-old boy. Leopold later wrote in his autobiography that he had met this Italian kid, Rizzo, who was blind, locked up, and had no one to help him.
And so, ironically, Leopold the killer took on the selfless task of learning Braille so that he could teach it to Rizzo.
Fours years later, when Rizzo was reintroduced to the world he couldn't see, but he could read. He got a job selling insurance, married, and had a child.
Shortly after his wife left him, taking their son with her. But 11 years later, she passed away and Rizzo brought his son, Charlie, to live with him in his one-room apartment in Chicago.
They were poor and had only one bed. But it didn't matter much because Rizzo hardly slept anyway. He stayed up all night reading the world's greatest literature from Shakespeare, Kant, Homer, Whitman, and Emerson – with his fingers, in Braille.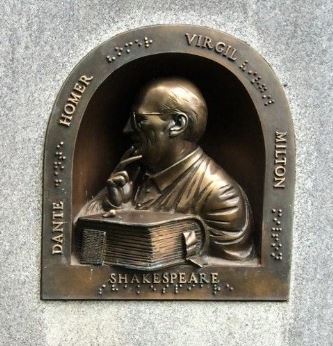 Night after night, Rizzo tapped out his own thoughts about these great works on a Braille typewriter, eventually compiling enough to fill a thick book.
Later, when Charlie was arrested for burglary at age 18, Rizzo finally broke down and tearfully told his son for the first time how he had lost his sight. Charlie determined right then that he would put aside his teenage troublemaking and live an honorable life.
Rizzo died at 79 and Charlie had a monument made with his father's portrait in stone. It is inscribed with the words of the English poet John Keats, "Here lies one whose name was writ in water" – with the Braille translation alongside the quote.
If someone's name was actually written in water, it would disappear in a matter of moments and be forgotten. And yet, in another stroke of irony, this quote has now been inscribed on granite next to a portrait of stone, never to be forgotten again.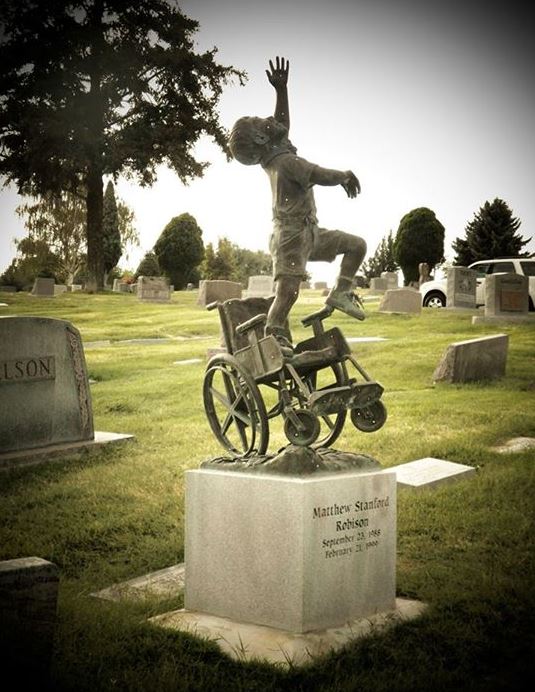 When Matthew Robison was born in 1988 his parents were told that he would probably only live for a few hours. But in spite of disabilities that left him with limited speech, sight, and mobility, Matthew lived for 11 years. His parents say that he was an inspiration to all around him.
So it is fitting that his portrait in stone, which was designed by his father, should also be an inspiration. The inscription on the stone reads, in part:
In memory of those
who walk more closely
in the hands of God
With their legacy complete
In love, they return
home again to God
To behold his face
and be wholly healed
In joy forevermore.
_________________
May your life's deeds be worthy of a portrait in stone!
Cathy Wallace and The BillionGraves Team
P.S. If you would like to help take photos of gravestones at your local cemetery please send an email to Volunteer@BillionGraves.com. We would love to help you get started! We would also be happy to help you plan a group event!
Related posts