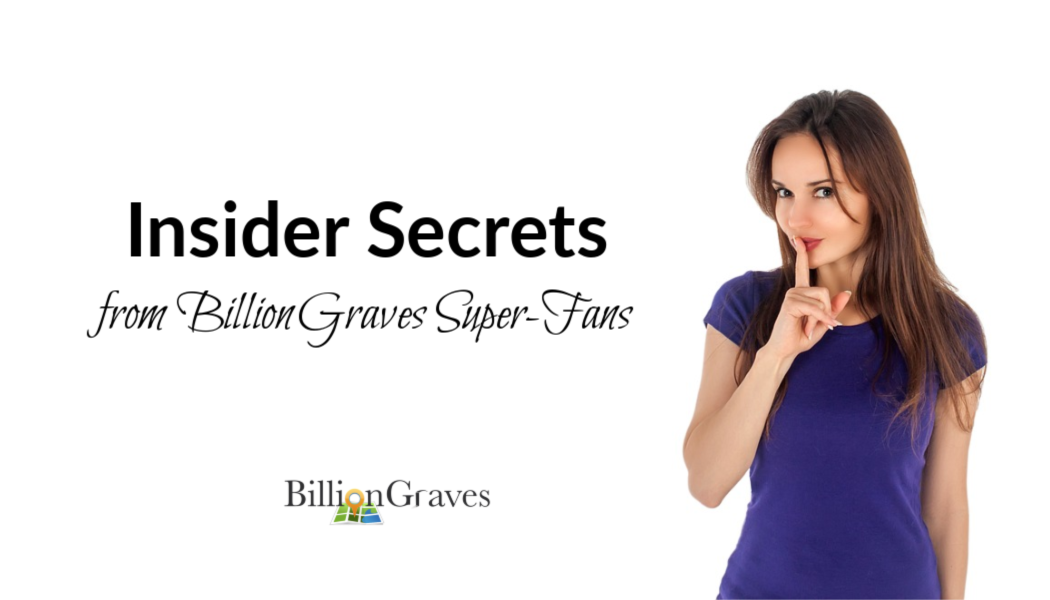 Insider Secrets from BillionGraves Super-Fans
Cathy Wallace, 4 years ago
12 min

read
23571
Straight from BillionGraves Super-Fans, here are some insider secrets, professional tips, and new perspectives!
These great ideas will help you become a better cemetery photographer, a more efficient data transcriber, and a more effective genealogist!
Insider Secret #1:
Finding a Cemetery that Needs Photos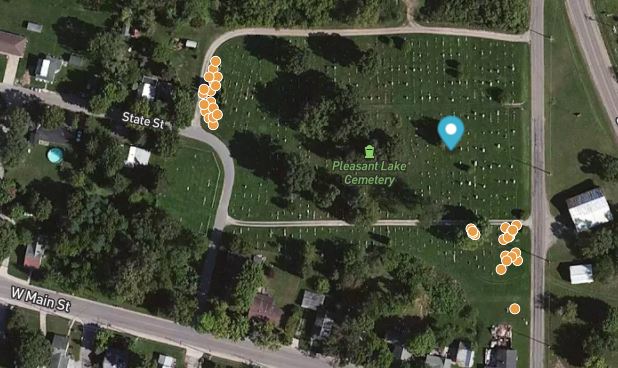 A seasoned cemetery photographer says . . .
"It's easy to tell if a cemetery still needs to have photos taken or not."
When Allison started taking photos with the BillionGraves app, she wondered how she could tell if her local cemetery had already been photographed. She wanted to help but did not want to duplicate work that had already been done by others.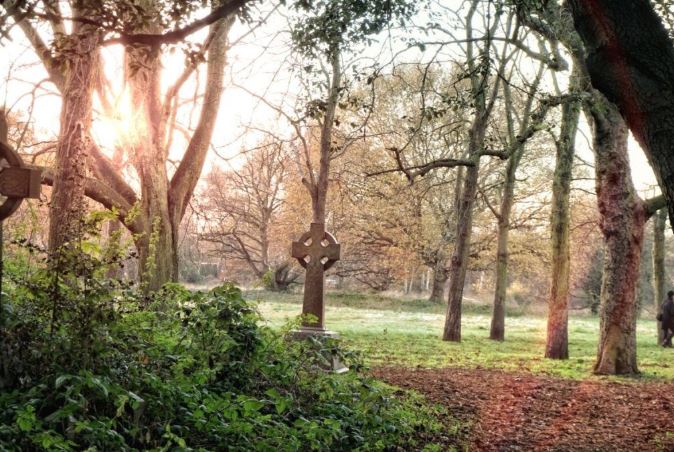 Eventually, Allison discovered two easy ways to tell if a cemetery still needs photos. Her insider secrets include using either the app or the website to find out.
How to Find a Cemetery to Photograph Using the BillionGraves App
In the app, click on "Find Cemeteries."
Select a cemetery nearby. Tap the arrow for driving directions and additional cemetery information.
Click on "Cemetery Map" to see a map of the cemetery and pins of photos already taken.
If no pins are present on the map, photograph the entire cemetery.
If pins are present, locate a section of the cemetery with no pins and begin taking photos.
If you happen to duplicate some of the gravestones that have already been photographed, don't worry about it – they will be merged in the transcription process.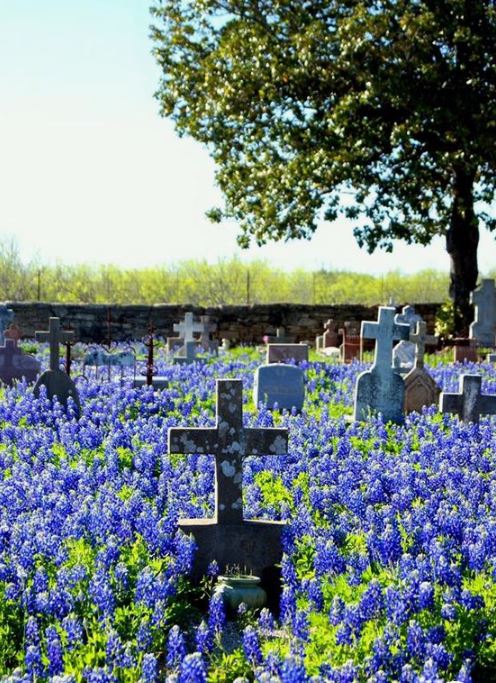 2. How to Find a Cemetery to Photograph Using the BillionGraves Website
On the website click on the large blue button that says "Search BillionGraves"
Go to the "Cemetery Search" tab.
Enter the city or county you are interested in documenting.
A map will appear. You can either click on the pins on the map or the names of cemeteries below the map.
Once you have opened a specific cemetery, click on "Volunteer" to see a map of that cemetery.
The pins will show where photos have already been taken. If there are areas with gravestones that have no pins, then your service is needed to photograph that cemetery!
Insider Secret #2: Adding a Cemetery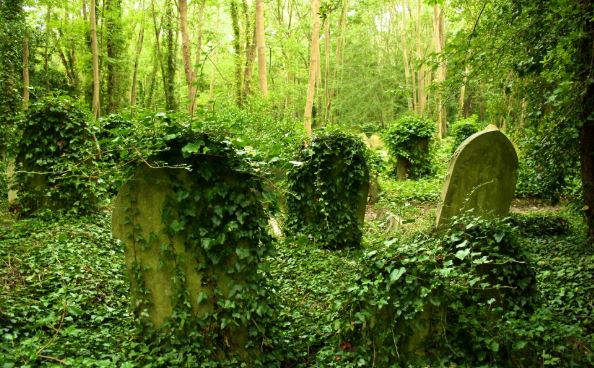 A BillionGraves Super-Fan found an abandoned cemetery in the woods. He says . . .
"You can ADD a cemetery to the BillionGraves website and app!"
Almost every morning Roger steps out the back door of his home in rural Tennessee and goes for a walk. At one time the area was farmland, but now it is a subdivision with newer homes. He usually headed for a path that went around a stand of trees bordered by a white vinyl fence on common ground in the center of the houses.
But one day it was so hot that Roger stepped over the fence and walked into the woods, seeking shade. As he did, he noticed a gravestone peeking out from beneath a thick overgrowth of ivy. The deeper he went into the woods, the more gravestones he found.
Eventually, Roger involved his community in cleaning up the abandoned cemetery. He had heard of the BillionGraves app and wanted to use it to document the gravestones.
But when Roger checked the BillionGraves website, there was no cemetery listed in that location because it was so tree-covered that it could not be seen on satellite maps.
So Roger had to figure out how to add this newly-found cemetery.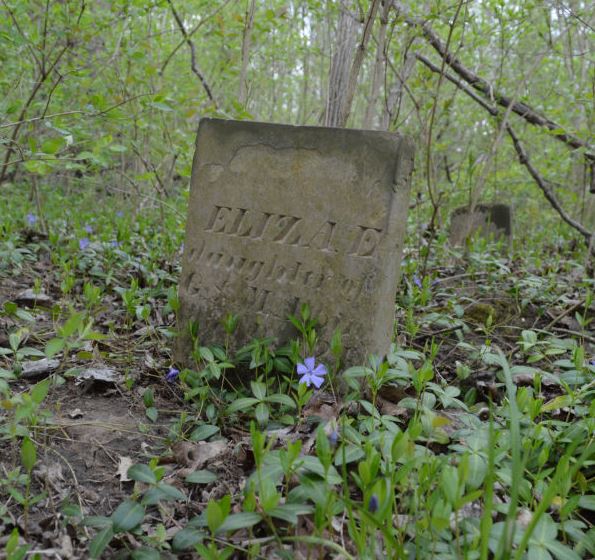 Here are 2 ways to add a cemetery to the BillionGraves database:
Click HERE to use the BillionGraves app on your smartphone to add a cemetery.
Click HERE to use the BillionGraves website on your computer to add a cemetery.
Thanks to Roger – and the BillionGraves app – the people who were buried in this previously lost cemetery will never be forgotten again.
Insider Secret #3: Linking Data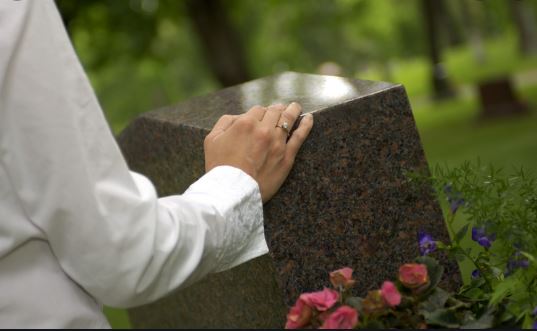 A genealogist discovered a way to help families find their ancestors by using BillionGraves' linking feature. She says . . .
"You can link the names and dates on both sides of a gravestone together."
When Jane, an avid genealogist, went to the cemetery to take photos she was concerned that families who were looking for ancestors might become confused about which people were related to one another when their family information was on more than one side of a gravestone.
Jane shared her insider secrets for linking data.
"If a gravestone has names and dates on more than one side, there is a way to link the information together," she says. "For example, there may be the names of parents on one side and children on the other side.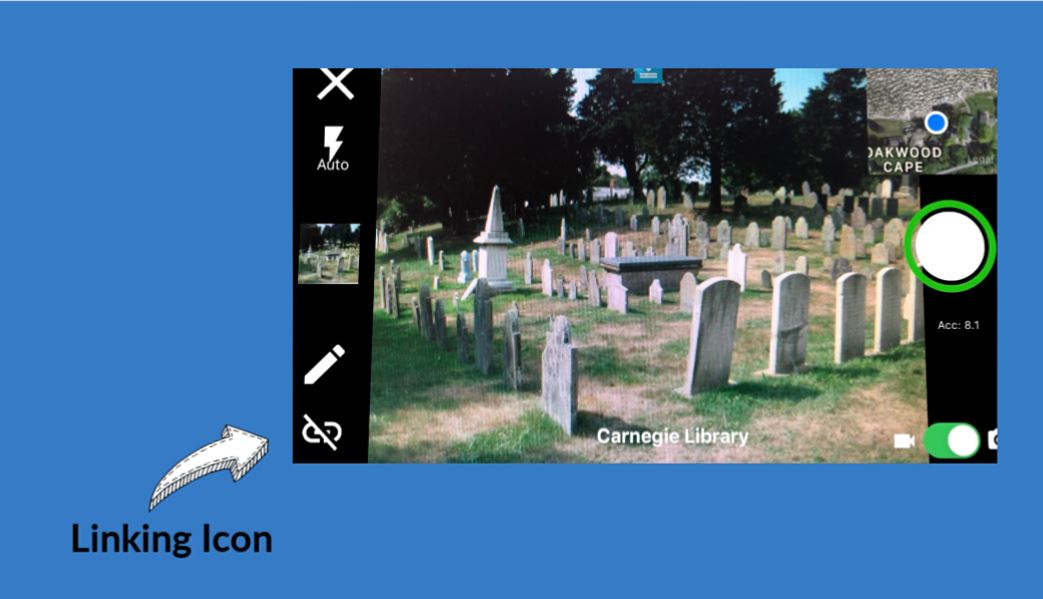 "Just tap on the chain icon in the corner of your BillionGraves screen between each photo that you would like to link: front side, then the chain icon, then the back side."
You can also use this linking feature for obelisks that have data on four sides. It can even be used to link a large gravestone with the family's last name on it to nearby smaller gravestones with the family member's first names on them.
Insider Secret #4: Get Community Service Hours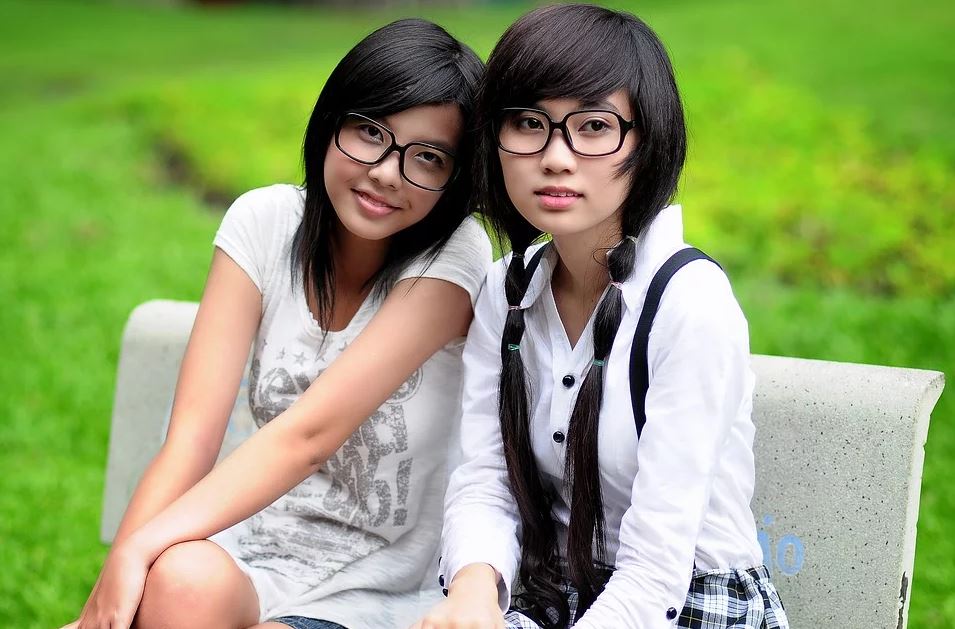 Students trying to qualify for college scholarships say . . .
"You can get a signature from BillionGraves for your community service hours!"
Sisters, Brooke and Bianca, needed service hours and they needed them fast. Brooke is a high school junior who is required to give community service hours as a member of the National Honor Society. And Brooke is a senior who needs to complete community service in order to qualify for college scholarships.
Both sisters also needed a signature to prove that they have completed the requirements. They found out that they would be credited with 1 hour of service for every 250 photos taken with the BillionGraves app.
Brooke said, "It was actually really easy to take 250 photos on my first time using the app. And it even automatically kept track of the number of photos I took."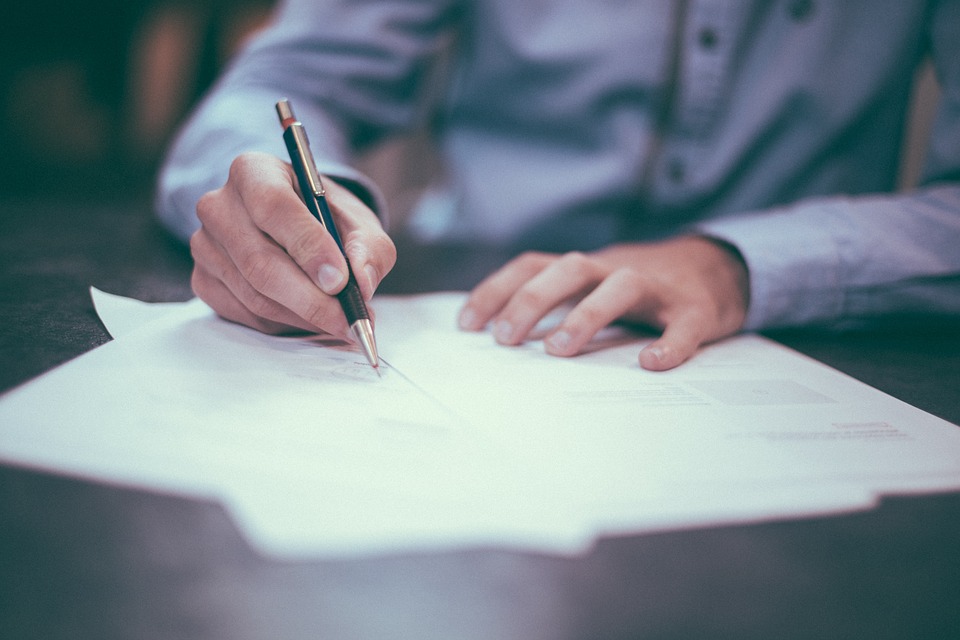 When you are finished, send an email to support@BillionGraves to request a signature for your service. Include your name, county, cemetery, and the email address that you use to login to BillionGraves.
BillionGraves will also issue signatures for individuals who need to get court-appointed service hours.
There is no age limit – young or old – to qualify to do this work. You just have to be old enough (or young enough!) to use a smartphone.
For more information go to http://bit.ly/BGServiceHrs
Insider Secret #5: Get Help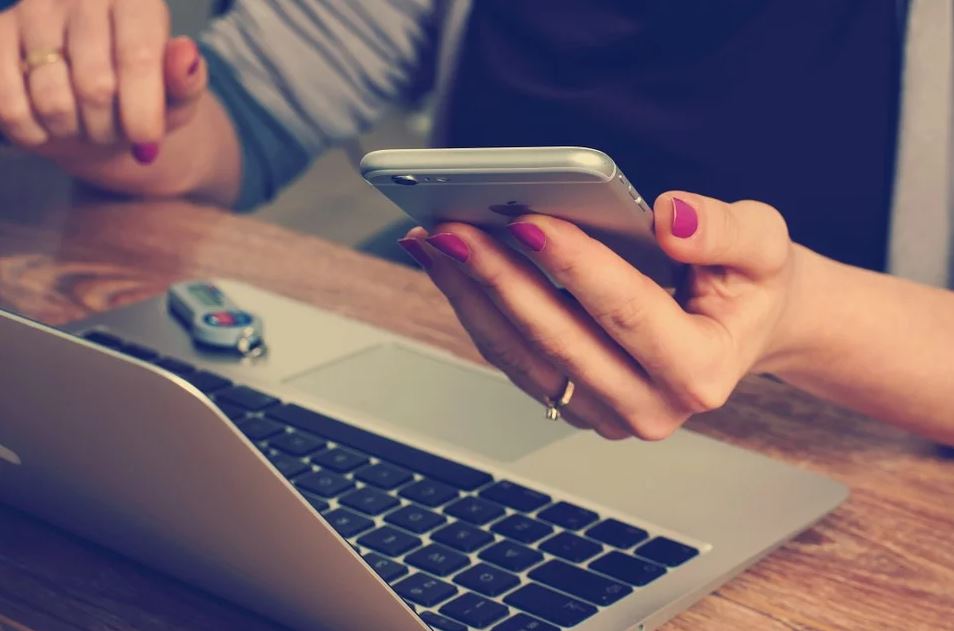 A family history researcher says . . .
"You can get one-on-one help online from the BillionGraves support desk."
Mildred has been using BillionGraves for a few years. She has seldom needed any one-on-one help because she is great at using the BillionGraves HelpDesk pages to find her own answers, but recently she discovered that when she did have a problem there is an easy way to get support.
She said, "To get the help you need you just go to this link and fill out a support ticket.
https://support.billiongraves.com/support/tickets/new
"Then a member of BillionGraves support department will contact you."
Those with BillionGraves Plus upgrade subscriptions are served first as the highest priority, but even those with free access will get help.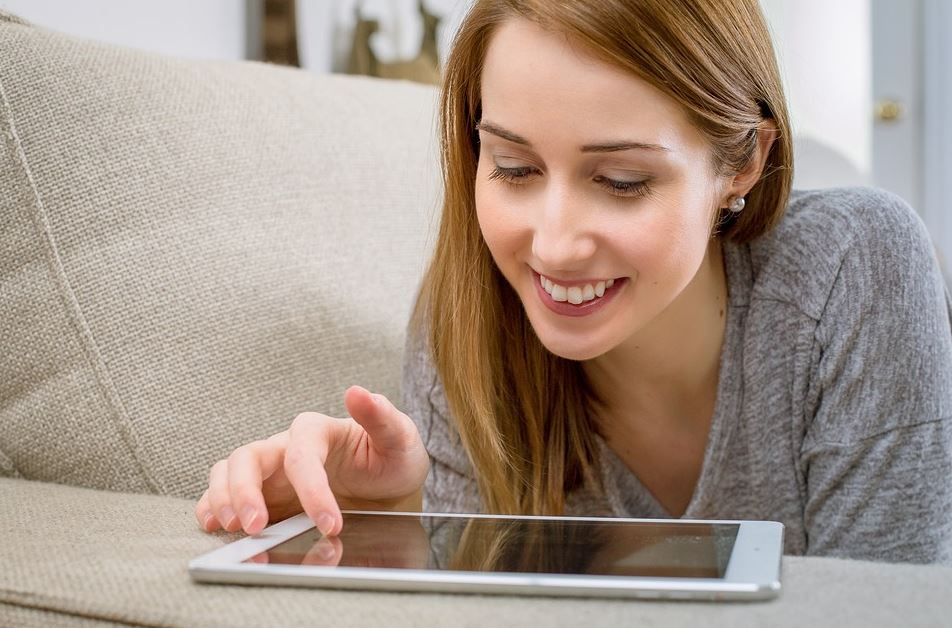 If you prefer to search for your own answers to questions, check out the following categories on the BillionGraves HelpDesk :
Volunteer (with subsections about photographing, transcribing, cemetery questions, and service projects)
Research (with subsections on searching for people, locating cemeteries, submitting photos that have been taken without the BillionGraves app, and more)
Dashboard (for information about your account and profile)
BillionGraves Plus (learn about the awesome features available with paid subscription upgrades)
How-To's (for videos and tutorials)
Trouble Shooting (for devices, transcriptions, and the BillionGraves website)
Contact Us
There is also a forum section at the bottom of the HelpDesk where BillionGraves subscribers share ideas.
Insider Secret #6: Take Great Photos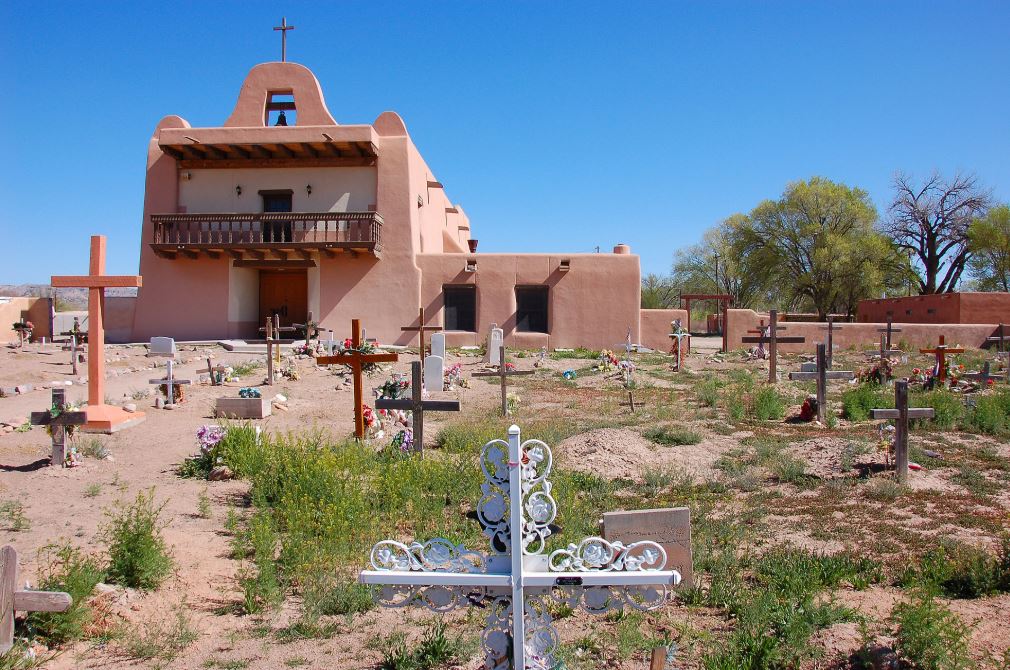 A volunteer photographer says,
"I've learned some tricks for getting the best photographs at the cemetery."
Loyal Millett of Albuquerque, New Mexico has known since he was a child that he wanted to help people find their ancestors.
Albuquerque is in the high desert, so when Loyal takes photos at the cemetery it is a quite different experience from other areas that have sweeping green lawns and lots of trees. Instead, he is surrounded by dry brown earth, sagebrush, and mountains.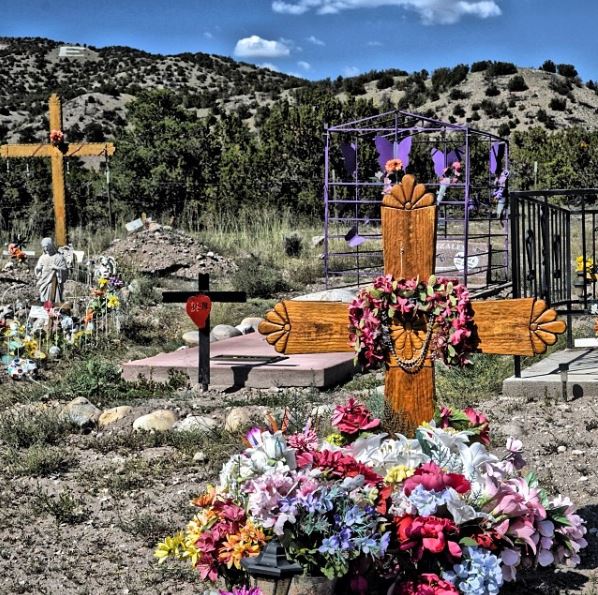 Loyal often takes photos in Latino cemeteries where gravestones are decorated with lots of brightly colored flowers and ribbons. He says, "They make me feel like I am in actual Latin America."
Here are some tips that Loyal and other great BillionGraves photographers use to take the best possible pictures in the cemetery.
Lighting
Sometimes cemeteries have gravestones facing every which way! They are in a crazy lot of random directions, so in those cases, just do your best with the lighting.
But for cemeteries that have gravestones facing mostly in the same direction, here are some lighting tips.
East-facing gravestones are best photographed in the morning.
West-facing gravestones are best photographed at mid-day.
North-facing gravestones are best photographed in the late afternoon.
The least desirable photograph is one in which the gravestone is backlit.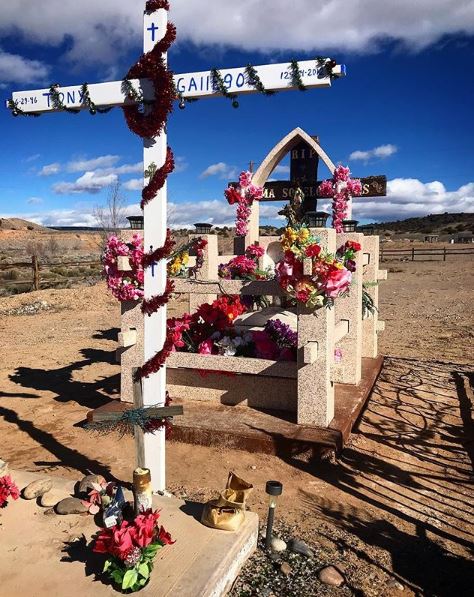 Enhancing the Inscription
Some gravestones are difficult to read even with good lighting. Many are worn and eroded. Here are some tips that can help.
Carry a spray bottle of water and spritz a little on gravestones that are hard to read. This can make engraved lettering stand out better than when it is dry.
BillionGraves recommends a product called D/2 for safely cleaning gravestones. If the stones are coated with lichen, moss, or molds this can be particularly helpful. You can purchase D/2 by clicking HERE.
Use a mirror to reflect light across the difficult-to-read lettering.
Shine a flashlight across the stone. (You probably have one right on your smartphone, right?)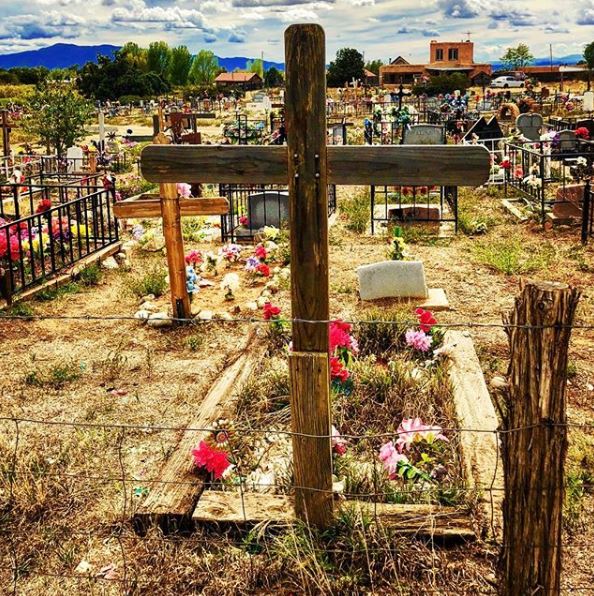 Link a Close-up Shot
Sometimes you may encounter a gravestone that has an easy-to-read last name in large bold letters with some small worn first names below it. In these cases, you can link several photos together to get the best view of each section of the stone. Here's how:
Stand back and take a photo of the entire monument.
Tap the chain icon in the corner of your phone screen on the BillionGraves app. This will link the previous photo to the next photo.
Step in to get a close-up view of the smaller (or more worn) names and dates.
Tap the chain icon again if you wish to add additional photos of this gravestone.
This is also a great method for tall obelisks. First, stand back for a view of the entire monument. Then move in close and tap the link feature to add photos of each of the four sides of the gravestone.
Tuck Your Toes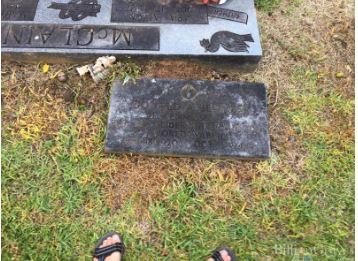 Those are some pretty nice sandals, but let's keep them out of the gravestone photos, okay?
Keep your Shadow to the Side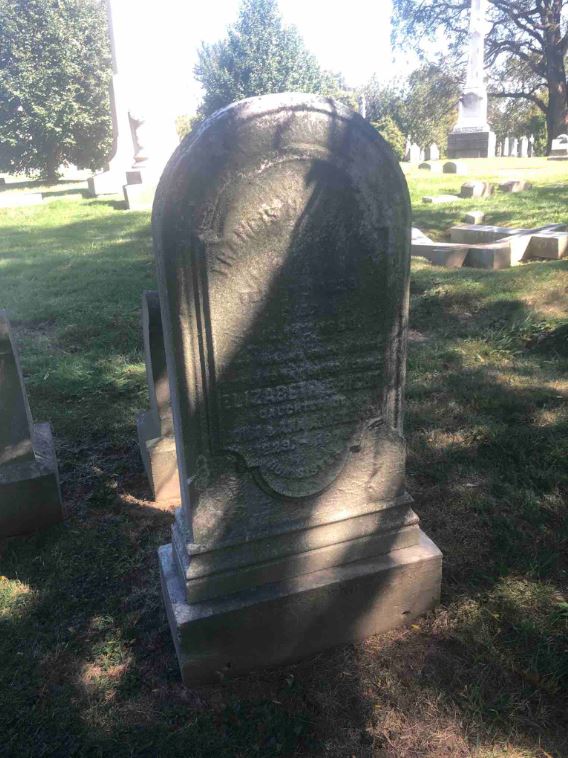 Whenever possible, stand to the side to avoid casting your own shadow over the gravestone. It makes the inscription hard to read.
Insider Secret #7: Help Translate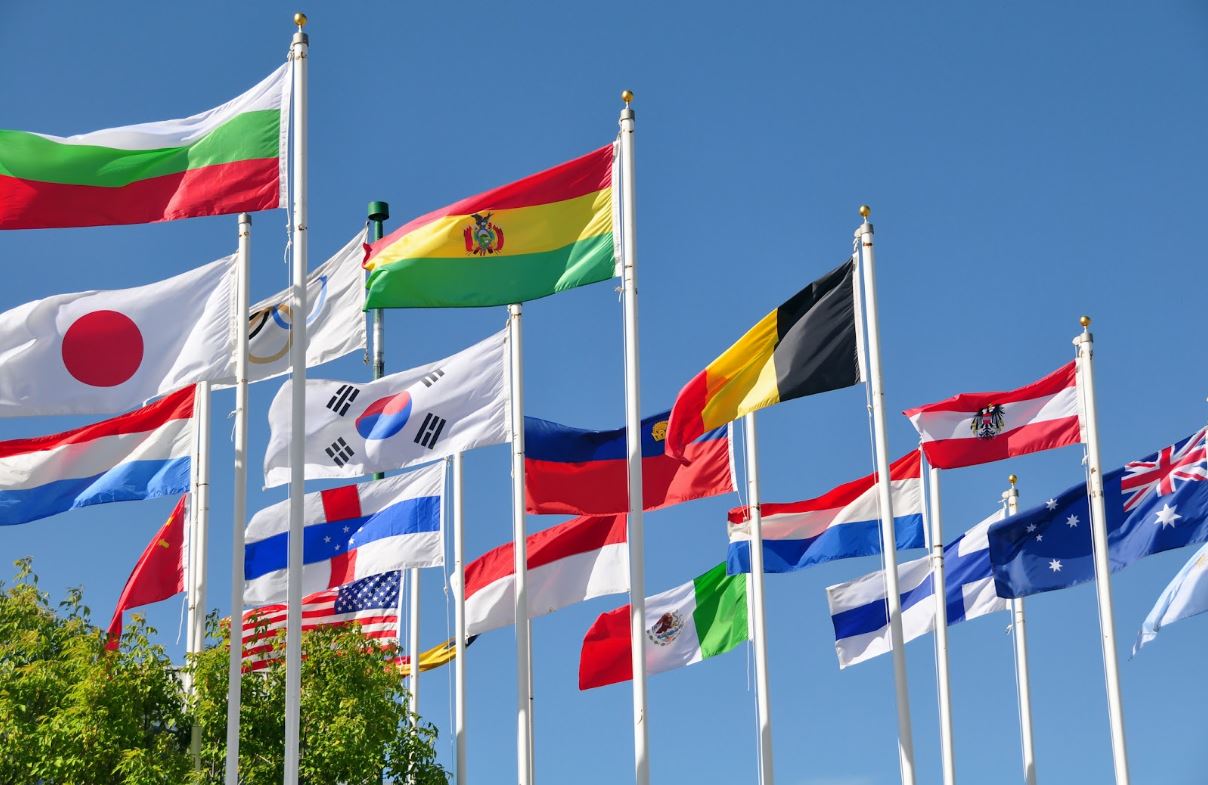 BillionGraves Super-Fans from Around the World say . . .
"You can help translate the BillionGraves website into 26 languages!"
Did you know that if you are fluent in languages other than English that you may be able to volunteer to help translate the BillionGraves website?
Here are a few awesome volunteers who have offered to help translate the BillionGraves website into other languages:
Ricardo Prins – Portuguese
Fred Janssen – Dutch
Itay Politi – Hebrew
Balázs Glatz – Hungarian
Anna Miedzianowska – Polish
Øystein Bach – Norwegian
Kamila Markova – Czech
Malin Fagerudd – Swedish
Sofia Smirnova – Russian
Garrit Kurg – Estonian
Silvia Buchtova – Slovak
Kim Sahlberg – Finnish
This video shows the basics of translating for BillionGraves:
If you would like to help translate the BillionGraves website into another language click HERE for more information. (And thanks, in advance!)
(And while we're talking about other languages, I have a little insider secret for transcribers. Pssst! Pleeeeeeeeze, do not attempt to transcribe gravestone names and dates from a language you don't understand. It is not helpful for us to get gravestone transcriptions that say things like "Chinese words, August 12, 1888, Chinese words." It's just not, k? Please stick to the languages that you know.)
Insider Secret #8: Transcribing Worn Gravestones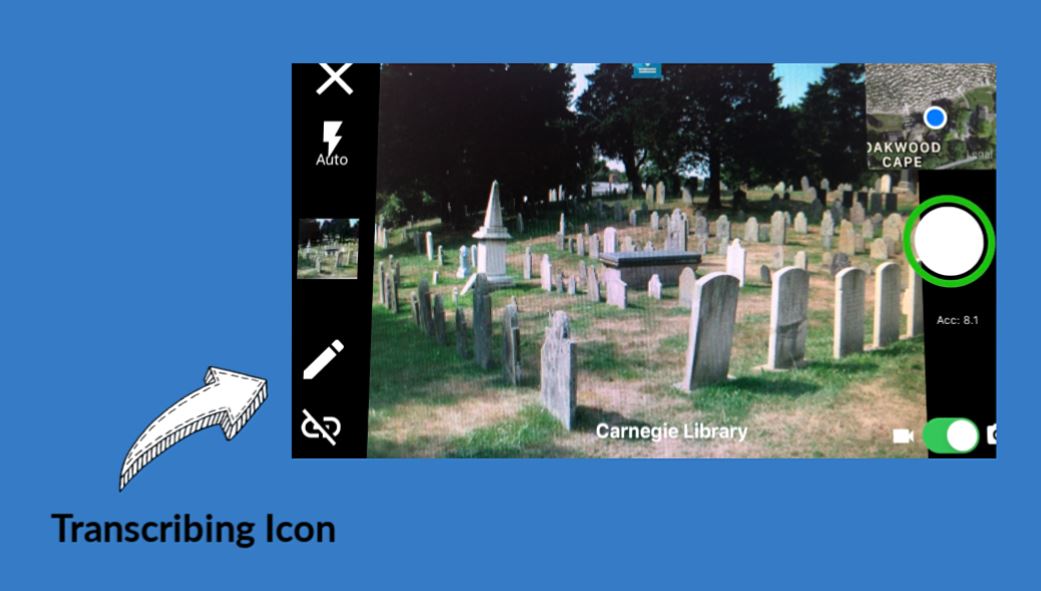 An experienced genealogist says,
"You can use a little magic to transcribe!"
See that little pencil icon in the photo above? MOST of the time, you do not need to touch it! But there are some cases where it can be incredibly useful!
Anna Young has a lot of experience taking photos in cemeteries with the BillionGraves app and she shared her insider secrets about how to use the pencil icon. Each summer Anna takes a cross-country trip on an adventure to find the gravestones of her "kin" (family members) in Kentucky and Virginia.
Since she has traveled thousands of miles, she wants to be sure she gathers as much information at the cemetery as possible. Most of her kin are buried in small family plots in people's backyards. So Anna knocks on the door, gets permission, and then take photos with the BillionGraves app on her smartphone.
But many of the gravestones are old and barely readable. Sometimes Anna can feel the letters with her hand to tell what they say. Other times she can read them at just the right angles, but either way, if she is sure that transcribers will not be able to read the names and dates from a photo on the app she taps on the pencil icon.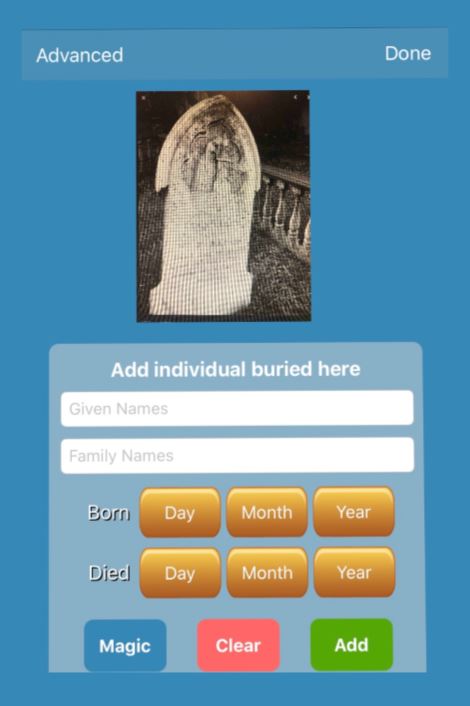 The pencil icon opens a screen where the names and dates can be entered using the keyboard on her phone.
There is also an option for her to enter the information by recording her own voice as she reads the inscription. This is done by tapping on the button at the bottom left side of the screen that says, "magic."
Pretty slick, huh? But, please remember that this magic is ONLY to be used when the gravestone is so worn that you think a transcriber will not be able to read it from a photo. (Besides everyone knows that if you use magic incorrectly you might turn into a frog, right?)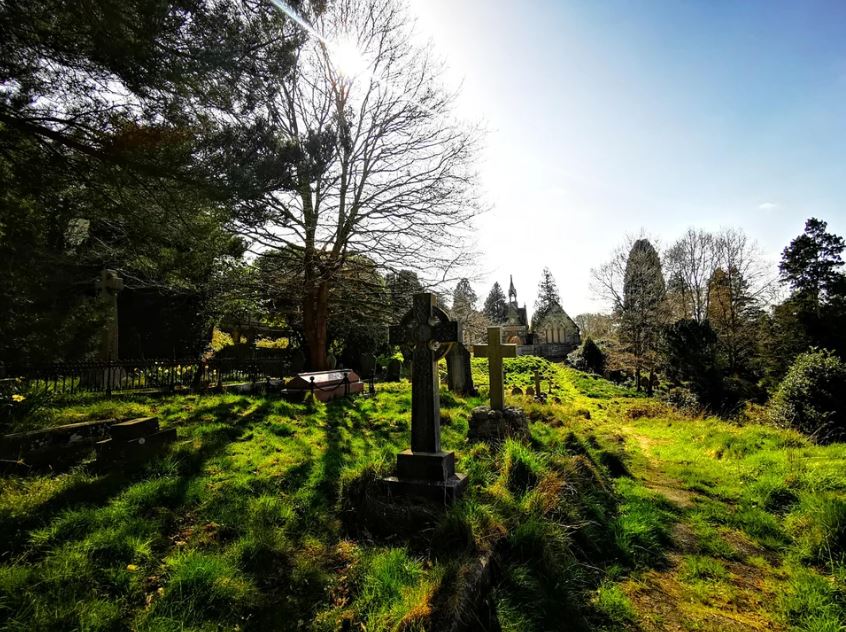 ---
So now you know some awesome tricks and insider secrets from some of BillionGraves' Super-Fans! And that means YOU are super too!
We hope you enjoy using your new superpowers at the cemetery!
All the Best,
Cathy Wallace and the BillionGraves Team
P.S. If you would like to lead a group project to take photos of gravestones at a cemetery in your area, please send an email to Volunteer@BillionGraves.com and we'll be happy to help you!
Related posts