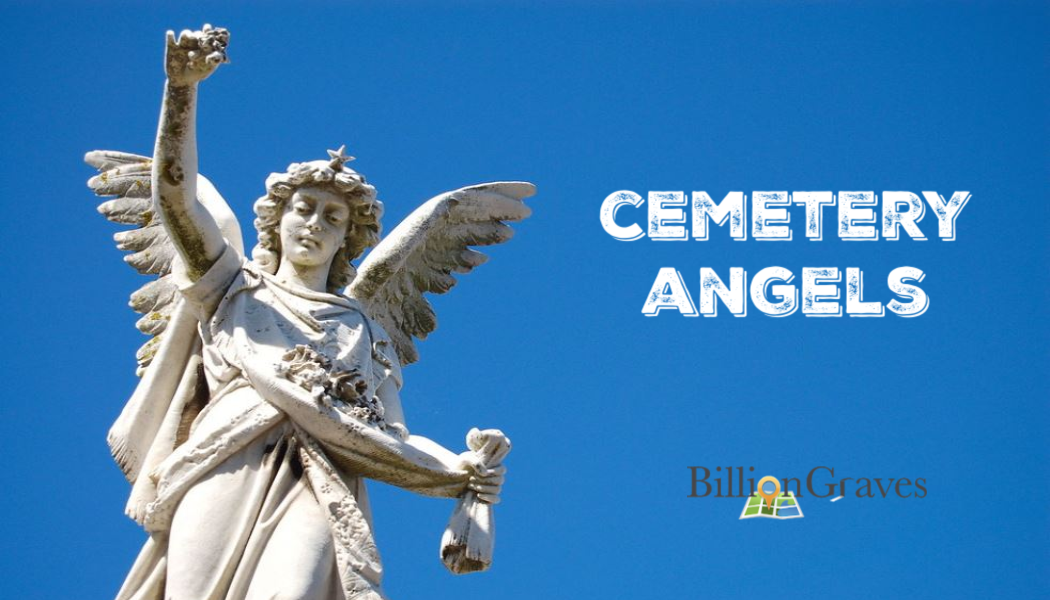 Cemetery Angels
Cathy Wallace, 4 years ago
14 min

read
28758
Some of the most touching graveside monuments are cemetery angels. The angels appear in many forms. There are angels dressed in flowing robes with feathery wings and joyful smiles. Others are serious guardians of the deceased, bearing swords. Some carry crosses or flowers. Some angels sit in front of scrolls with pens poised in their hands as they keep a written record of all we do and say.
Many scriptures reference the work of angels. Some angels deliver messages of peace and joy, others issue warnings, still others bring comfort and strength.
During the Christmas season, Christians around the world sing Angels We Have Heard on High in remembrance of the angels who visited the earth to announce the birth of Jesus Christ.
Come to Bethlehem and see
Him whose birth the angels sing,
Come, adore on bended knee,
Christ the Lord, the newborn King.
Angels we have heard on high
Sweetly singing o'er the plains.
And the mountains in reply
Echoing their joyous strains.
Joseph F. Smith, a prophet in The Church of Jesus Christ of Latter-day Saints, taught, " . . . our fathers and mothers, brothers, sisters and friends who have passed away from this earth, having been faithful . . . may have a mission given them to visit their relatives and friends upon the earth again, bringing from the divine Presence messages of love, of warning, or reproof and instruction, to those whom they had learned to love in the flesh."
Mary Eddy Baker, the founder of Christian Science, said, "When angels visit us, we do not hear the rustle of wings, nor feel the feathery touch of the breast of a dove; but we know their presence by the love they create in our hearts."
Cemetery Angels Pointing to Heaven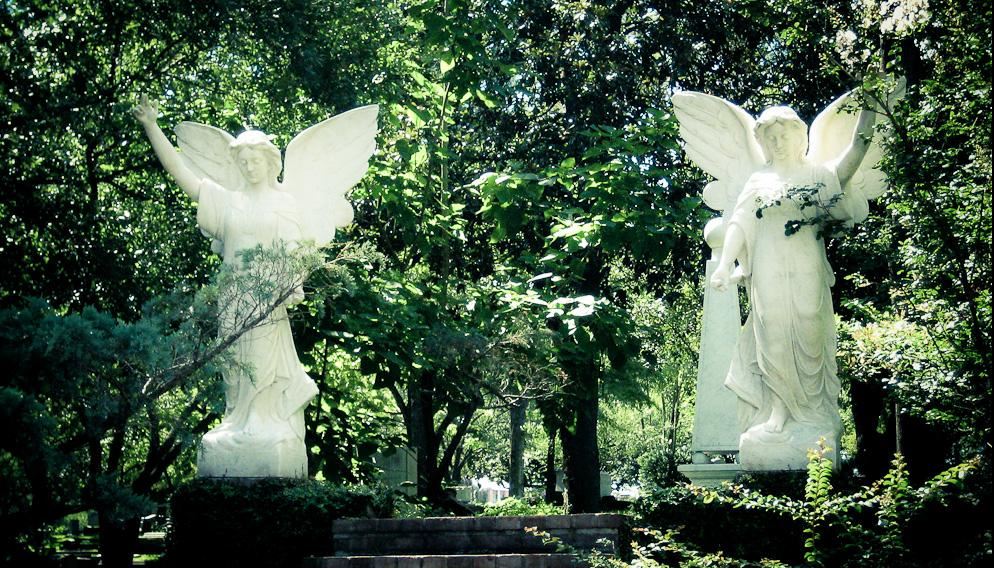 These beautiful translucent angels are from Glenwood Cemetery in Houston, Texas. Light seems to shine right through them.
Likewise, light is often mentioned in connection with angels in the scriptures. In Luke 2:9 it is recorded that angels appeared to shepherds in the fields and that "the glory of the Lord shone round about them."
This pair of angels are gazing downward in humility while pointing upward to remind cemetery visitors that their loved ones have gone before them into heaven.
Cemetery Angel with Flowers
This sweet angel is also found at Glenwood Cemetery in Houston, Texas. She kneels in prayer with a bouquet of flowers in her lap.
The artist who carved this angel paid attention to every detail – from the feather-like wings to the lacey collar. She is so lifelike that it seems she could almost rise up and speak.
Male Cemetery Angel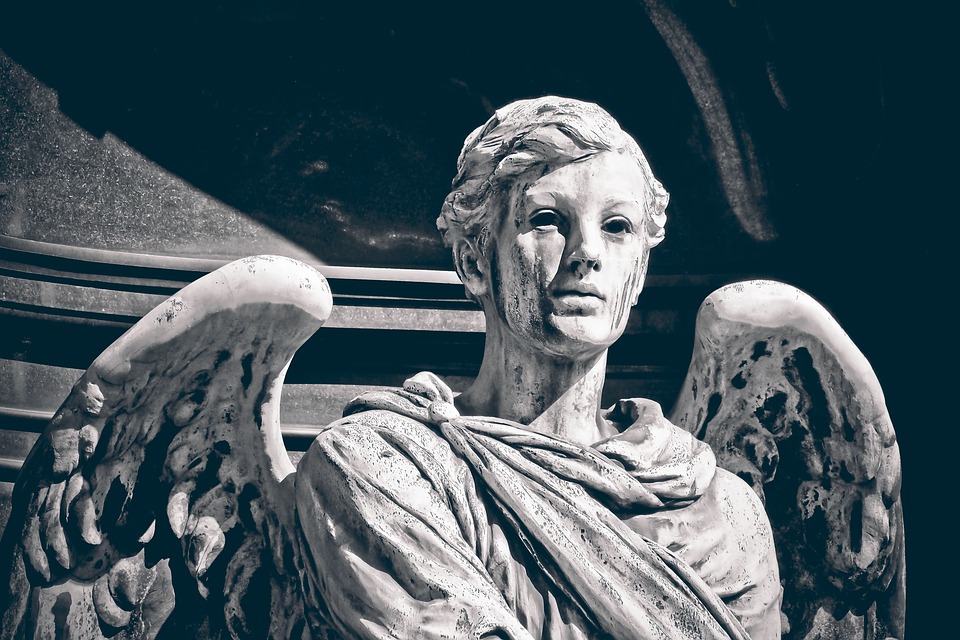 Male angel statues are not quite as common as female angel statues, especially one as masculine as this one.
His robes are draped on Romanesque style around his neck and shoulders. His curly hair is trimmed short. Interestingly, the natural weathering has created streaks on his cheeks that make him appear to be weeping.
The most powerful angel of the Bible is male. He is Michael, the archangel who overpowered Satan.
Cemetery Angel with Lilies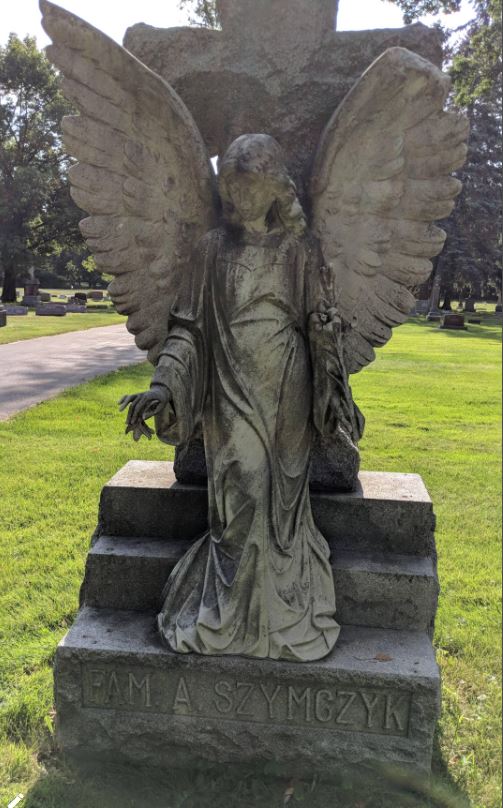 When you see an angel statue with lilies you may know that this is a very specific angel. In spite of the long hair and flowing robes, this is not a female angel. This is Gabriel, who is considered to be an archangel – or in other words, a leader of angels.
In Hebrew records the archangel Gabriel appears to the prophet Daniel to explain his visions. He is considered to be the guardian angel of Israel.
In the Gospel of Luke in the New Testament, Gabriel appears to the prophet Zechariah to announce the forthcoming birth of John the Baptist and to Mary to foretell the birth of Jesus.
Many Christian religions – such as Roman Catholicism, Anglicanism, and Eastern Orthodoxy – regard Gabriel as a saint.
Islam reveres Gabriel as the archangel who was sent by God to give revelation to Muhammed and other prophets.
Members of The Church of Jesus Christ of Latter-day Saints believe Gabriel to be the same individual as the prophet Noah. Gabriel was the name he was known by in his pre-mortal life and again during post-mortal life. But while on earth, he was known as Noah – the prophet who saved humanity and animals by following God's commands to build an ark during the Great Flood.
So why are there lilies in his hand? Lilies, with their white petals, are a symbol of the Virgin Mary's purity and innocence. Gabriel was often depicted in Rennaisance art presenting a bouquet of white lilies to Mary. You can read more about this in another BillionGraves blog post HERE.
Cemetery Angel with a Cross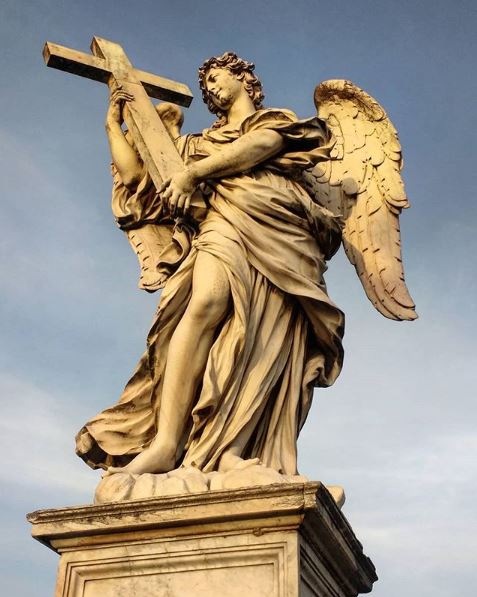 This angel lovingly holds a cross, a symbol of the atonement of Jesus Christ.
The sculptor paid attention to every detail on this cemetery angel: feathered wings, muscular arms and legs, curling locks of hair, and exquisite flowing robes. Masterpieces like this turn cemeteries into outdoor art museums!
Cemetery Angel Asking for Mercy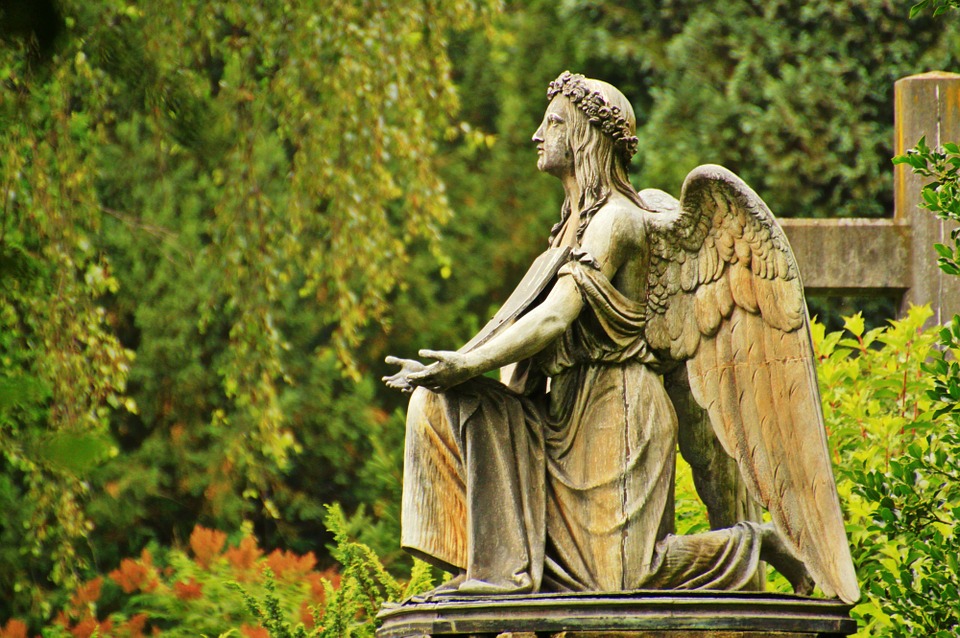 This angel kneels before God in humility, pleading for mercy with upturned hands. She is ready to receive a blessing on behalf of the deceased.
Cemetery Angel Presenting a Record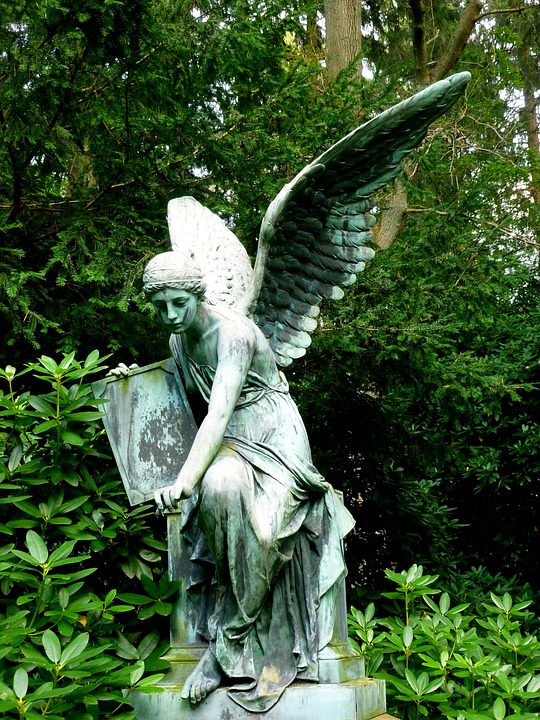 The copper in this bronze statue has given this beautiful angel a pretty green patina. She is accompanying her charge to the judgment with a carefully kept record of mortal deeds.
Notice her headband, bird-like feathery wings, and her delicate fingers and toes.
Cemetery Angel of Grief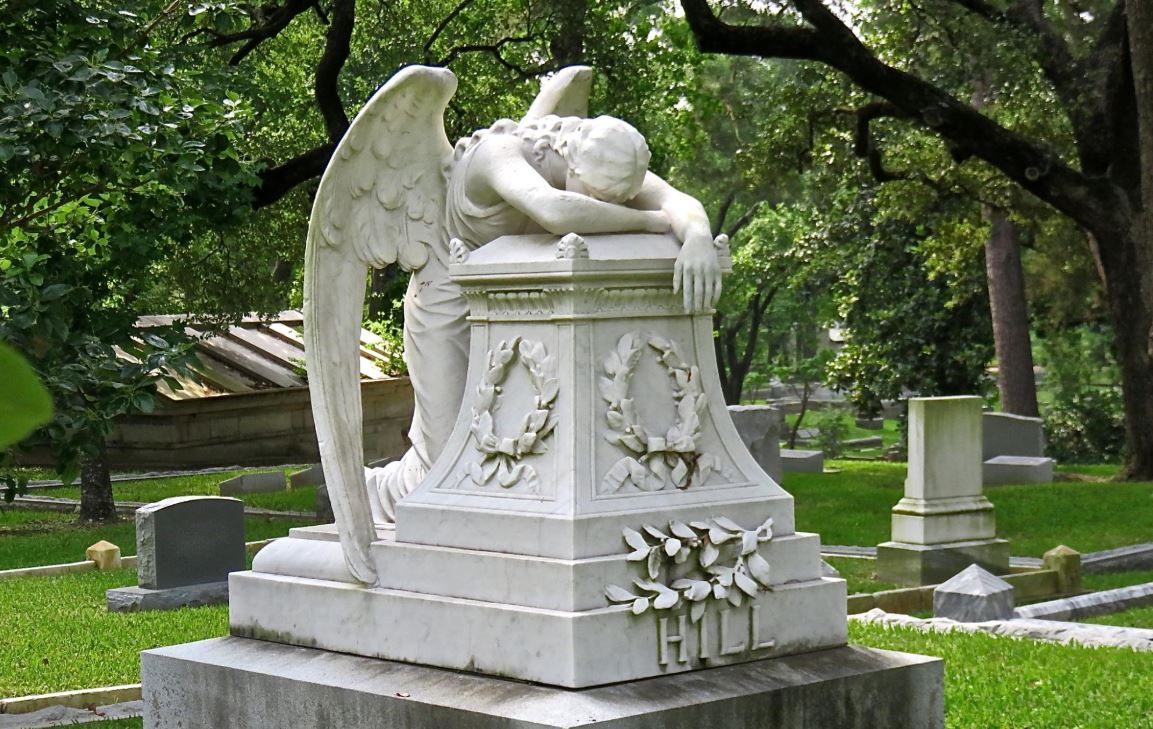 The original Angel of Grief was a sculpture created in 1894 by William Wetmore Story to adorn the grave of his wife, Emelyn Story, at Protestant Cemetery in Rome, Italy.
Story was a sculptor who had spent a lifetime creating beautiful works of art, but in the year following the loss of his wife, he lost interest in his work as he grieved. His children, hoping to rekindle an interest in life in their father, suggested that he create a sculpture for their mother's grave.
Most angelic grave art inspires hope in the afterlife, but this sculpture touches on the pain of the loved ones left behind. Story himself wrote that "It represents the Angel of Grief, in utter abandonment, throwing herself with drooping wings and hidden face over a funeral altar. It represents what I feel. It represents Prostration. Yet to do it helps me."
The Angel of Grief in Rome has become one of the most copied cemetery sculptures in the world. Copies may be found at Metairie Cemetery in New Orleans, Louisiana; at Holy Sepulchre Cemetery in Rochester, New York; and the Lathrop Memorial in the Stanford Arboretum at Stanford University at Palo Alto, California, just to mention a few.
This copy of the Angel of Grief is the Hill Monument, from Glenwood Cemetery in Houston, Texas.
Cemetery Angel with One Wing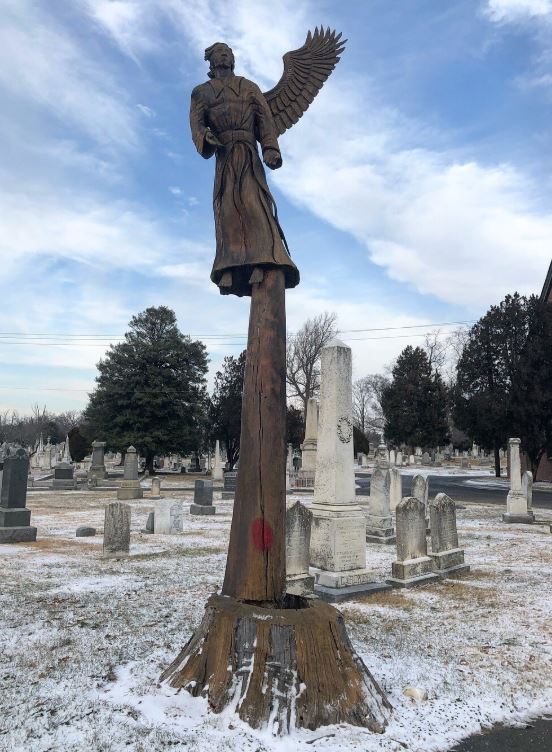 Luciano De Crescenzo (18 August 1928 – 18 July 2019), an Italian writer, actor, and director, would have liked this grave marker. He wrote, "We are each of us angels with only one wing, and we can only fly by embracing one another." However, this angel originally had two wings.
This unique wooden monument at Glenwood Cemetery in Washington D.C. was carved from a dead tree.
Glenwood has many trees that are over 200 years old. So when high winds hit the area in 2008 several of these older trees, with weak roots, fell to the ground.
The toppled trees were unsightly, so cemetery managers at Glenwood invited chainsaw artist, Dayton Scoggins, to carve four of their fallen oak tree stumps into unusual wooden statues.
The largest of the sculptures is 30 feet tall and features a large dragon capturing a smaller dragon. Another is a saber tooth tiger with woodland animals at its feet. Scoggins also carved two angels, one ascending to heaven (pictured above) and one with a chain (pictured below).
Cemetery Angel with a Chain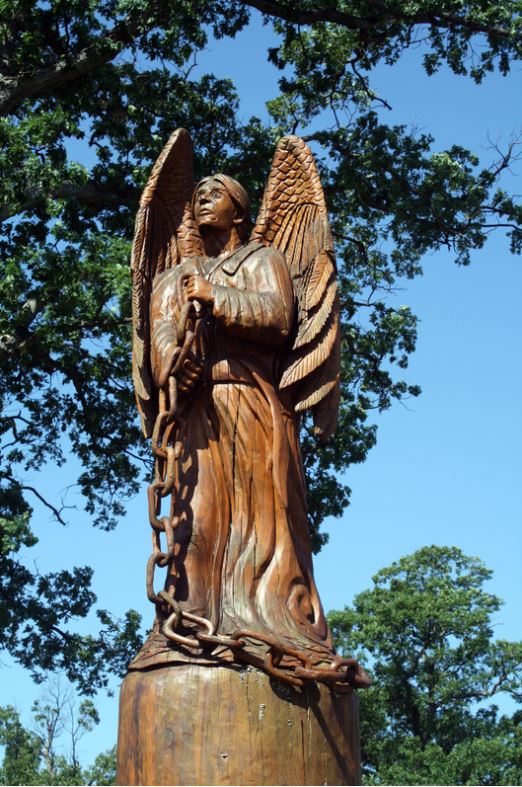 This is the second of the angels carved by Dayton Scoggins at Glenwood Cemetery in Washington D.C.
Scoggins found his inspiration for this statue in the Biblical book of Revelations chapter 20, verses 1-3, and 7-8, which read:
"And I saw an angel come down from heaven, having the key of the bottomless pit and a great chain in his hand.
"And he laid hold on the dragon, that old serpent, which is the Devil, and Satan, and bound him a thousand years, and cast him into the bottomless pit, and shut him up,
"And set a seal upon him, that he should deceive the nations no more, till the thousand years should be fulfilled: and after that, he must be loosed a little season . . .
"And when the thousand years are expired, Satan shall be loosed out of his prison and shall go out to deceive the nations . . . "
As cemetery visitors come to visit their loved ones' gravesides, they can look on this statue and ponder how an angel was given the power to bind Satan with chains. This is a reminder that we too can bind the powers of evil by living righteously.
Cemetery Angel Boy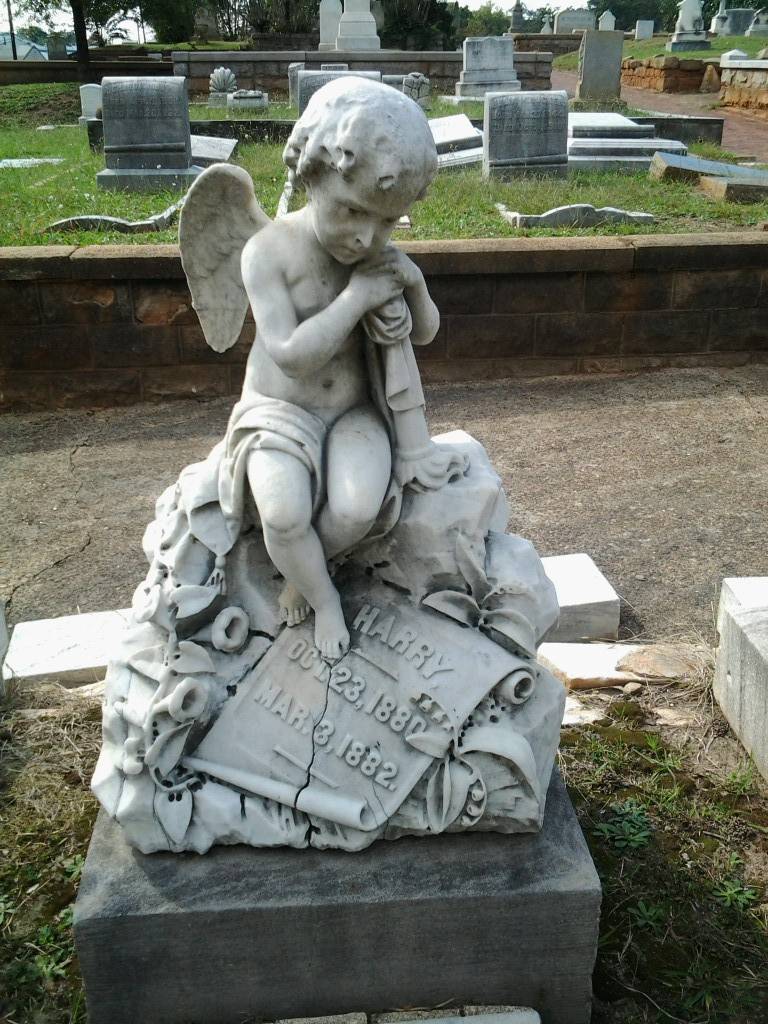 This little angel boy sits in a faithful vigil in Oakland Cemetery at Atlanta, Georgia on the graveside of Harry, a child who died at the age of 2.
The monument is typical of the Victorian Era, which lasted from 1832 to 1903. The era was marked by an abundance of ornamentation in the decorative arts, architecture, furniture, and cemetery sculptures. All types of artwork were embellished with symbolism, flowers, and tiny details. The objective was to awe the viewer and evoke sentiment.
This little angel is leaning on an upside-down torch, which is a symbol of a life and a light that has been extinguished. He is naked, a symbol of innocence and having nothing to hide, save for a little cloth across his lap.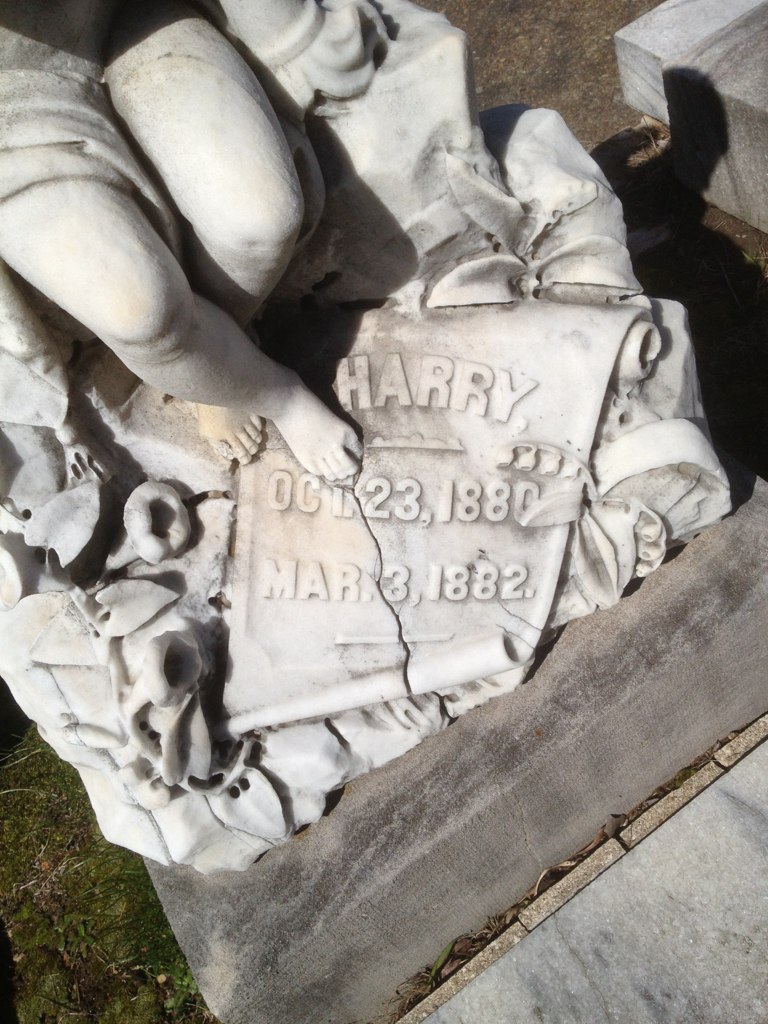 The angel's feet rest on a scroll with the record of Harry's brief life.
Surrounding the scroll are two types of flowers. During Victorian times, flowers became a means of sending messages by code. This was known as floriography, from the Latin words, flora – "goddess of the flowers" and graphein – "writing." Thus, the flowers on this gravestone convey messages.
On one side of the angel is morning glory. To the Victorians, morning glory represented love in vain. This flower has paper-thin blossoms that lean toward the summer sun. But at the same time, the plant wraps its tendrils around rocks and trees, clinging to the earth. Likewise, this child may have lifted his face to God, while his family wanted him to cling to his life on earth.
On the opposite side, are lily-of-the-valley. To the Victorians, this flower symbolized a return to happiness. What a sweet ending to put on the gravestone of this little one.
Cemetery Angel Keeping a Record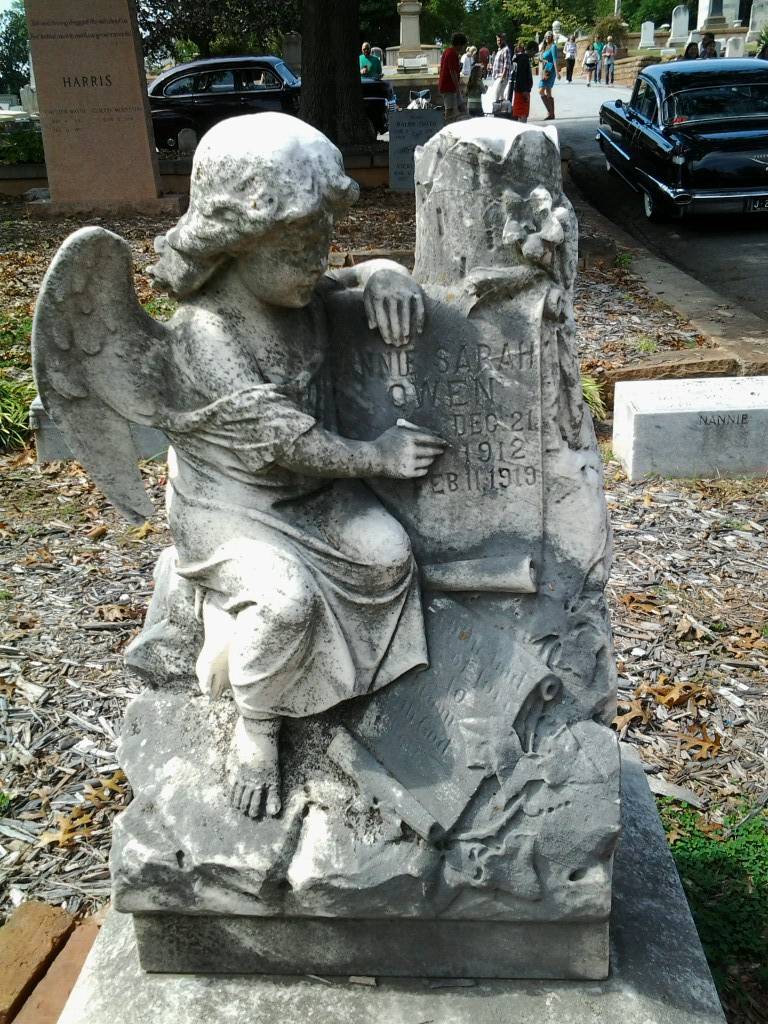 Nannie Sarah Owen's cemetery angel is keeping a record of her life on this gravestone also found at Oakland Cemetery in Atlanta, Georgia. She doesn't need a very long scroll since Nannie only lived to be a little over 6 years old.
In similar manner to Harry's gravestone, there are Victorian-era floral symbols on the monument. The white lily stand for purity and signifies an innocent life. The ivy clings to the rock, as Nannie may have tried to cling to life. And the tree has been cut to a stump, indicating that Nannie's life was cut short.
This little angel is a reminder to cemetery visitors – like those in the background – that our actions are not going unnoticed.
Cemetery Angel with a Sword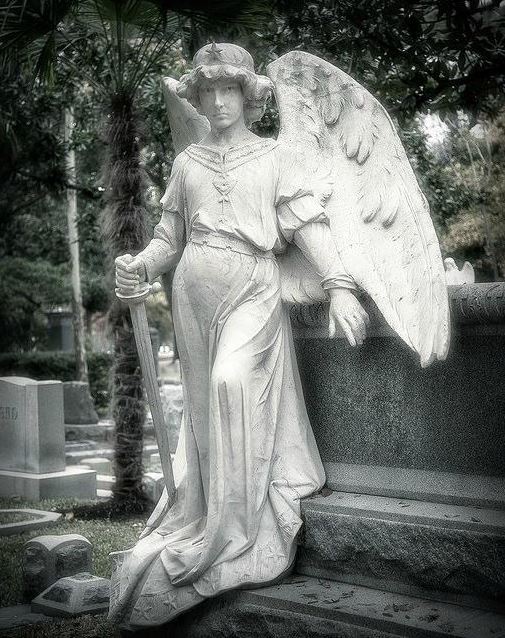 This is avenging angel guards the gravesite of William Dunovant at Glenwood Cemetery in Houston, Texas with a sword. The statue was commissioned by Dunovant's sister following his death at the hand of his business partner, William T. Eldridge.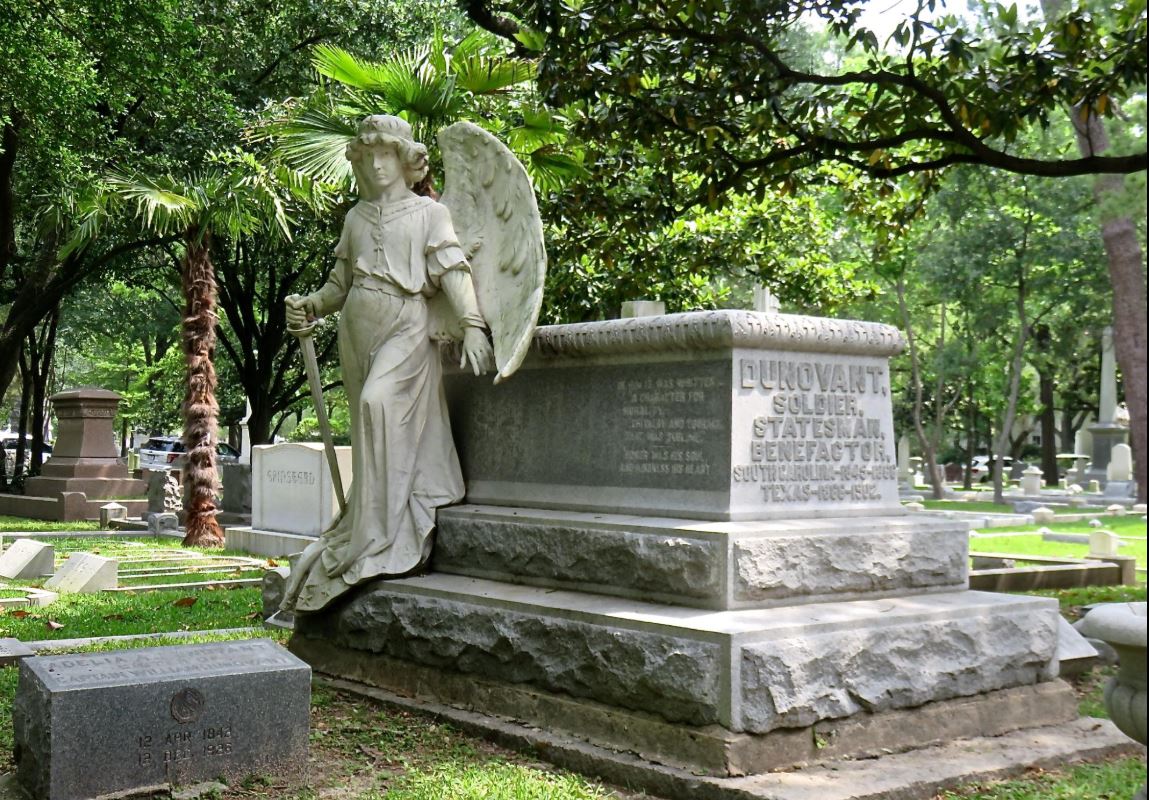 Both men were sugar planters and railroad tycoons. They participated in the founding of the Cane Belt Railroad in 1898. The line was used to ship sugarcane from Texas plantations to markets – at a rate of about 100 tons per day.
Though the sugar was sweet, their relationship was not. And so this angel's piercing eye stands as a reminder that justice will be done.
Cemetery Angel with a Palm Frond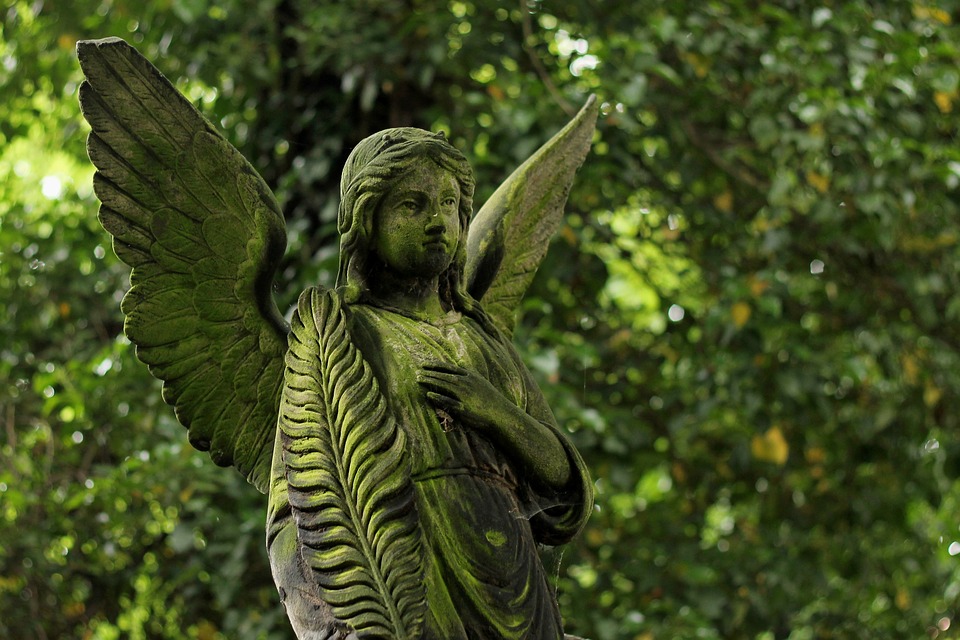 Palm trees have been considered sacred in many regions of the world and in many religions. Below are a few examples.
Egypt – palm branches represent immortality
Judaism – the lulav, a date palm frond, is used in the Sukkot Festival or Feast of the Tabernacles, a thanksgiving celebration of the harvest
Ancient Greece – a palm frond was awarded to victorious athletes
Assyria – the palm tree is considered to be a sacred connection to heaven since its branches reach to skies and its roots are anchored in the earth
Rome and Phonecia – palm trees appear on ancient coins
Islam – palm trees are a symbol of rest and hospitality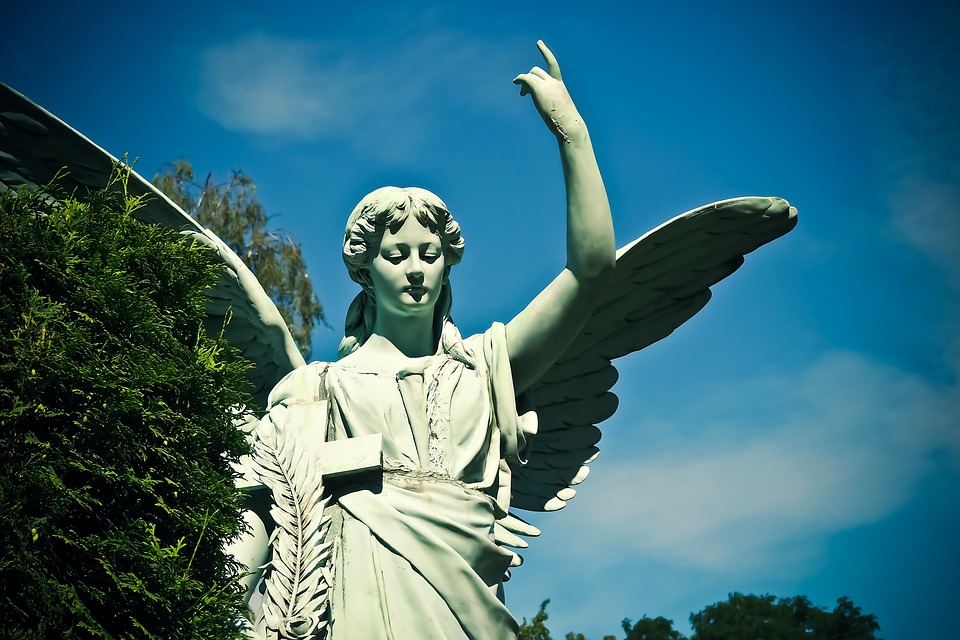 This angel holds both a palm frond and a cross, which is, of course, a symbol of Christ's atonement in Christianity.
To Christians, palm branches are associated with Jesus' triumphal final entry into Jerusalem. In the Bible, it says that the people, "took branches of palm trees, and went forth to meet him, and cried, 'Hosanna, blessed is the King of Israel that cometh in the name of the Lord'" (John 12:13).
Thus, to Christians, palm fronds came to represent the victory of the spirit over the flesh. And this angel confirms that message by pointing heavenward.
Cemetery Angel with a Trumpet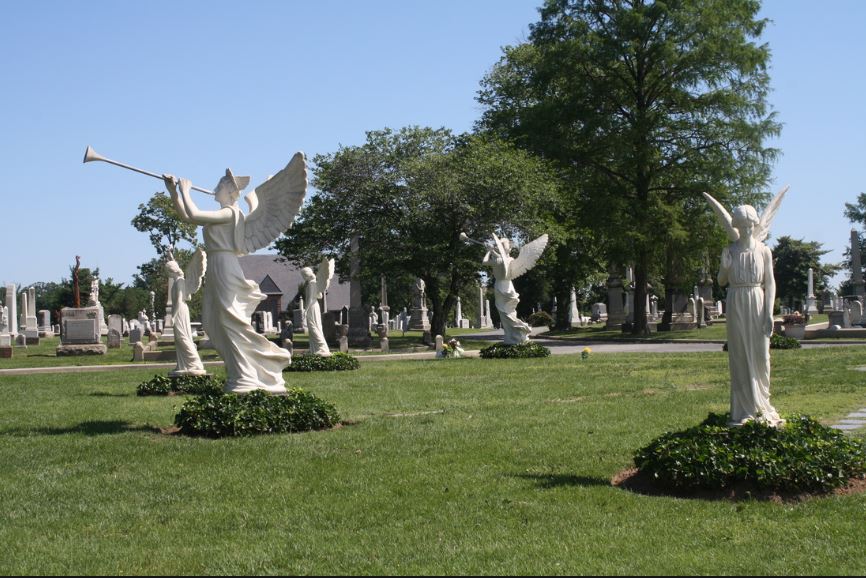 These cemetery angels stand at the entrance of Glenwood Cemetery in Washington D.C.
Glenwood Cemetery caretakers say, "The gathering of angels and archangels at our entrance are symbolic of God's grace to minister to his children even in death, to comfort the hearts of the weary and sad in heart, and to bring joy to His elect. As you enter the grounds you will find this to be the place of compassion and grace."
Cemetery Angel with Crossed Arms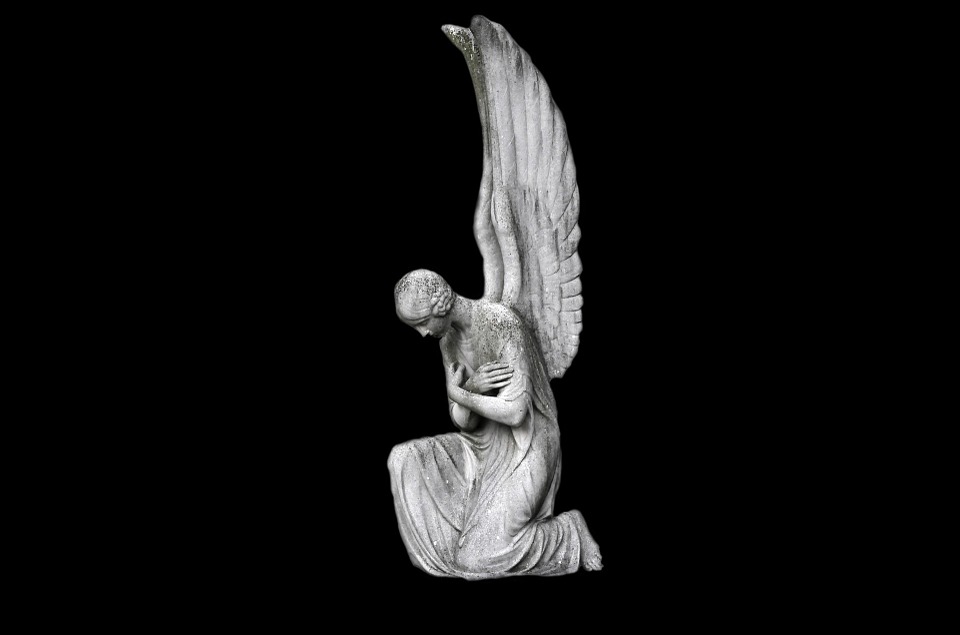 Why does this sweet angel have her arms crossed? This is a Catholic symbol for humility and a plea for mercy.
Catholics believe that is of supreme importance to take the symbols of Christ's atonement – bread and wine – on a regular basis. However, only those in good standing with the Catholic Church may partake of the Holy Communion. Those who are unconverted, unbaptized, or unrepentant may not receive the sacrament.
But they may line up to approach the priest for a blessing. As they come to the front of the line they cross their arms to indicate that they are not worthy or ready to partake of the Holy Communion.
The priest then places his hand on their head and gives them a brief blessing, such as "May God bless you" or "May God continue the good work in you." Alternatively, the priest may make the Sign of the Cross on their forehead.
This sweet gravestone angel is symbolic of the departed approaching God on bended knee, asking for a blessing.
To read more about Catholic gravestone symbols click HERE.
Cemetery Angel with a Secret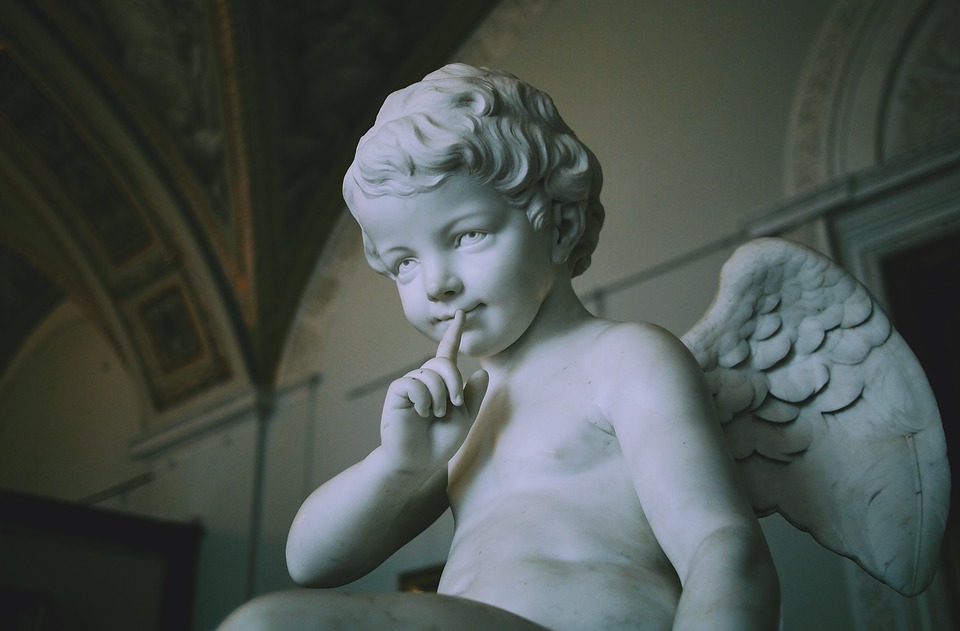 This cemetery angel babe holds a finger to his smiling lips as though he has a joyful secret.
Cemetery Angel Cherub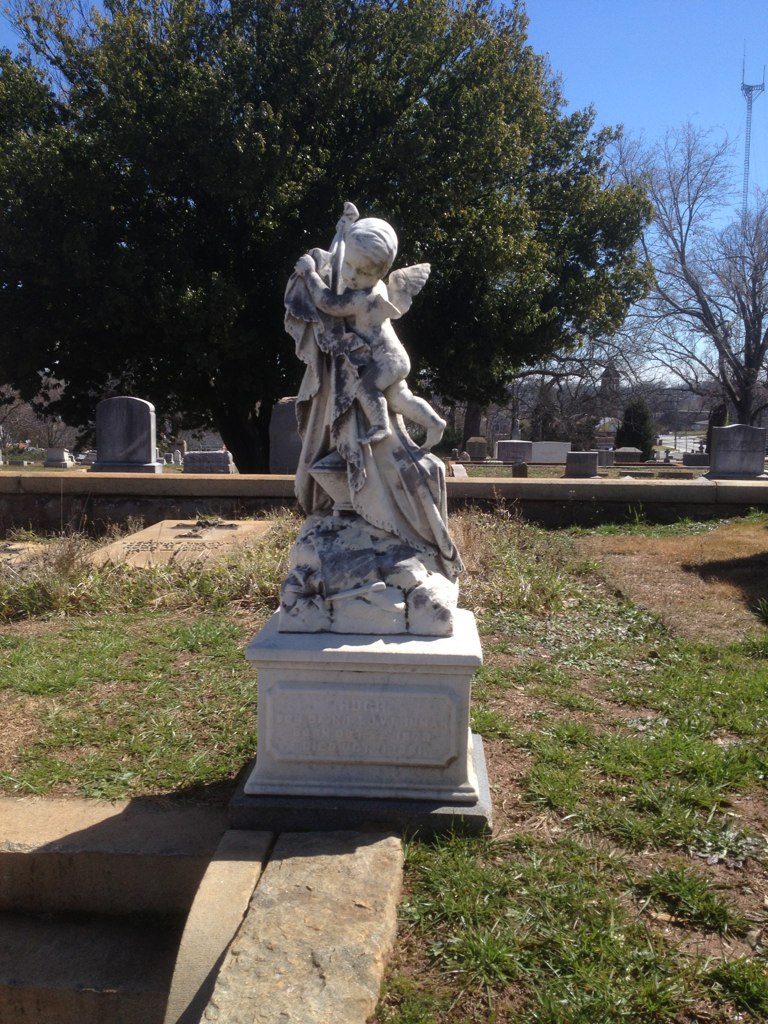 Naked little cherub angels are a symbol of innocence. Nothing to hide here!
The cherub is draping a cloth over an urn. An urn represents the soul of the deceased or mortality. The cloth draped over it symbolizes mourning.
Cemetery Angel on a Mausoleum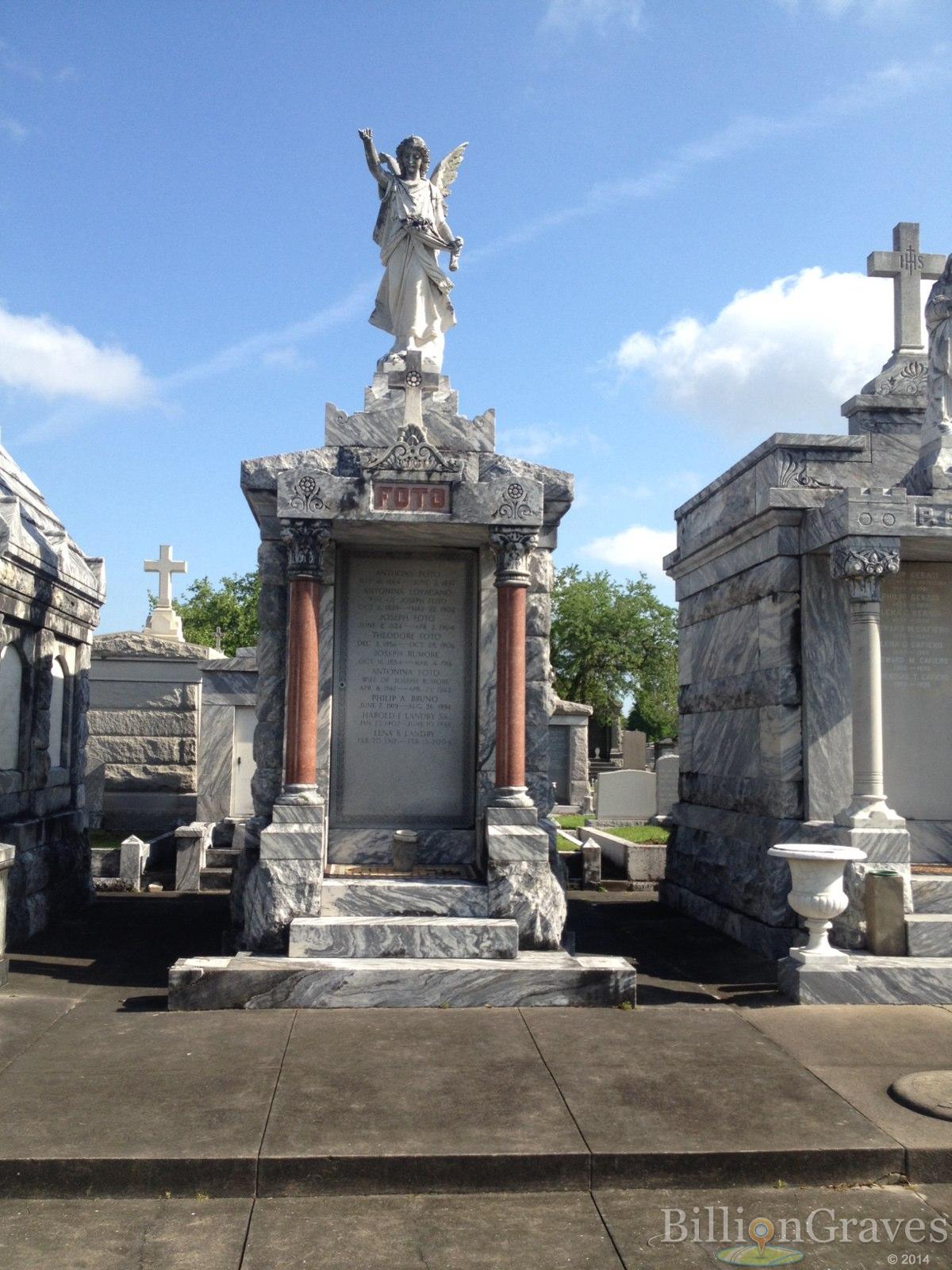 The cemetery angel on top of this mausoleum at Metairie Cemetery in New Orleans, Louisiana is pointing to heaven. This reminds loved ones that visit that the deceased life did not end with a closed door but continues with the resurrection.
Cemetery Angel with One Wing Up and One Down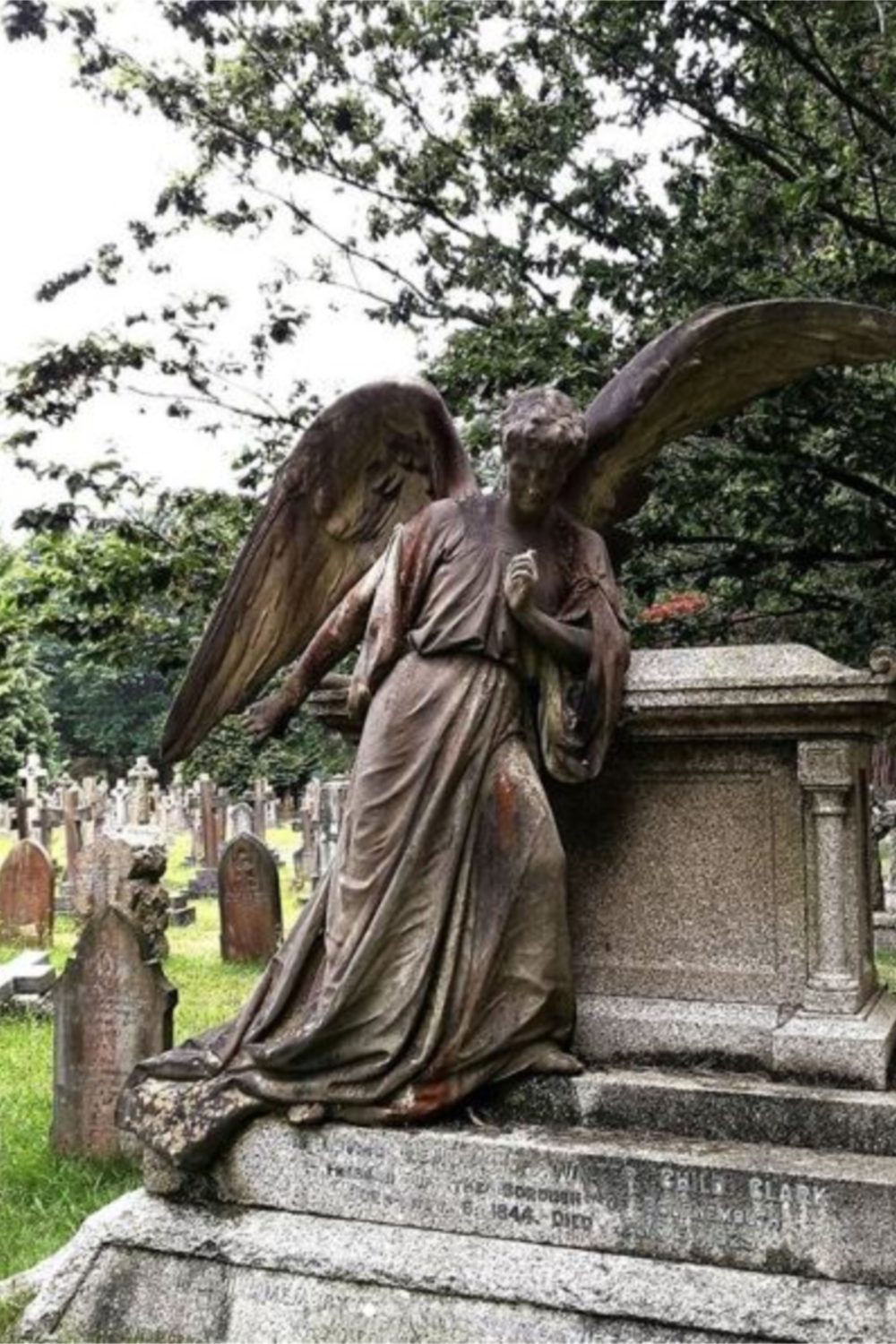 It is unusual to see a cemetery angel with one wing up and one wing down like this one in Bournemouth, England. He seems to be in motion as if to say to the deceased – whom he may have guarded during mortality – "Let's go! Our work here is done, but there is more to do in another sphere."
Cemetery Angel Escorting a Girl to Heaven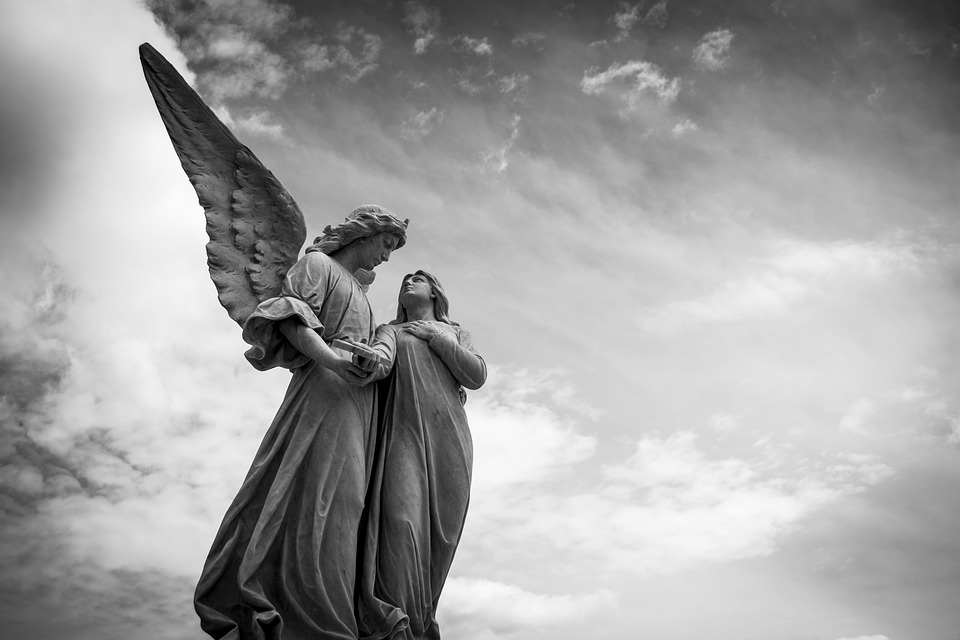 What a tender scene! This girl seems to have complete trust and confidence in her guardian angel as she prepares to be escorted to heaven.
Cemetery Angel Guiding Mortals to Heaven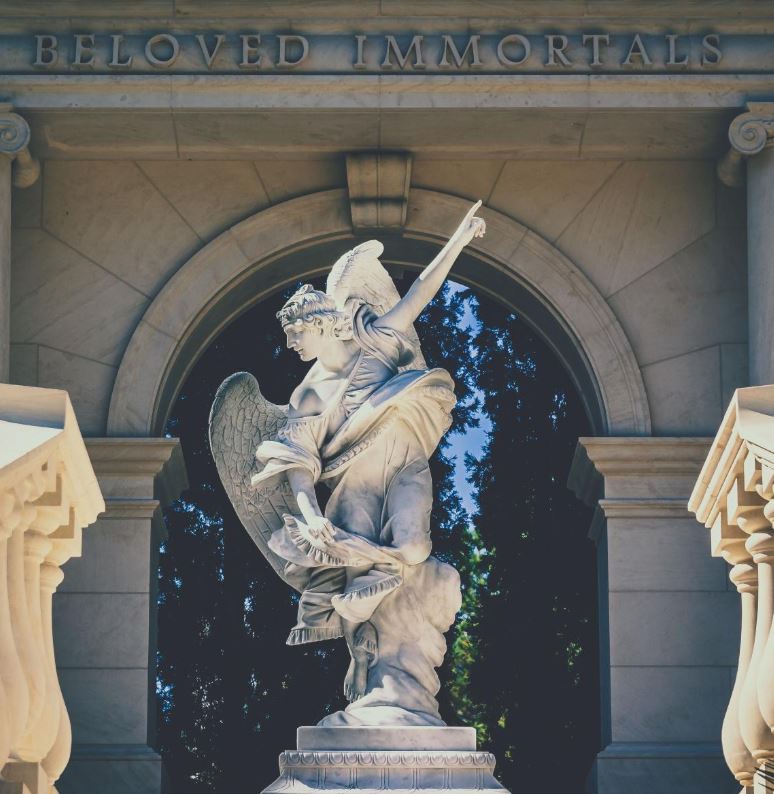 Last, is this impressive Greek-style angel at Glenwood Cemetery in Houston, Texas. He marks the grave of Jake Kenyon Shulman, the only child of Houston philanthropist, Dr. Carolyn Farb.
This angel strikes me as the type of angel we would all be comforted to meet. He smiles as he gets ready to take flight, pointing heavenward to a sign inviting us to become "beloved immortals."
We wish you angelic visits to the cemetery!
Cathy Wallace and The BillionGraves Team
P.S. If you would like help selecting a cemetery that needs GPS-linked photos taken, please send an email to Volunteer@BillionGraves.com. Whether you are taking photos on your own, with your family, or a large organization we will be happy to help you!
Related posts