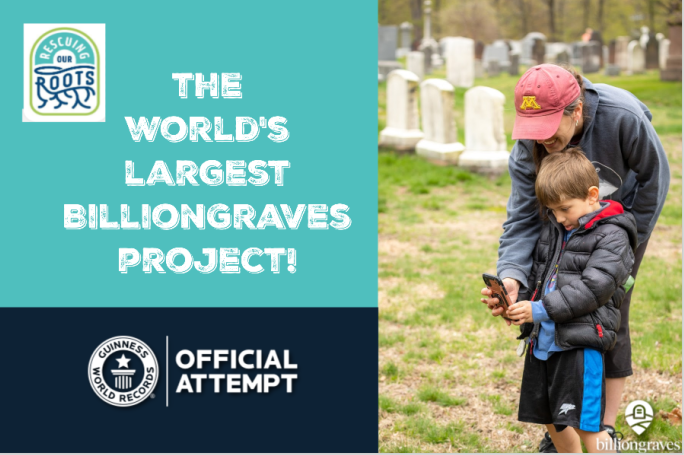 The World's Largest BillionGraves Project!
Cathy Wallace, 7 months ago
10 min

read
8649
The world's largest BillionGraves project in history is underway and you are invited to join in!
The project is called Rescuing Our Roots and participants will be attempting to break an official GUINNESS WORLD RECORDSTM title on Sunday, June 25th for the most photos of headstones uploaded to a bespoke platform in 24 hours! (Take photos now and upload on June 25th.)
You can learn more about the project by clicking on this link: BillionGraves.com/Rescue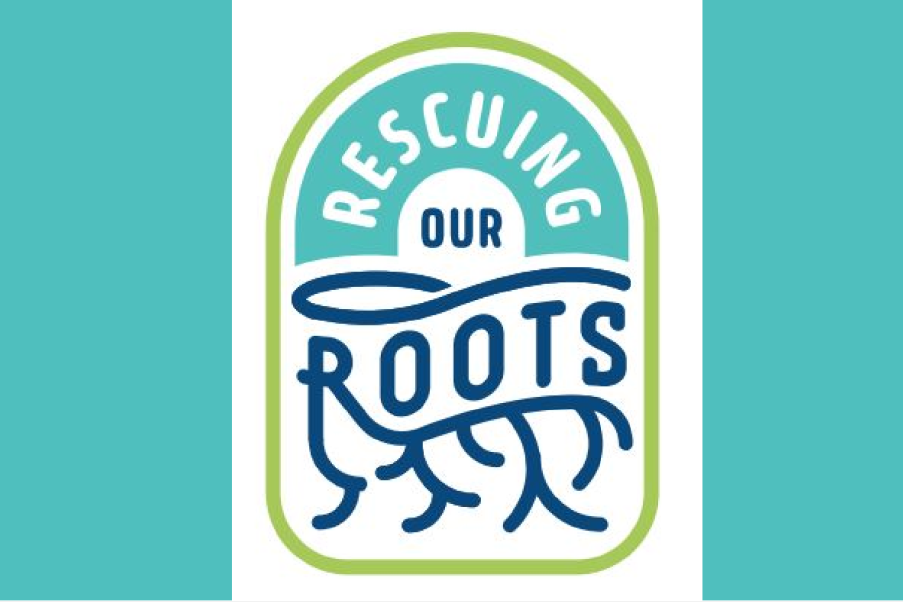 Mighty Oaks from Little Acorns Grow
Most of us have heard the saying, "Mighty oaks from little acorns grow." That is certainly true for family history – a few names can grow into a huge family tree! And likewise, it is true for the Rescuing Our Roots project.
An acorn was planted when Joseph Miller, a local leader in The Church of Jesus Christ of Latter-day Saints, discovered that as many as 200,000 headstones were erected before 1880 – at a time when birth and death records were not yet required in his home state of Iowa, US. This means that most of those headstones are the only record on earth of the individuals who are buried there.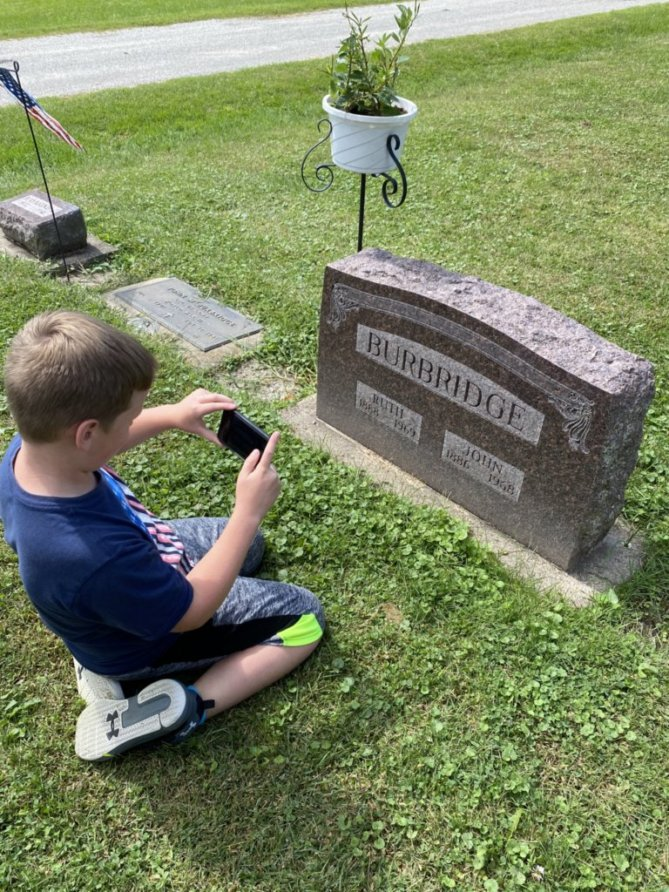 This discovery prompted Miller to invite his family, friends, fellow Church members, and community leaders to join him in documenting gravestones with the BillionGraves app, with the intention of preserving the names and dates for posterity on the FamilySearch family tree.
In time, the effort involved hundreds of people in the Midwest states of Iowa, Missouri, and Illinois. And it came to be known as the Rescuing Our Roots project. The acorn continued to grow into a mighty oak and now thousands of people are involved making it the largest BillionGraves project in the world.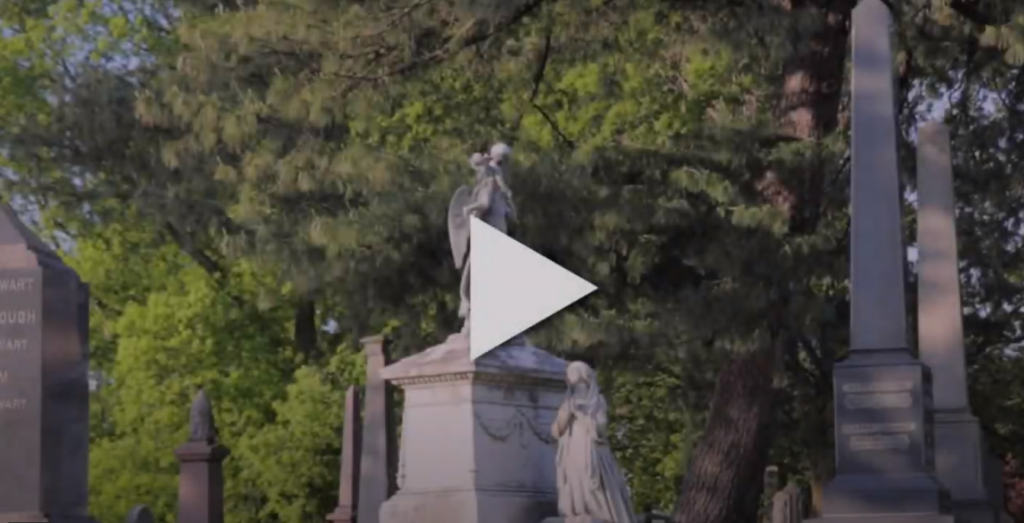 Rescuing Our Roots organizers are hoping publicity from the GUINNESS WORLD RECORDS attempt will increase awareness of the need to take photos of gravestones to preserve data before the gravestones deteriorate or fade.

Rescuing Our Roots Goal #1
The first goal of the Rescuing Our Roots project is to take photos of 1 million gravestones and transcribe 1 million gravestone records before September 30, 2023!
1 Million Photos
We are already more than halfway to the goal of 1 million photos! Click HERE to see how many photos have already been taken.
1 Million Transcriptions
Transcribers from around the globe have been busily adding names and dates to the BillionGraves database. In fact, the first million has already been reached and volunteers are working on a stretch goal of another million. Click HERE to see how many transcriptions have been completed.

Rescuing Our Roots Goal #2
Ready to break a GUINNESS WORLD RECORDS title? Ready to invite friends to join in the fun? 10,000 participants are needed to break the GUINNESS WORLD RECORDS title for the most photos of headstones uploaded to a bespoke platform in 24 hours!
On Sunday, June 25th, 2023, we will have exactly 24 hours for each person to upload at least one new photo of a gravestone that has been taken with the BillionGraves app. (Take photos now and upload on June 25th.)
If at least 10,000 individuals upload at least one photo each, the record will be set. (We would love to have you take far more than one photo, of course!)
The progress bar on the BillionGraves landing page shows how many people have registered for the project already. Click HERE to join the project!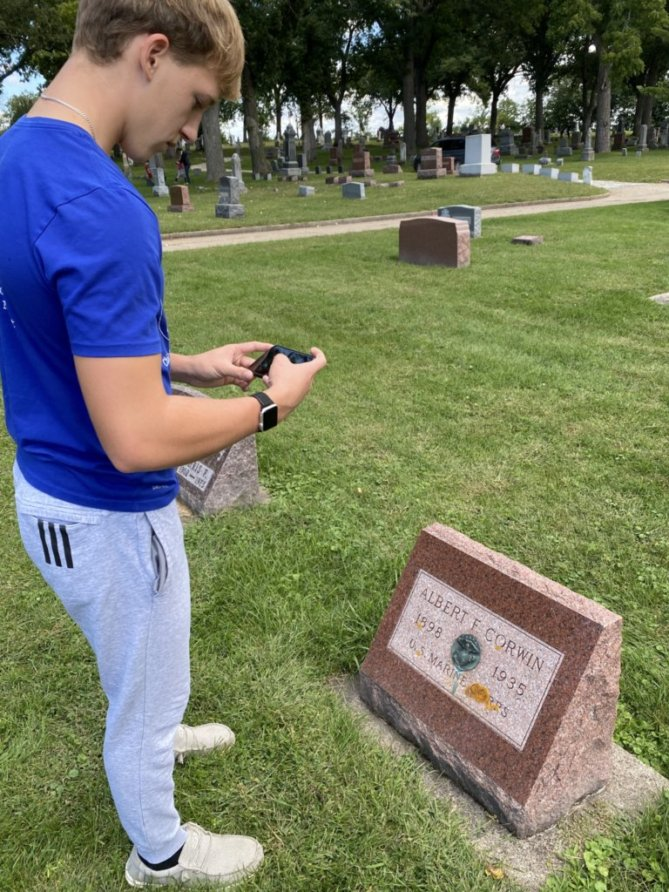 Join the Project!
You can join the project to help take photos and/or transcribe headstones by going to BillionGraves.com/Rescue.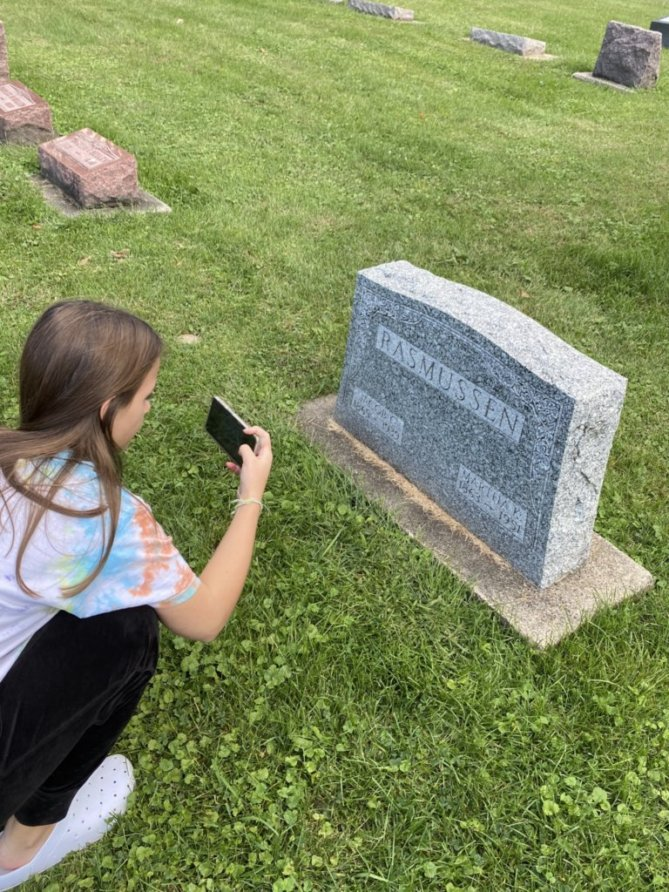 Rescuing Our Roots Sponsors
The major sponsors for the world's largest BillionGraves project, Rescuing Our Roots, are:
BillionGraves
FamilySearch
JustServe
MyHeritage
The BYU Record Linking Lab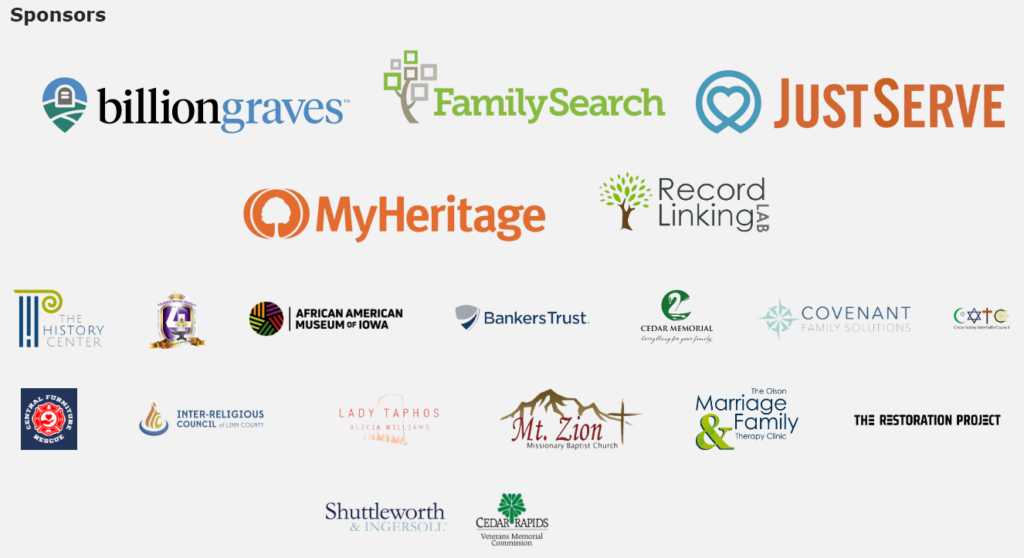 There are also many local sponsors participating in the project, from the History Center of Iowa to the African American Museum of Iowa.
Finding a Lost Brother
The world's largest BillionGraves project – Rescuing Our Roots – began with Joseph Miller of Cedar Rapids, Iowa. He helped set the goals, but for Miller the Rescuing Our Roots project is about more than numbers – it's about people and making connections.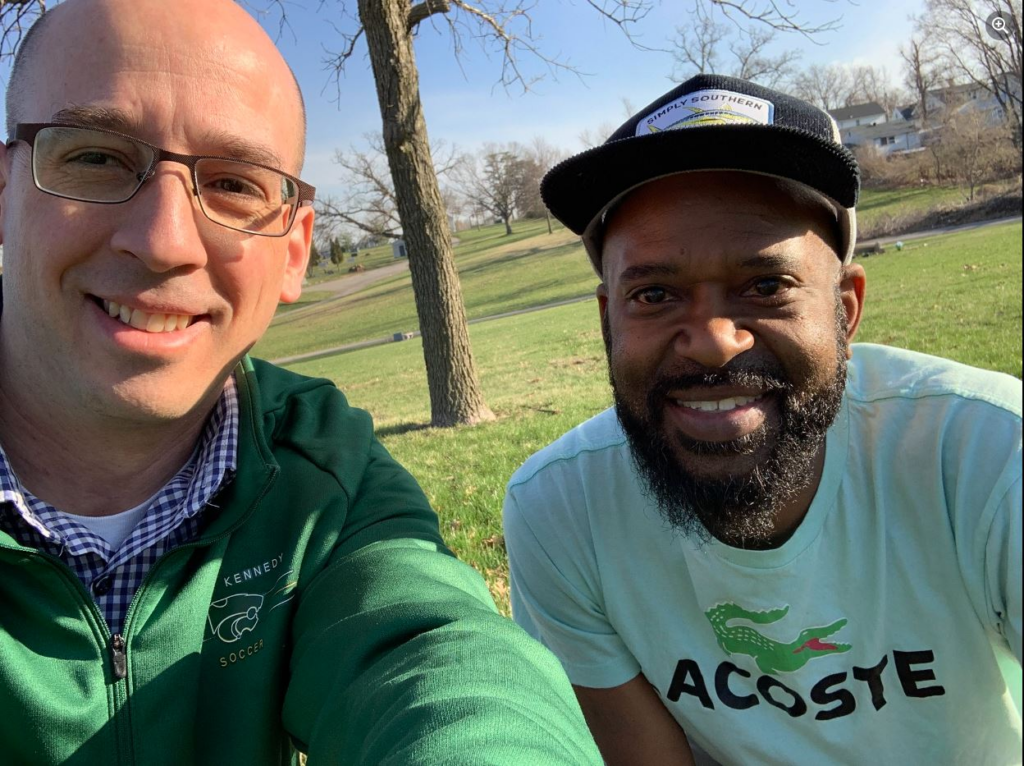 One of Miller's special connections was when he met Revered Terrell Jordan Sr., the youth pastor at Mt. Zion Missionary Baptist Church. Miller, himself, is a stake president for The Church of Jesus Christ of Latter-day Saints.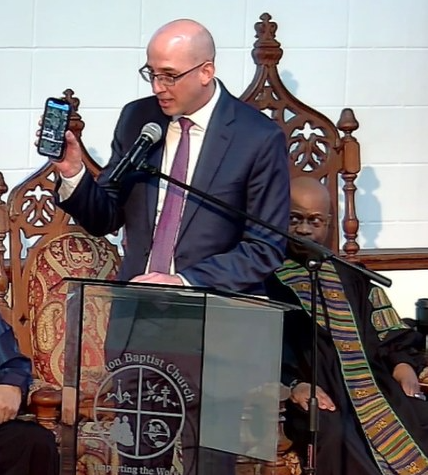 Jordan invited Miller to speak to his congregation during Black History Month about how the Rescuing Our Roots project plans to honor 28 African Americans who are buried without markers at Oak Hill Cemetery in Cedar Rapids, Iowa.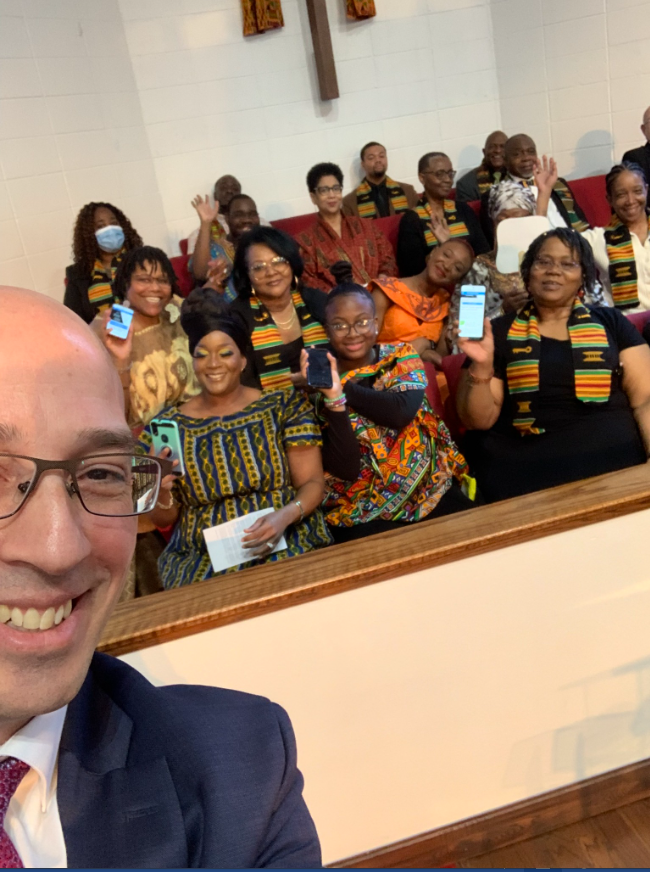 Miller invited members of the congregation to download the BillionGraves app on their phones so they could help take photos of gravestones to preserve history and grow family trees.
Jordan had previously told Miller about his brother, Lonnie, a pastor and a Veteran, who died of a heart attack in 2002. Terrell had attended his brother's funeral, but years of personal and family challenges, along with several moves, resulted in him being unable to remember the location of his brother's gravesite so he could visit.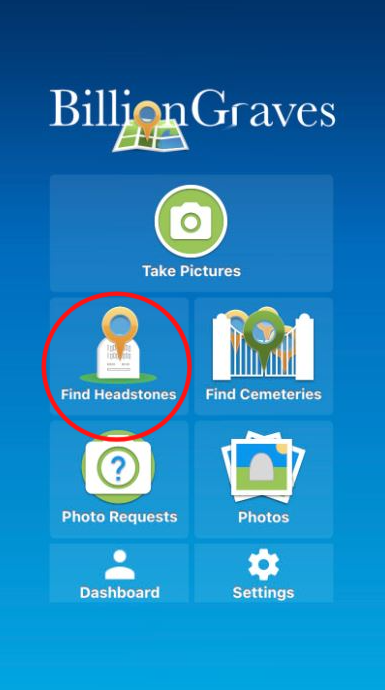 Standing in front of the congregation, Miller opened the BillionGraves app, tapped on the "find headstones" icon, and entered Lonnie's name.
"We all know finding headstones is not easy," Miller said, "but in about 10 seconds we found Lonnie on the BillionGraves app! When we told the congregation, they erupted into applause."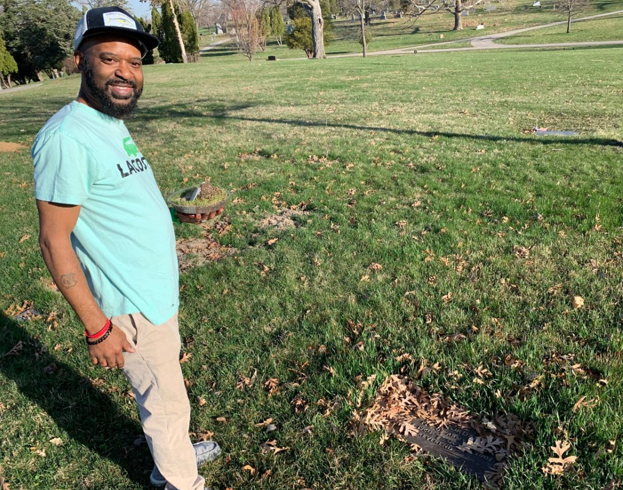 Jordan was then able to visit his brother's gravesite for the first time in 21 years! He wiped away the tears before this picture was taken, but it's hard to miss the tears welling up in his eyes.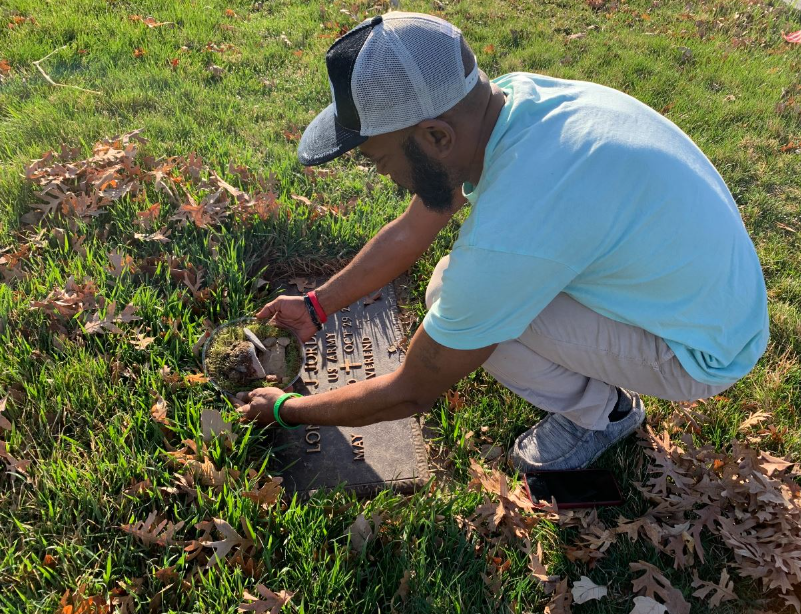 With great love, Jordan placed a model of an empty tomb (that Miller's young son had created) on his brother's headstone.
Miller related Jordan's story with respect and awe, "Shortly after Lonnie passed away, Jordan contracted a serious heart disease requiring a transplant. He adopted the donor family as his own. Then he trained to become a member of Team Iowa and Team USA for the transplant Olympics in track, basketball, and volleyball!"
"He became a youth pastor, responding to a call from God to end youth violence in their community and play the drums at church." Miller continued, "And, he shares joy as a professional clown and balloon twister."
Miller said, "There is no end to the goodness of this man! He continues to adopt anyone in need into his family and give them a home."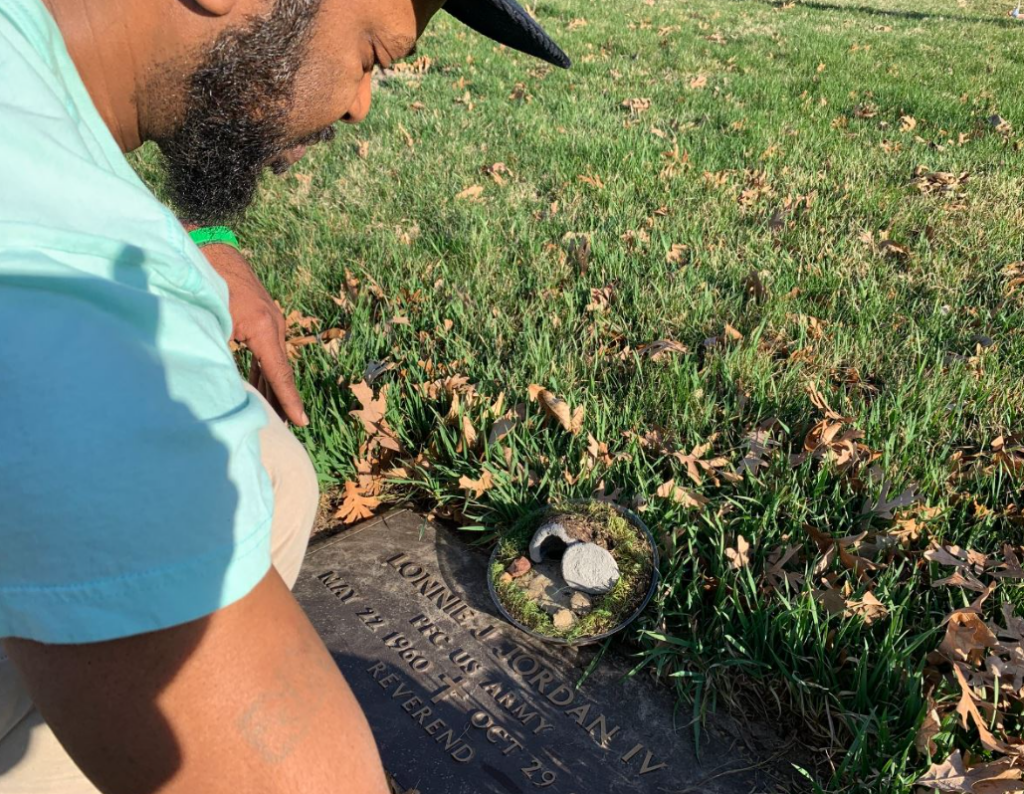 While at Oak Hill Cemetery visiting his brother's gravesite, Jordan continued to wander the area, finding connections with other friends, taking pictures of their headstones, and even calling his mother for some family history information.
"We're now on the hunt for the location of his grandfather William C. Davis, who is the 29th African American we've confirmed is buried at Oak Hill without a marker," Miller said. "This is an important heritage that we need to preserve!"
What About Unmarked Graves?
Local media outlets have promoted the Rescuing our Roots project, as well as two historic black churches. Miller has partnered with them to organize an event to document the unmarked graves of 28 black Iowans buried at Oak Hill Cemetery in Cedar Rapids, Iowa, USA, including the first black nurse to work in an Iowa hospital.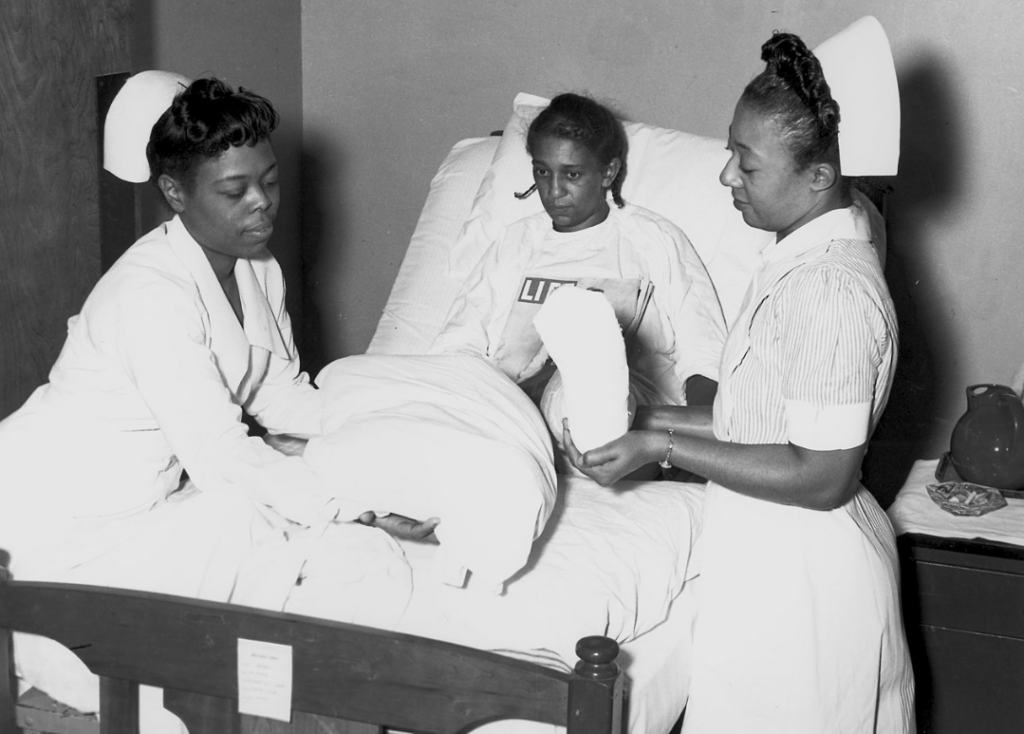 The location of the graves is known to local historians, but there is no digital record of the burials. Using the BillionGraves app, Miller and others will photograph temporary headstone markers for each grave which will automatically tag them with GPS coordinates so they can be plotted on a map of the cemetery.
Then volunteers will transcribe the names and dates and an online record will be created to preserve their legacy, just as if they had a beautiful headstone. Thereby, history will be preserved for future generations.
(Does your family have some unmarked graves? Click HERE to learn more about how you can document your family member's unmarked graves.)
Rescuing in More Ways than One
One of the sponsoring organizations for Rescuing Our Roots is involved in rescues of another kind.
Susan Johnston, of Cedar Rapids, Iowa, US, founded the non-profit organization, Central Furniture Rescue. Its mission is to collect basic furniture and household items from the community and then provide them at no cost to individuals and families that are experiencing a crisis that could lead to homelessness.
Johnston says Central Furniture Rescue helps "turn a place to live into a home."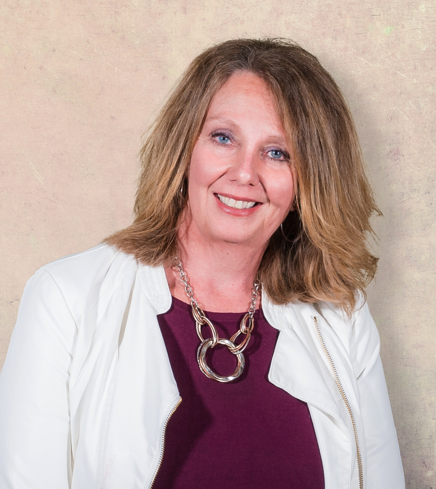 As she set out to "rescue furniture", Johnston was introduced to Miller, who served as her lawyer in the process of establishing her non-profit organization. Miller invited Johnston to help "rescue gravestone data" by taking photos with the BillionGraves app and by joining Rescuing Our Roots – the world's largest BillionGraves project.
Johnston agreed and then shared her story of finding the gravesites of her adopted mother and father. Her adoptive father passed away when she was just 13 and then just two years later, her adoptive mother also passed away. Johnston attended their funerals and graveside services.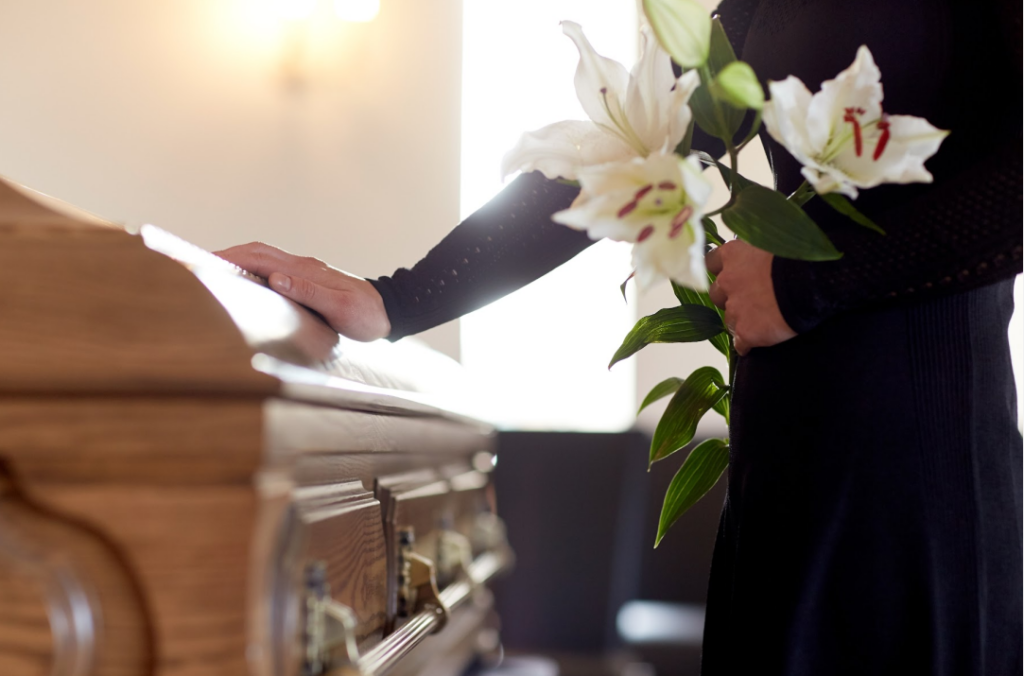 After their deaths, Johnston and her sister were placed back into the foster care system and they lost track of their adoptive family and their burial sites.
Decades later, at age 60, Johnston and her husband traveled to a town 3 hours from their home to visit the cemetery where his first wife was buried. After visiting the grave, they planned to rent bicycles and go biking at a nearby park.
At the cemetery, Johnston remarked that she wondered where her adoptive parents were buried. Her husband suggested that she look up their names online. She quickly found their obituary and it mentioned the name of a cemetery in Orillia, Iowa.
Her husband was startled. "No way!", he said, "That is where the trailhead for our bike ride is located!"
Arriving at the small cemetery, they could barely see any grave markers. "It was the type of cemetery that only gets mowed on Memorial Day," Johnston said.
As they waded through the long grass, she remembered standing near a tall tree during the graveside services when she was 15. There was just one tall tree in the cemetery so they headed in that direction.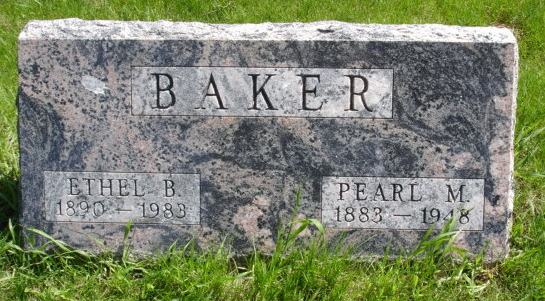 Sure enough, there were the grave markers for her adoptive parents, as well as other family members – a grandmother, uncle, and cousin.
"I believe people die twice," Johnston said, "First, they die physically. Second, they die when people stop talking about them and remembering them." So she immediately sent photographs of the gravestones to her children and told them about the love of her adoptive family.
Become a Rescuing Our Roots Volunteer!
We invite you to register for the Rescuing Our Roots project and upload at least one gravestone photo on June 25th to help preserve history and set a GUINNESS WORLD RECORDS title.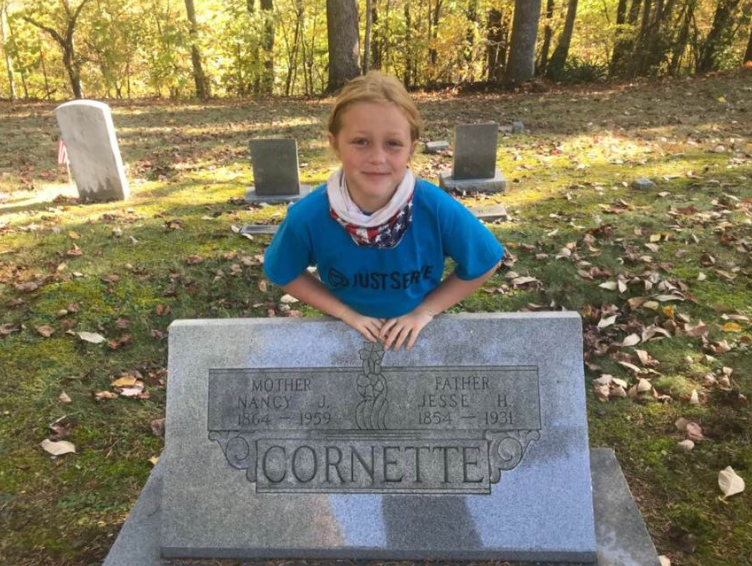 Joining the world's largest BillionGraves project will help the BillionGraves database and FamilySearch Family Tree grow even larger, allowing more people around the world to discover the stories of their ancestors and loved ones.
Join the World's Largest BillionGraves Project!
Taking photos of gravestones with the BillionGraves app on your smartphone is easy! Click HERE to get started. Join the project, set up an account, and then click on "find a cemetery".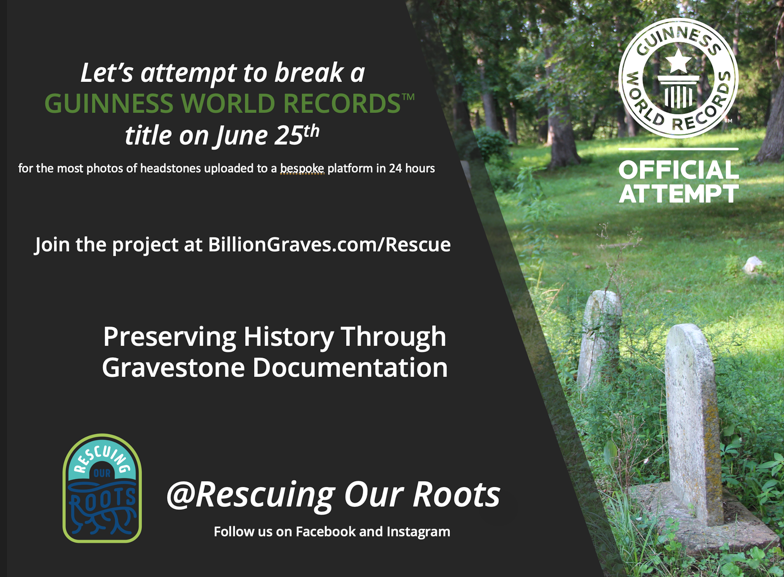 You are welcome to do this at your own convenience, no permission from us is needed. If you still have questions after you have clicked on the link to get started, you can email us at Volunteer@BillionGraves.com. We'll be happy to help you!
Are you planning a group service project? Email us at Volunteer@BillionGraves.com for more resources. We will help you find a cemetery that still needs to have photos taken.
Thanks a Billion!
Cathy Wallace
Related posts