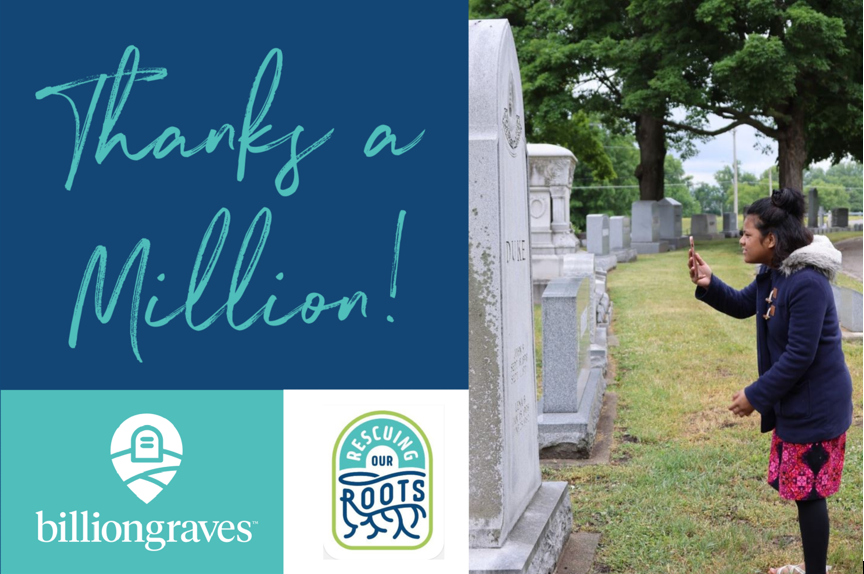 Thanks a Million!
Cathy Wallace, 6 months ago
10 min

read
13001
Thanks a million to everyone who participated in uploading photos on June 25th for the Rescuing Our Roots project! The attempt to break an official GUINNESS WORLD RECORDS (TM) title was unfortunately unsuccessful. However, it was part of a larger goal to document one million gravestones and YOU SMASHED THAT GOAL!!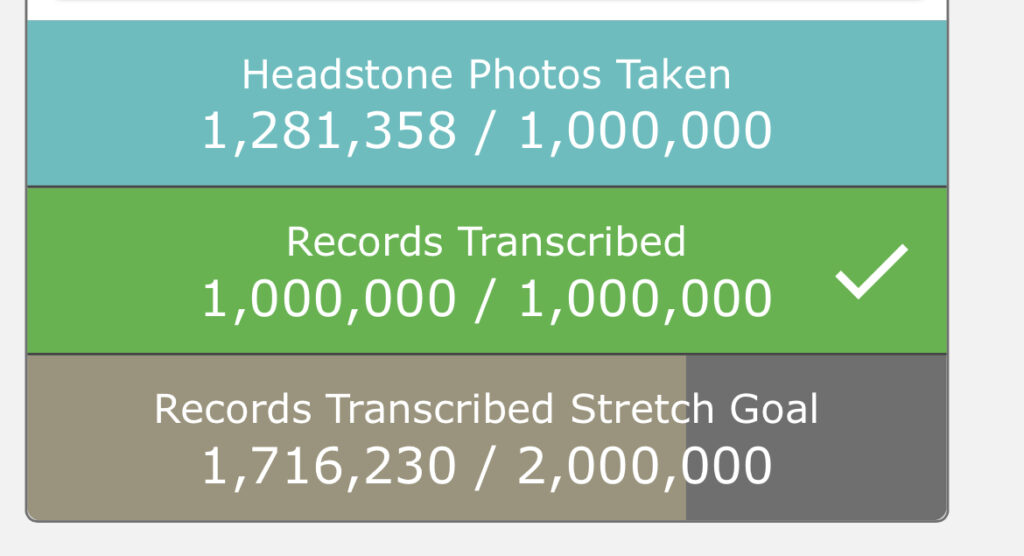 By the end of the day on June 25th, there were 1,281,358 photos uploaded!
On the morning of June 25th, we were just shy of one million at about 983,000. By mid-morning, you had surpassed the one million mark. And by the end of the day, you had added more than 300,000 photos in just 24 hours! Remarkable!
Thank you for all the photos you uploaded! They were counted and appreciated.
And thank you for every transcription that was completed too! The goal of 1 million transcriptions was left in the dust as you went on to transcribe a total of 1,716,230 gravestone records by the end of the day on June 25th.
Rescuing Our Roots
All around the world, all year around, there are organizations that use the BillionGraves app to take photos of gravestones. One of those organizations was Rescuing Our Roots, which was started by a local church leader, Joseph Miller, in Cedar Rapids, Iowa.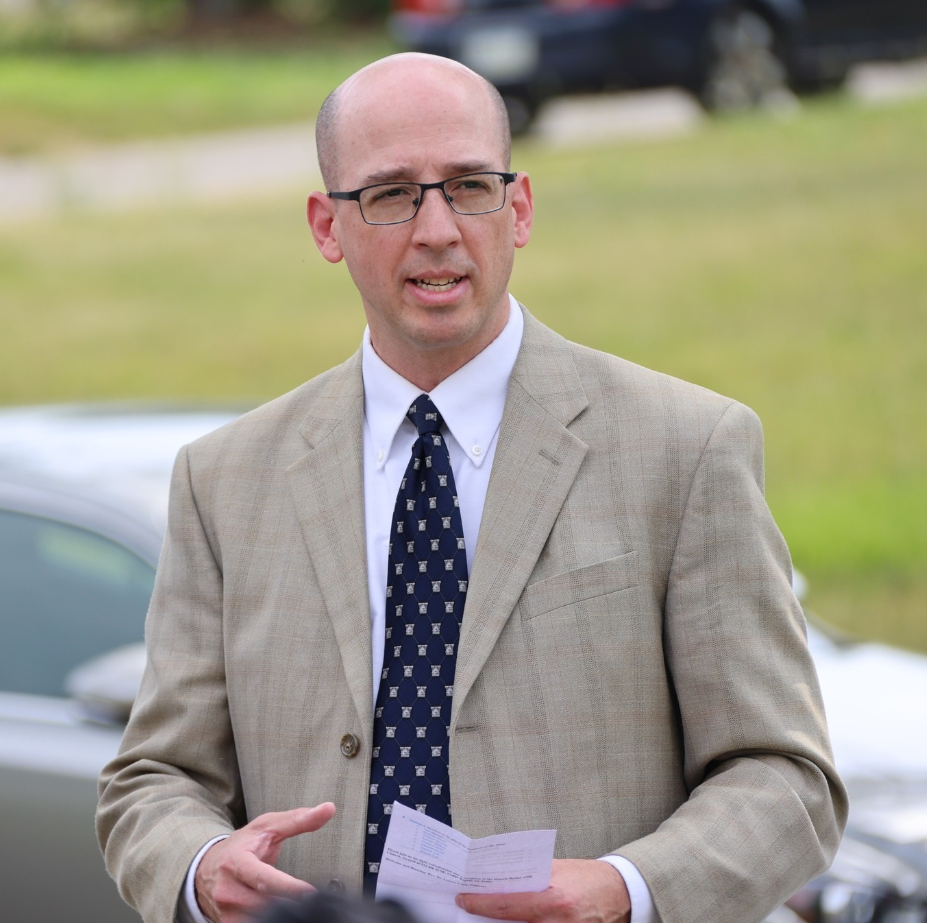 The project grew and went on to include people from many nations and eventually, it became the largest BillionGraves project in history!
Two Goals for Rescuing Our Roots
The Rescuing Our Roots project had two goals.
The first goal was the world record attempt. GUINNESS WORLD RECORDS rules allowed us to count just 1 photo per person toward the goal of 10,000 total participants. As you may have noticed on the Rescuing Our Roots webpage, there were 5,111 people who signed up for the project. Out of those 5,111 participants, 3,076 people actually uploaded at least one photo.
(Psst . . . if you are one of the ones who forgot to upload on June 25th, you can still do it. Go to the main page of the BillionGraves app on your phone, tap on "photos" and then tap on the orange button labeled "upload". It won't count toward the record anymore but uploading will still help others to find their ancestors.)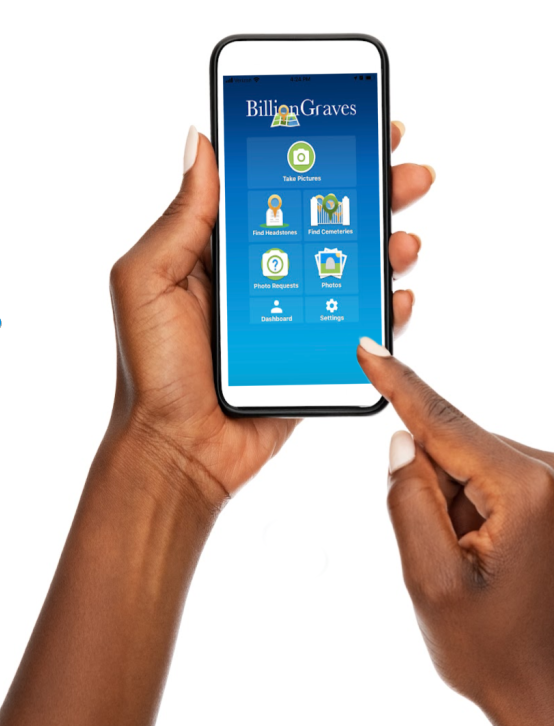 The second goal for the Rescuing Our Roots project was to have 1 million photos uploaded and 1 million records transcribed. Thank you to everyone that helped to rock that goal! That is truly something to celebrate. You have enabled many families to find their ancestors through this work.
Why wasn't "one million" the world record goal? Rules at GUINNESS WORLD RECORDS didn't allow it. But we are still thrilled for all the fun we had in rain or sun, in cemeteries large or small, in finding lost headstones or documenting the lives of people across the globe for the world to remember and rescue their roots!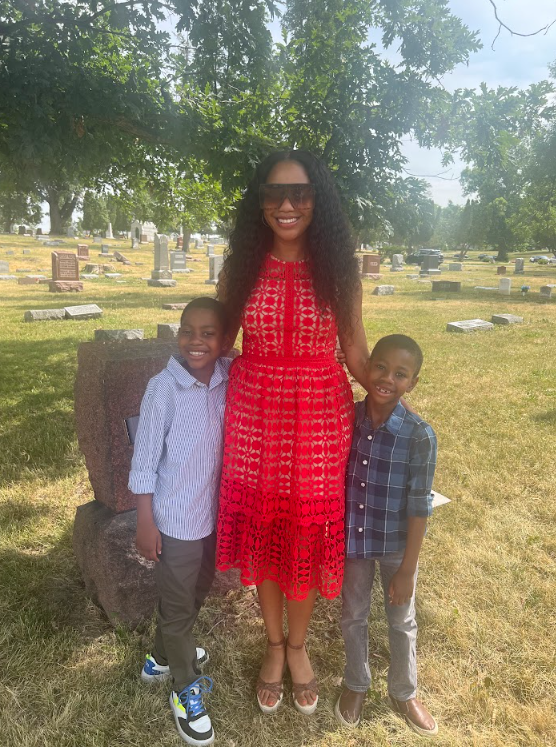 Keep taking photos and uploading them with the BillionGraves app. All of the data will be digitalized and made publicly available so you can build your family tree and help someone else build theirs too. Look for local BillionGraves projects on JustServe.org, or start your own project and invite friends to help you document a cemetery!
Thanks a Million! A Road Trip to Iowa
I am grateful that I was able to take a road trip to Iowa over the weekend to join Miller, Communications Director Susan Sims, and others who spearheaded this amazing project for two special cemetery projects. FamilySearch representative, Larry Telford, was also there from Utah.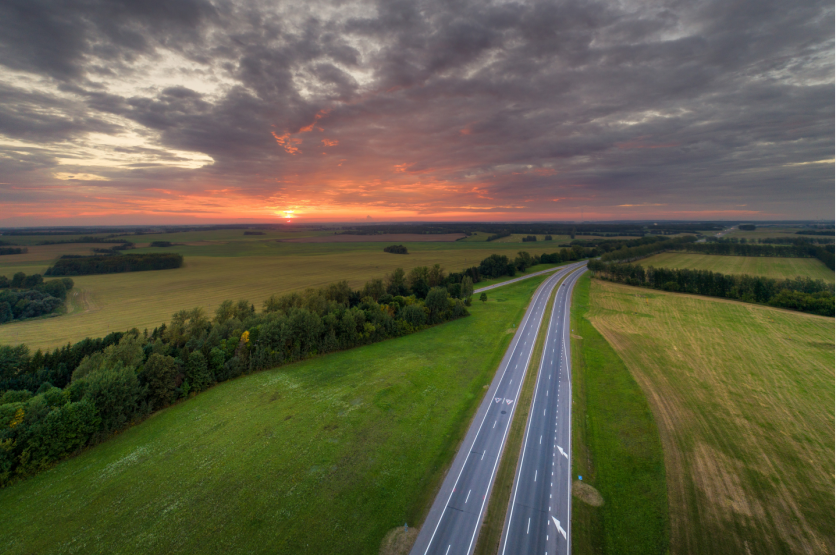 On Saturday, June 24rd, there was a memorial service to document the unmarked graves of 28 African Americans in Cedar Rapids, Iowa. Then on Sunday, June 25th, about 250 people helped take photos at a huge cemetery that was formerly in disrepair in Waterloo, Iowa.
Oak Hill Cemetery, Cedar Rapids, Iowa
Representatives from the African American Museum of Iowa (AAMI), the History Center of Iowa, Bethel AME Baptist Church, FamilySearch, and BillionGraves, along with Mayor Nick AbouAssaly of Marion, Iowa, joined with Rescuing Our Roots volunteers to remember 28 Black Iowans buried in unmarked graves at Oak Hill Cemetery in Cedar Rapids, Iowa.
Miller welcomed the guests to the cemetery memorial service for those 28 who probably didn't have a memorial service when they were buried in their unmarked graves. This was their day to be remembered and honored.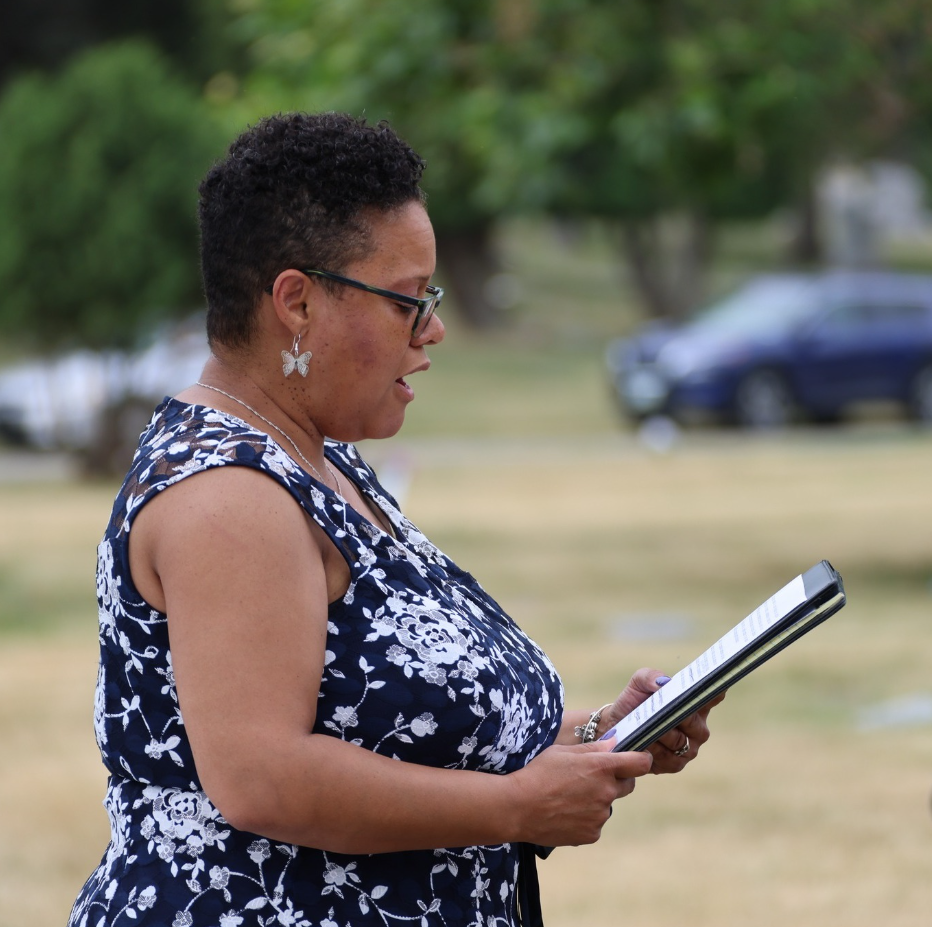 LaNisha Cassell, Executive Director of the African American Museum of Iowa addressed the group, saying, "This act of service brings solace into the hearts of members of the community and serves as a tangible reminder of our shared history. It's a vital step in reclaiming dignity and humanity."
"We are reminded of the remarkable contributions these individuals made to culture, art, literature, science, and countless other fields," Cassell continued. "Exploring our past reveals a rich tapestry of creativity, intellect, and resilience that influenced our city, our state, our country, and even our world in immeasurable ways. When we reclaim our history, we empower ourselves to shape our future that embraces our full potential."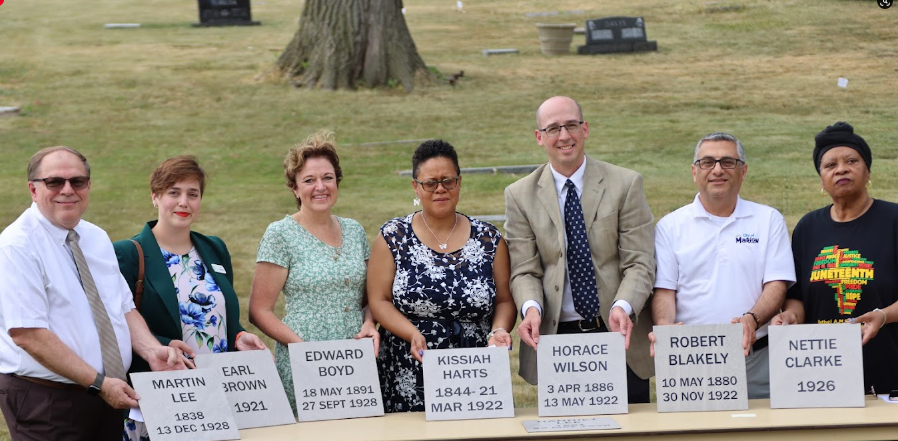 Based on research done by AAMI, the location of each of the 28 graves was identified. The names of the deceased were added to ceramic tiles with vinyl lettering. Birth and death dates were added if known.
Some of their descendants were present at the memorial service.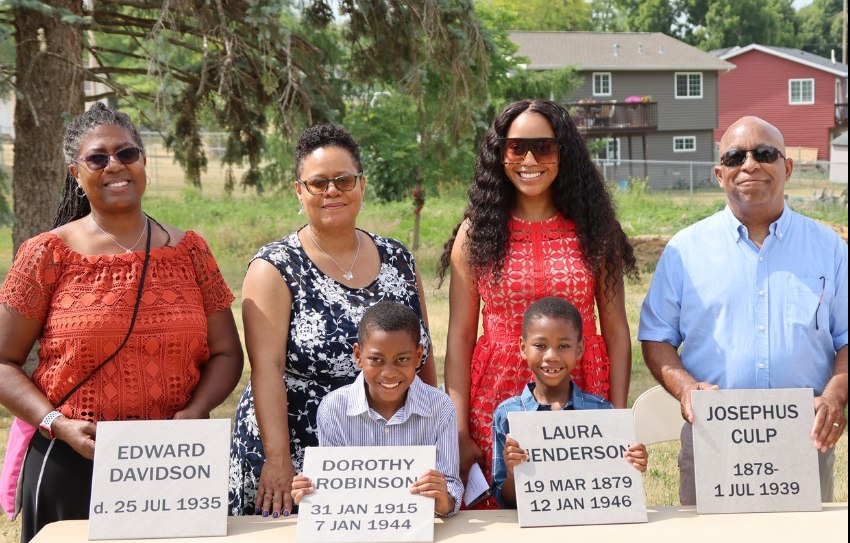 Then invited guests placed the tiles on the ground on the unmarked graves. Some of the unmarked graves were in family plots near their relatives who did have gravestones. Using the BillionGraves app, the tiles were photographed as if they were headstones.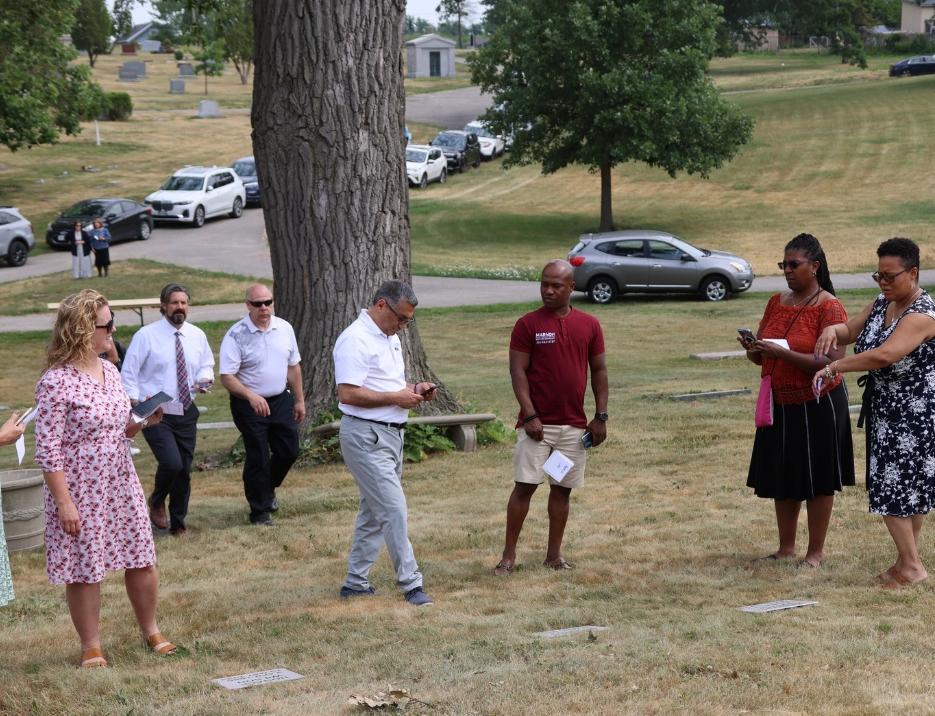 As each photo was taken with the BillionGraves app, the GPS coordinates were automatically added. The GPS location allows descendants and others to find the graves in the future by entering a name on the BillionGraves app. They will also have a perpetual digital remembrance on the BillionGraves website.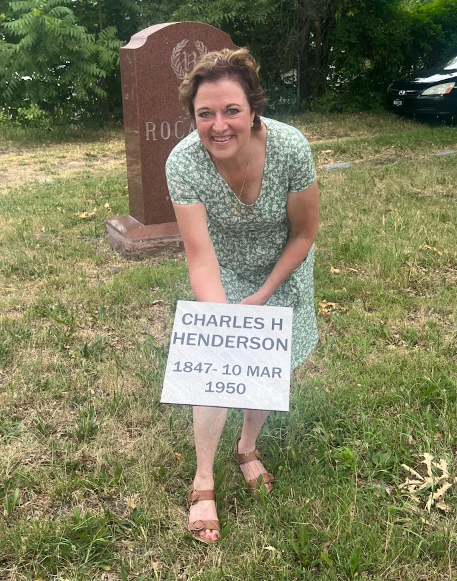 The data will also be shared with FamilySearch so that others may connect these deceased individuals to their own family trees.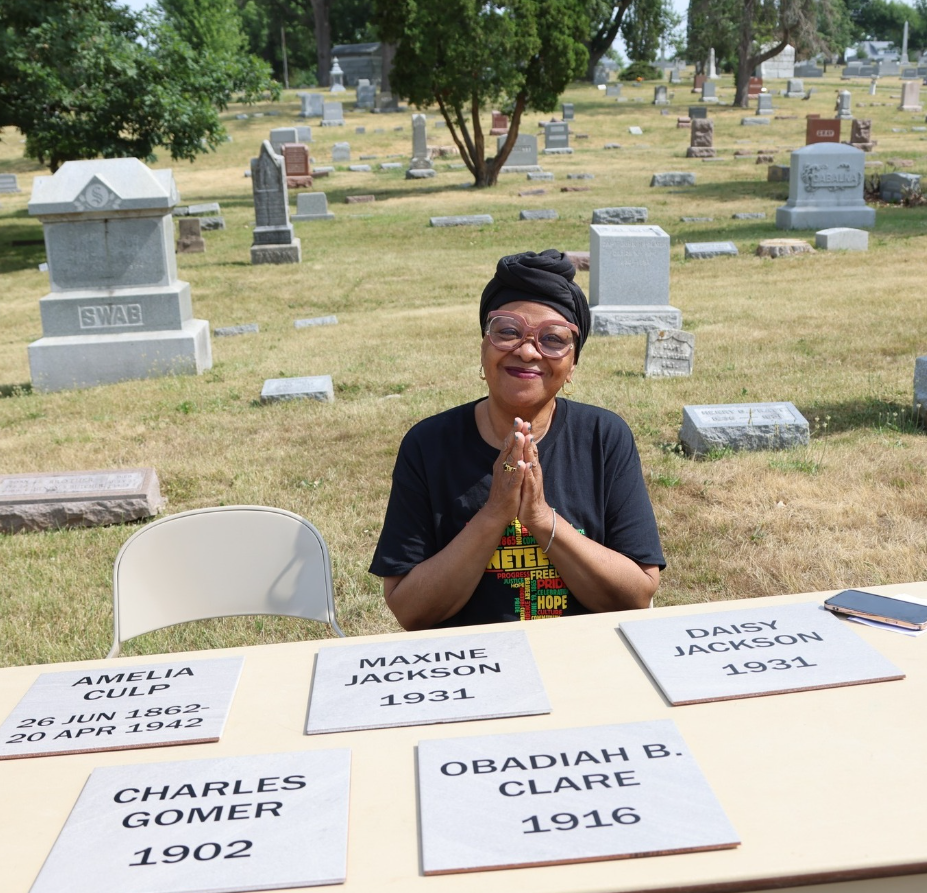 In gratitude, Pastor Leoma Leigh-Williams of Bethel AME Baptist Church and members of her congregation hosted the group for a luncheon after the memorial service.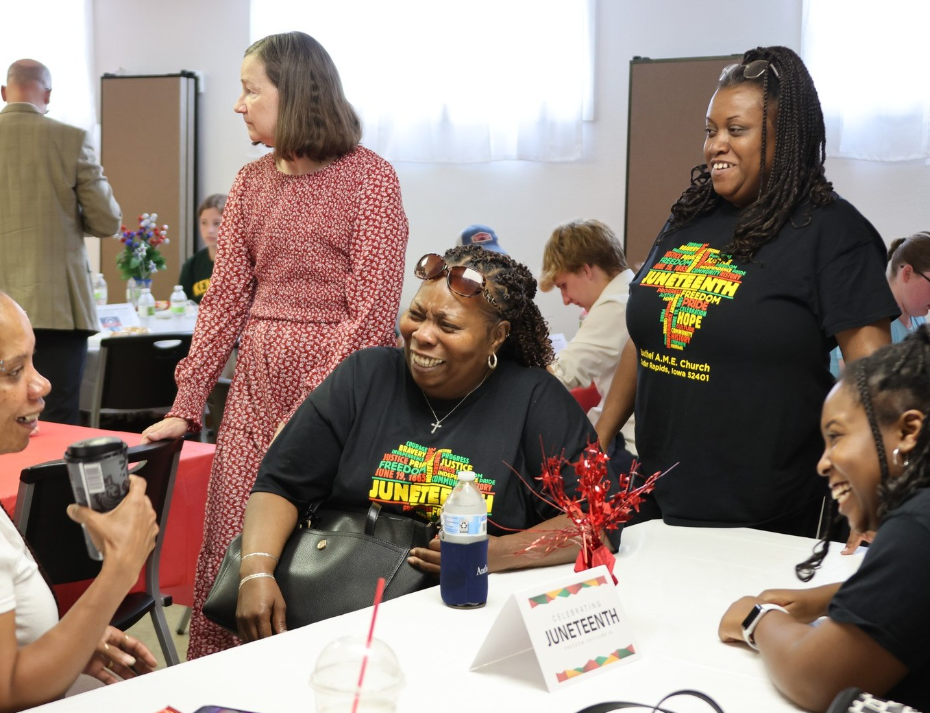 You can make a difference, too, by simply using the BillionGraves app to document cemeteries near you! Learn more about documenting unmarked graves by clicking HERE.
Fairview Cemetery, Waterloo, Iowa
The next day about 250 members of The Church of Jesus Christ of Latter-day Saints gathered in a pavilion near Fairview Cemetery in Waterloo, Iowa for a worship service followed by cemetery documentation.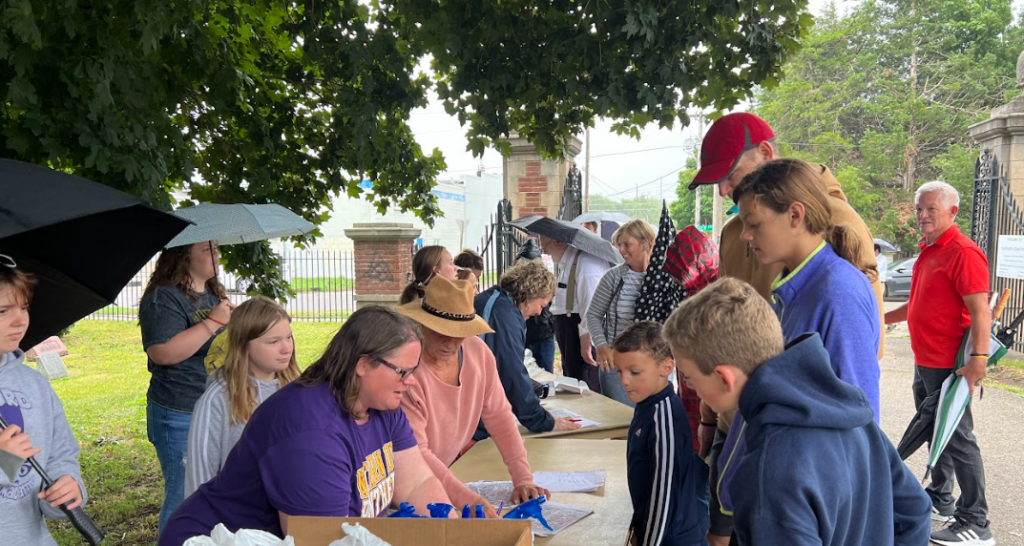 As volunteers checked in at the cemetery, they were assigned a section and specific rows to document.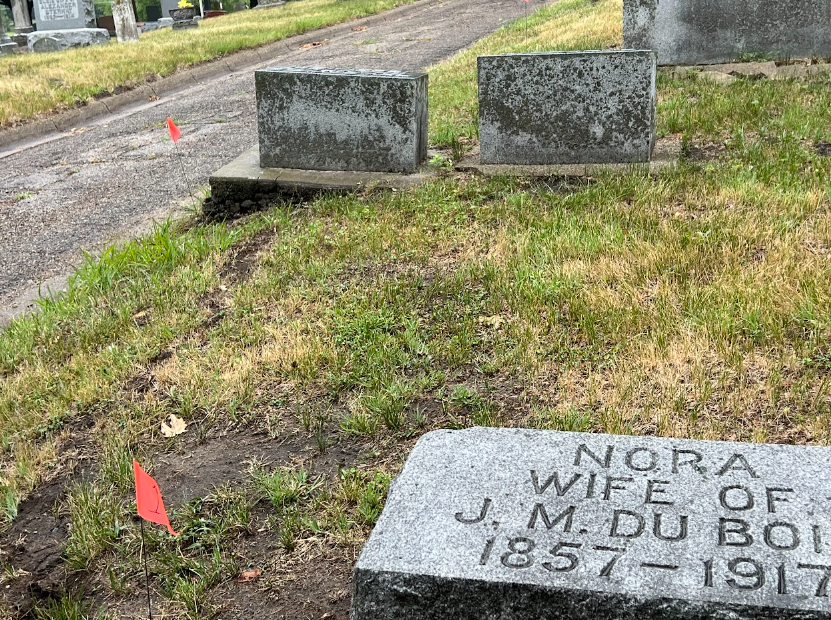 The event was so well organized! See the little numbered flags at the end of the rows? They were placed in advance so volunteers would know where to go. I was asked to take photos in "the pink section, row 12".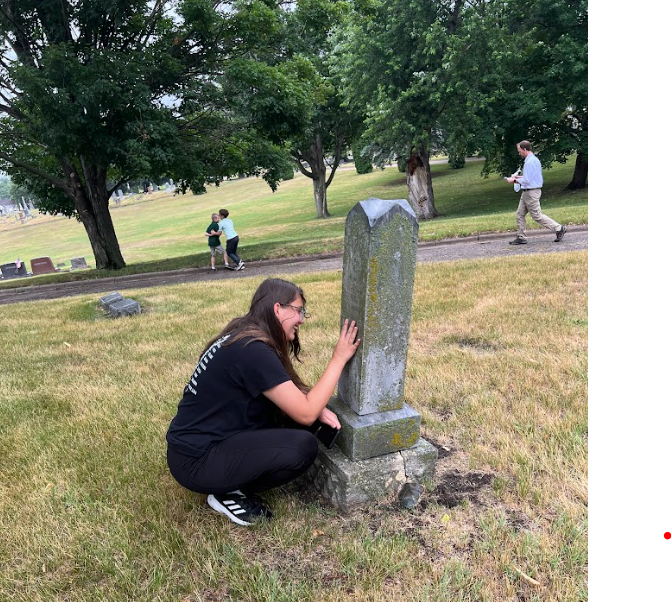 Volunteers had downloaded the BillionGraves app in advance and knew just what to do.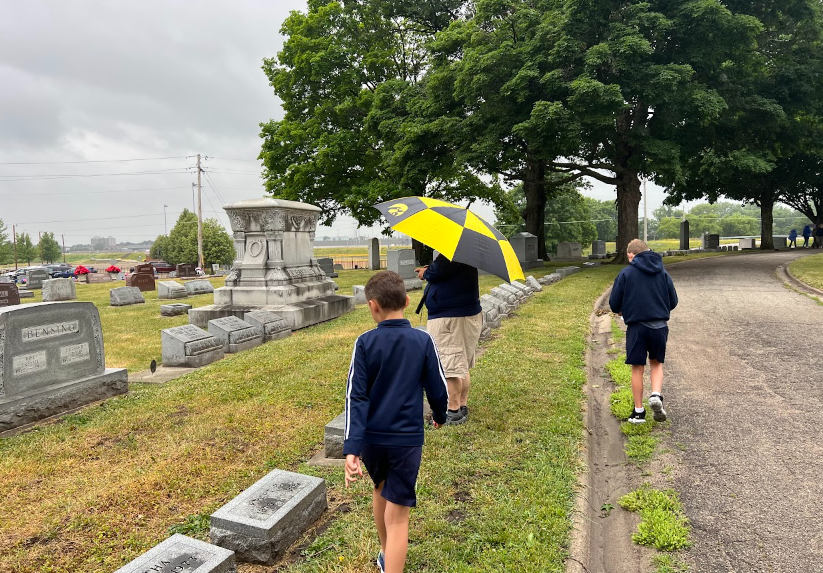 It rained lightly but that did not deter the volunteers from heading to the cemetery to remember those who had helped shape their community.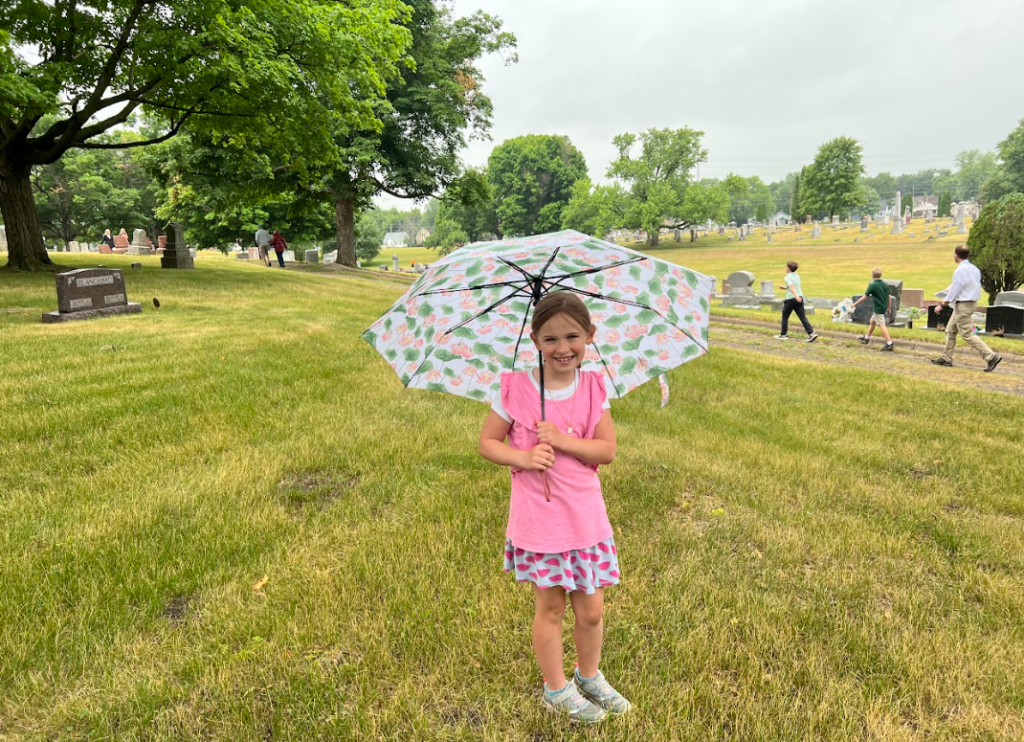 Parents helped little ones to take some of the gravestone photos.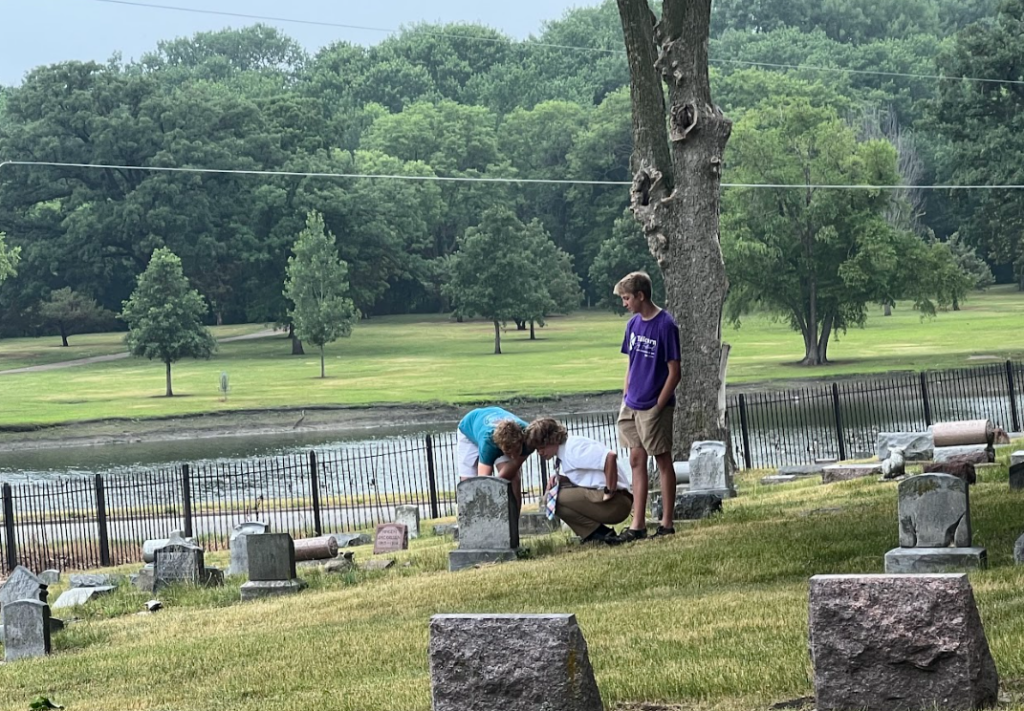 The young men helped clean some of the older gravestones.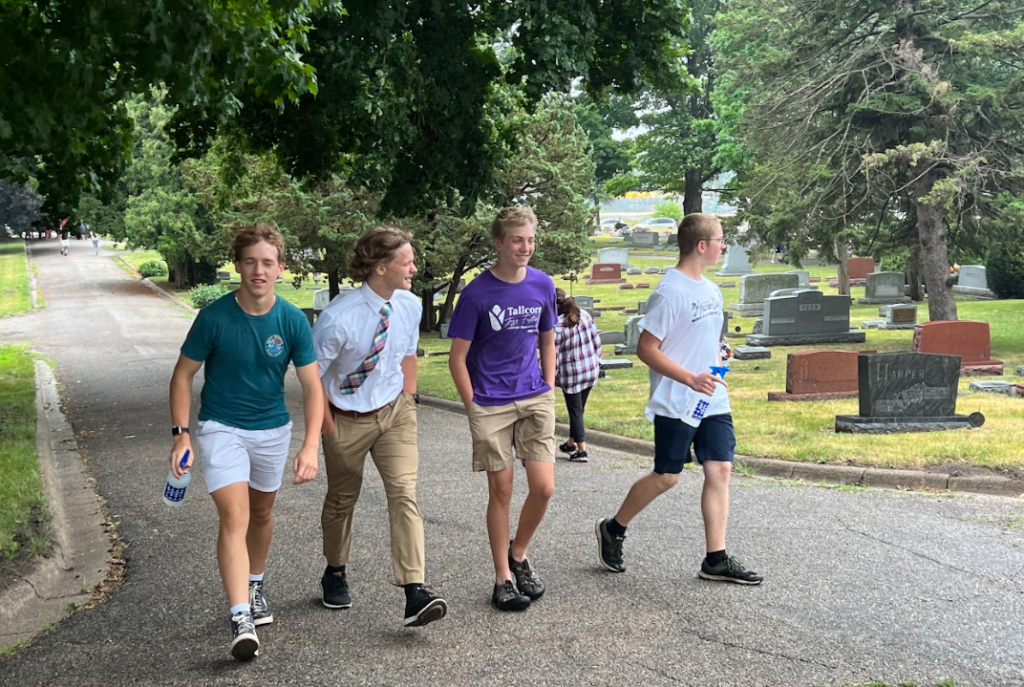 Miller's son, high school sophomore Alex Miller, didn't stop there. He took a group of his friends to another cemetery an hour north of Waterloo to take more gravestone photos after the event was over.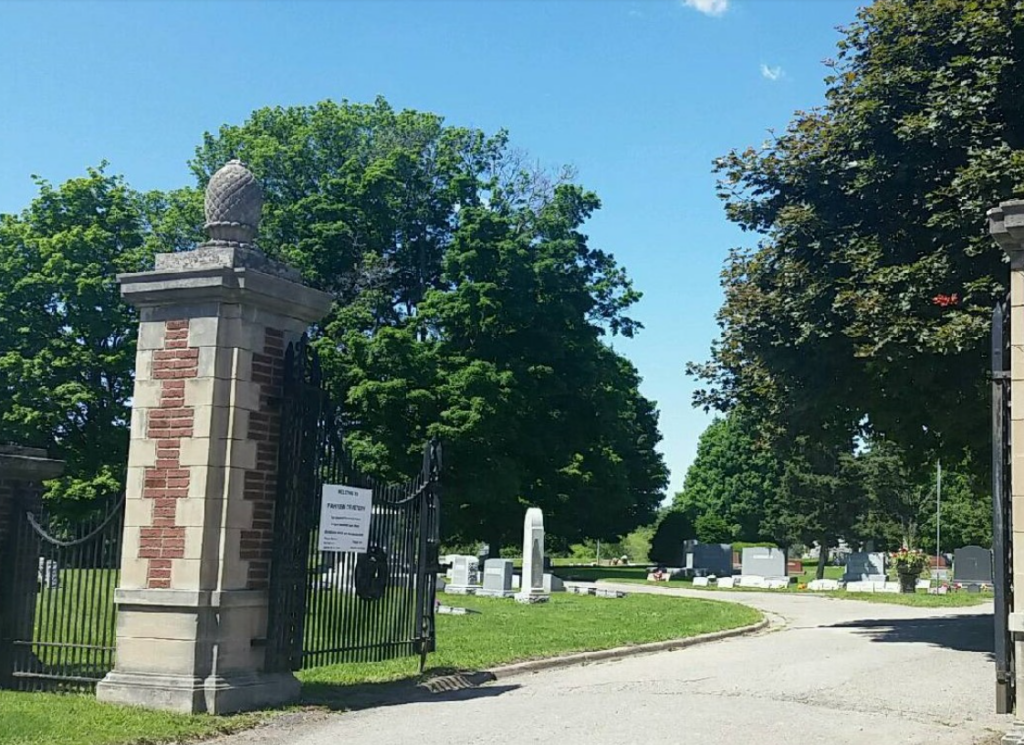 One person who was particularly grateful to have Fairview Cemetery documented was the cemetery manager and owner, Josef Fox. Several years ago, the cemetery was falling into a state of disrepair and the city did not have the funds or manpower to do anything about it.
Fox was the caretaker of the cemetery and did not want to see the final resting places of his family and community members abandoned. The city agreed to deed the cemetery to Fox!
What do you do when you suddenly own a huge cemetery!? A cemetery with an estimated 8,000 gravestones! How could he document them all?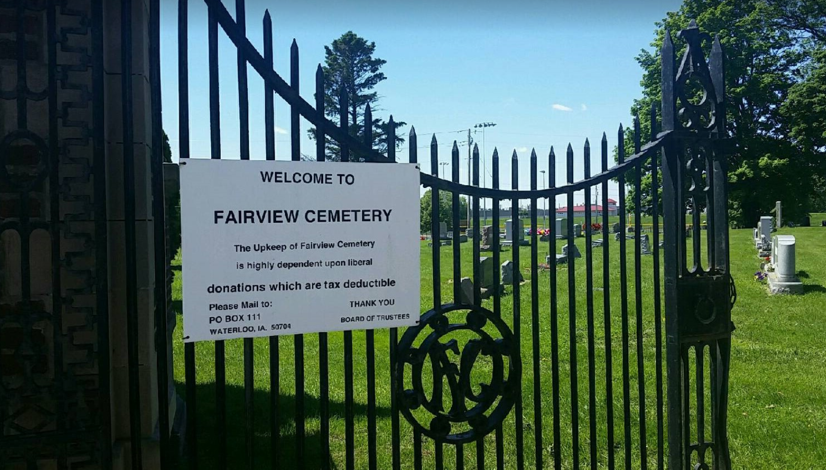 Last weekend, Fox stood next to the registration table near the cemetery entrance in awe as hundreds of volunteers poured into the cemetery to take photos of every gravestone. Now the gravestones would not only be documented but also searchable for cemetery visitors.
A church leader once said, "God does notice us, and he watches over us. But it is usually through another person that he meets our needs. Therefore, it is vital that we serve each other."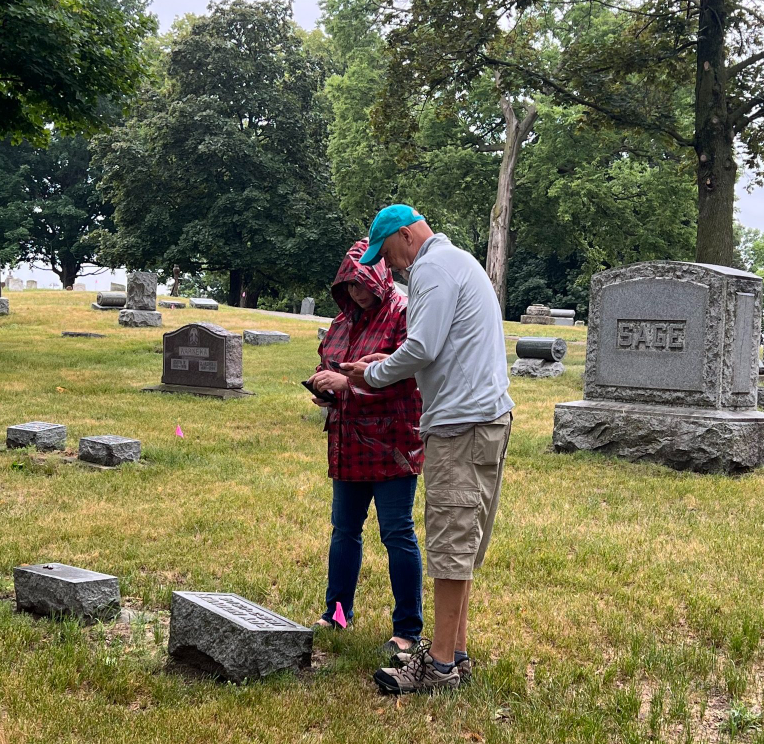 Bishop Youngblut said, "When we were taking photos one young woman noticed a gravestone for triple infants, buried in the 1800s. At the end of our event, we gathered and knelt near this gravesite, sharing thoughts about how this work is impacting people on both sides of the veil. Several were moved to tears."
Thanks a Million! JustServe in South Carolina
Laura Anderson of South Carolina wrote, "I did it! I found this project on JustServe and helped with the BillionGraves GUINNESS WORLD RECORDS attempt Rescuing Our Roots!
"I went with my daughter to 3 small cemetery sites, took some pictures of headstones, and uploaded them to BillionGraves!" Anderson continued, "It was easy to take the pictures, but finding the cemetery was the tricky part for me! I was glad for GPS and a good navigator!"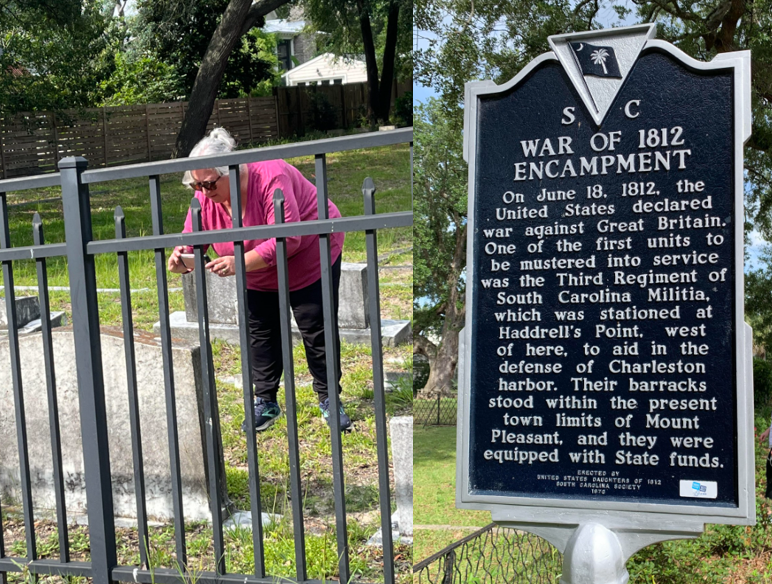 "I loved thinking about the history of the sites, and for one of them- I could not resist a photo of a sign erected by United States Daughters of 1812 South Carolina Society 1970. So much history! So much to be grateful for! It was fun to do!"
Thanks a Million! To Volunteers from Around the Globe!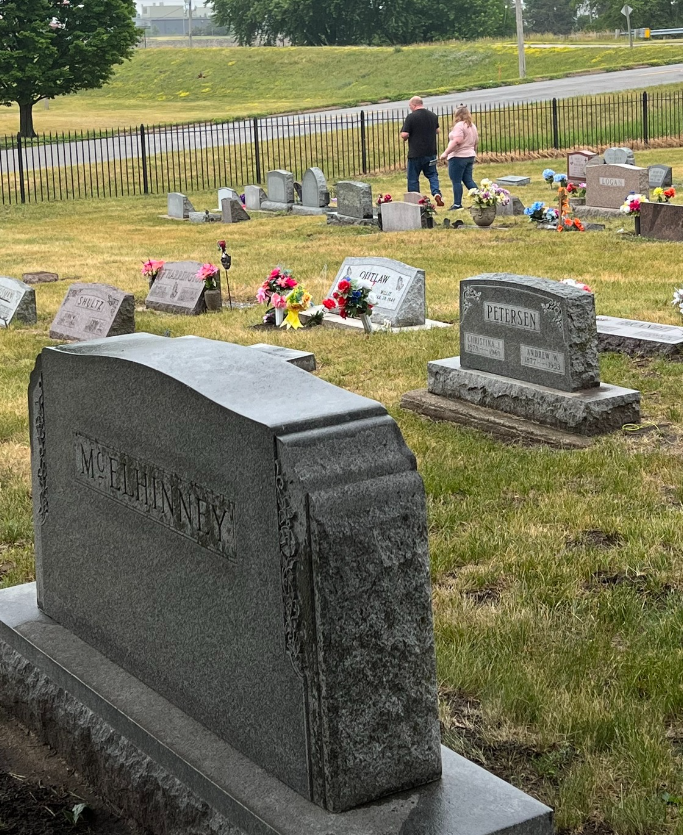 "We took our grandkids to do my hometown cemetery in Melbourne, Iowa. Five generations of our family are buried there." – Janet Soorholtz Clawson
"Our little family reunion group headed to Greeley, Iowa's small cemeteries." – Christi Johnson
"My family took pictures in Anchorage, Alaska!" – Hillary Maren Hatt Nielsen
"I uploaded pictures from the Curry Family Cemetery in Blackford, Kentucky" – Sherri Trumble
"I uploaded the one I took of my aunt on my paternal side who died as an infant." – Kathy Teigland Bopp
"I took photos for about 10 – 15 minutes in Jacksonville, Florida, in a section of a cemetery where my parents are buried, but the almost 100F heat was unbearable. I will continue doing that section over my summer until it is complete!" – Donna Tanner Ganas
"I took photos in Manchester, United Kingdom" – Claire Hughes
"My husband and I took pictures in Poplar Grove Cemetery in Drummonds, Tennessee and stopped about 30 minutes before we got 70-80 mph winds and a thunderstorm." – Hallie Hatch Oxborrow
Kathleen Dye of California uploaded more than 2,650 photos and her daughter, Nicole Bergmann, a busy mom in Utah learned to use the BillionGraves app for the first time.
Anmol Mathur from India (!) checked in often to track the progress of the project and was proud to contribute.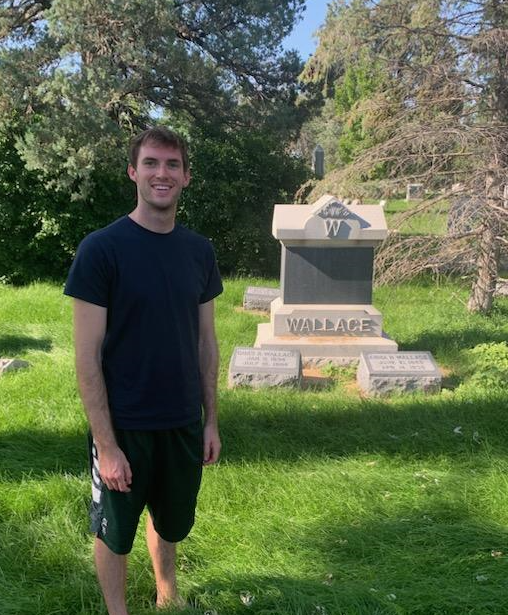 Nathan and Shea Wallace found a Wallace gravestone when they were taking photos in Denver, Colorado. A distant relative perhaps??
Thanks a Million! To Top Contributors!
Thanks a million for the hard work of all the top contributors listed HERE.
Hats off to top contributor, Louis Floyd! He single-handedly uploaded 46,973 images as a part of the Rescuing Our Roots project! Woo-hoo!!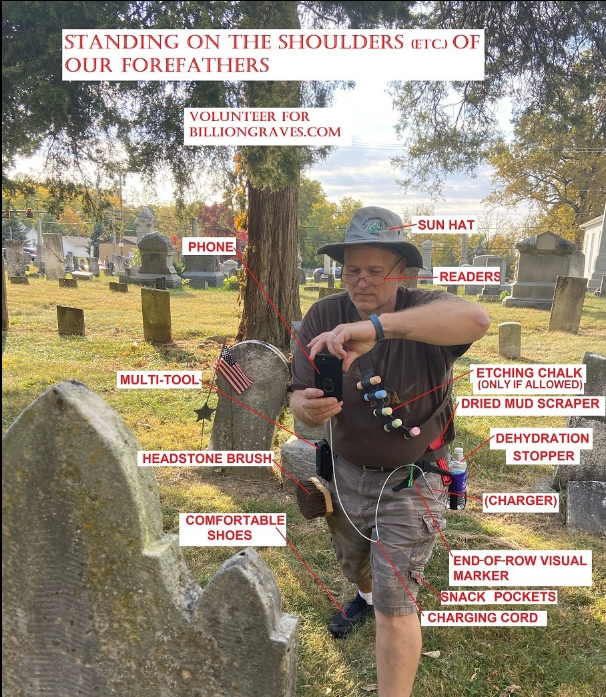 Oh, wait, not "hats off" . . . "hats on"! A sun hat to be specific. Floyd not only took the most photos during the Rescuing Our Roots project, he did it while completely decked out in "all-things BillionGraves" and then posted this amazing photo guide for other BillionGraves fashionistas to follow!
Thanks a Million! To YOU!
Finally, thanks a million to you! Yes, YOU! Thanks to all of you who took photos and/or helped organize events that resulted in 1,281,358 photos and 1,716,230 transcriptions during the Rescuing Our Roots project. You are amazing!
Please keep up the great work! (Let's go after a stretch goal of 2 million+!)
You can find guidelines and more cemeteries that still need to have photos taken by clicking HERE.
Questions? Contact us at Volunteer@BillionGraves.com.
Happy Cemetery Hopping!
Cathy Wallace
Related posts